37th Toronto International Film Festival Coverage: Day Five
September 10th, 2012 – by Ian Evans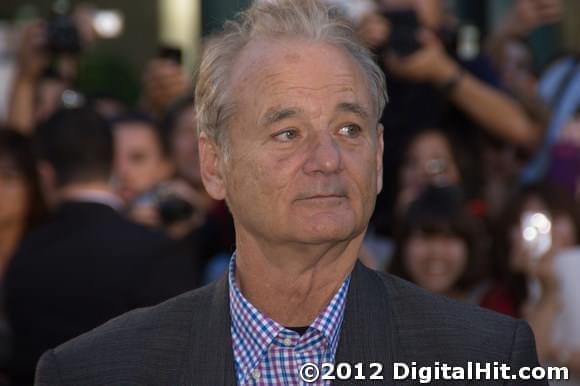 Bill Murray at the Hyde Park on Hudson premiere. ©2012 DigitalHit.com. All rights reserved. Photographer: Ian Evans
It's day five of the 2012 edition of TIFF and we had a full day.
First off, we headed to the Elgin for the early afternoon premiere of Arthur Newman, which stars Colin Firth and Emily Blunt. In the film, Firth plays a depressed divorcee who fakes his own death and assumes a new identity. When a troubled woman (Emily Blunt) learns of his secret, the pair begin a cross-country trek of new identities and adventures. Director Dante Ariola, who's best known for directing commercials, told reporters that he only had one actor in mind for the role and was glad when Firth said yes. He was then happy that their search for the female lead led them to Emily Blunt, because besides the chemistry she has with Firth, he also sees a chameleon-like quality in the way she's able to get into her roles. Firth said he's always been interested in the idea of identity and anonymity and was glad when this script landed in his lap.
Cate Shortland's Lore, also at the Elgin, looks at the aftermath of the Nazi regime and how four children who grew up in a Nazi household survive after the Allies take their parents away. The oldest daughter, played by Saskia Rosendahl, has to come to terms with the atrocities her parents were part of, while at the same time putting her trust in the very people her family taught her to hate. Lore is the second film from director Cate Shortland, who brought Somersault to TIFF in 2004.
Still at the Elgin, we then covered the premiere for A Late Quartet. Directed by Yaron Zilberman, the film stars Philip Seymour Hoffman, Christopher Walken, Imogen Poots, Catherine Keener and Mark Ivanir. Walken plays the founding member of a string quartet, whose degenerative illness during the group's twenty-fifth anniversary brings to the surface long-simmering rivalries, ambitions and betrayals. Catherine Keener told reporters that when a person decides to lead a creative life, they have to make decisions in their personal one that are often difficult.
It was then off to Roy Thomson Hall for the gala premiere of Hyde Park on Hudson, which stars Bill Murray as Franklin Delano Roosevelt, Olivia Williams as his wife Eleanor and Laura Linney as FDR's distant cousin, and mistress, Daisy. King George VI and his wife are visiting with the Roosevelt's at their vacation home. Publicly, this is just a friendly visit between heads of state, but privately the King is hoping to convince the President to get the U.S. involved in World War II. But the film is also about the private side of FDR and his burgeoning relationship with Daisy. Murray told reporters that while there's footage and recording of the public FDR, the man who needed to make stirring speeches to a nation during difficult times, he had to create the private FDR. Olivia Williams liked how the film was a reverse comedy of manners. While many films have shown people trying to deal with the stuffy manners and protocols of royal life, Hyde Park on Hudson turned the situation on its head by showing the royals trying to deal with the informality of an American vacation.
Heading back to the Elgin, we first covered Still, Michael McGowan's new film that stars James Cromwell and Geneviève Bujold. Bujold plays Cromwell's ailing wife and as he tries to renovate their New Brunswick farm to meet her needs, he finds himself butting heads with an officious building inspector (Jonathan Potts) who constantly nitpicks the building changes. McGowan's Score: A Hockey Musical opened the fest in 2010 and this time he turned his attentions to a true story. The writer-director had been working on a tale of an older man who won't give up when he was reading the paper and came across this true tale of love versus bureaucracy. He tossed aside the script he was working on and flew out to New Brunswick to meet the real-life inspiration for the film we covered this evening.
Still was followed by Francois Ozon's In the House. The film, which stars Kristin Scott Thomas and Emmanuelle Seigner, is based on the play play The Boy in the Last Row by Juan Mayorga.
As we prepare to head into the second half of this year's TIFF, we had one more film to cover on day five and that was the premiere of The Iceman at the Princess of Wales Theatre. The flick traces the life of Richard "The Iceman" Kuklinski, a mob hitman who is thought to have killed about 200 people during his career. Michael Shannon plays Kuklinski, joined in the film by Winona Ryder, Ray Liotta and Chris Evans. Winona Ryder told reporters that she saw her character as living in a sort of denial, a wife benefiting from the blood money, but always maintaining that she had no idea what her husband was up to.
With that, we put day five to bed…a place that we'll be heading to shortly.
TIFF Day Five Photo Galleries