37th Toronto International Film Festival Coverage: Day Six
September 11th, 2012 – by Ian Evans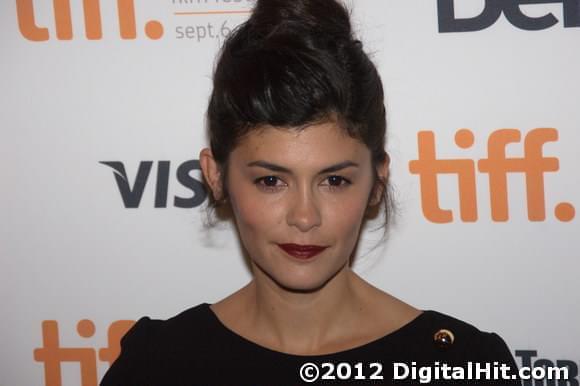 Audrey Tautou at the Therese Desqueyroux premiere. ©2012 DigitalHit.com. All rights reserved. Photographer: Ian Evans
Day six of the Festival…a slightly quieter day for us.
We covered the Disconnect premiere at the Princess of Wales Theatre. Directed by Henry Alex Rubin and written by Andrew Stern, the film looks at the effects of the internet and social media on our daily lives. Identity theft and cyber-bullying are explored in parallel stories that examine the perils of lives led increasingly in public view.
Actress Paula Patton called the script a page-turner for her and described it as not only a suspense-thriller but also a social commentary on the world we live in today, while Jason Bateman said that his character faces the dilemma of how to protect one's children online when you can't monitor their actions 24/7.
It was then off to the Elgin for the premiere of Thérèse Desqueyroux. Based on the novel by François Mauriac, Audrey Tautou plays the title character. Suffocating in a marriage to a boorish husband and inspired by her sister-in-law's passionate relationship, she starts her own bid for freedom from her stifling life. Sadly director Claude Miller died shortly after the film was completed.
TIFF Day Six Photo Galleries