37th Toronto International Film Festival Coverage: Day Eight
September 13th, 2012 – by Ian Evans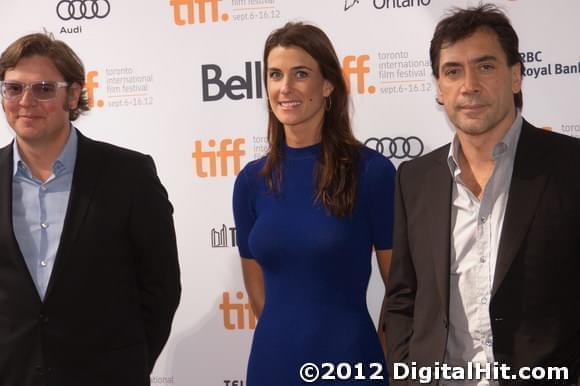 Alvaro Longoria, Lilly Hartley and Javier Bardem at the Sons of the Clouds premiere. ©2012 DigitalHit.com. All rights reserved. Photographer: Ian Evans
We started off day eight at Ryerson University to cover the premiere of Sons of the Clouds. The documentary, directed by Álvaro Longoria and narrated and co-produced by Javier Bardem, looks at the plight of the people of the Western Sahara, where political machinations over mineral reserves have seen over 200,000 people forced into refugee camps. Longoria and Bardem told reporters on the carpet that they hoped their film would bring to light the plight of the Sahrawi people and at least get people talking about a conflict that is not even on the radars of most people in the West. Again, this is one of the important aspects of any film festival. Sure there's a lot of attention on the fashions and the stars and the superficial aspects of filmmaking, but a festival like TIFF excels at getting people to look at issues and stories from around the world, stories that would usually never make it to the big theatres.
We then found ourselves back at Roy Thomson Hall for the gala premiere of Billy Bob Thornton's Jayne Mansfield's Car. Thornton walked the carpet, as did the legendary Robert Duvall, who has been quite a regular at TIFF over the years. The film looks at the culture clash between two families — one British, one American — over the death of a loved one and the intergenerational battles that occur within families. Duvall was quite blunt with reporters about Thornton's filmmaking style, saying the actor-director, who also co-wrote the script, says "rehearsals are for pussies, two takes and that's it." Actress Katherine LaNasa said she was happy to see a Southern story told by a Southerner as so often she feels that Southern stories are "Disneyfied."
We stuck around RTH for the premiere of Twice Born. We started the day off with Javier Bardem and now we end it with his wife, actress Penelope Cruz. The film, which co-stars Emile Hirsch, follows the story of a woman who returns to Sarajevo and is reminded of her love for a photographer during the region's civil war. Cruz says that while reading the script, she became really obsessed with her character and what happens to her and knew that she wanted to go through this journey with her. The process took about three years from script to screen. During that time Cruz became a mother, but she felt that you didn't need to be a mother, or even a woman, in order to connect to this story.
TIFF Day Eight Photo Galleries