38th Toronto International Film Festival Coverage: Day Four
Sunday, September 8th, 2013 by Ian Evans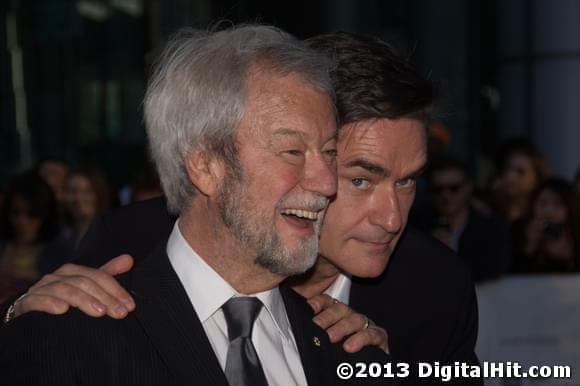 It's Sunday and that means it's day four of the Toronto International Film Festival. Another busy day as we cover Half of a Yellow Sun, Enemy, The Grand Seduction and Rush.
Set against the backdrop of the Nigerian-Biafran civil war of 1967-1970, Biyi Bandele's Half of a Yellow Sun is based on the novel by Chimamanda Ngozi Adichie. It tells the story of two sisters. Olanna (Thandie Newton) falls for a revolutionary played by Chiwetel Ejiofor, while the other sister, Kainene (Anika Noni Rose), has a relationship with a British writer (Joseph Mawle). The British-born Ejiofor, whose parents are Nigerian, said Adichie's novel was an important one in his home and he jumped at the chance to be involved with the film project. Thandie Newton was also eager to be a part of the project, telling reporters that the character she plays, Olanna, was one of the most evolved, empowered and sophisticated women she has ever portrayed.
We covered Denis Villeneuve's Prisoners the other day and now it's time for us to cover Enemy, which again has him working with actor Jake Gyllenhaal. The film, an adaptation of the Nobel Prize-winning author Jose Saramago's novel The Double, follows a history professor who finds his doppelganger in a film and tracks him down, their lives becoming intertwined. Gyllenhaal walked the red carpet, as did his co-star, Isabella Rossellini. Jake was honoured to be in both of Villeneuve's first two English-language films. He said the pair understand and challenge each other in the film-making process.
From Ryerson, we head down to Roy Thomson Hall for the gala premiere of Don McKellar's comedy The Grand Seduction. An English-language remake of 2003's La grande seduction, the film traces the attempts of a small Newfoundland village to woo a doctor to the community in order to satisfy a contract requirement for a new employer in the area. The film stars Gordon Pinsent, Brendan Gleeson and Taylor Kitsch. Director Don McKellar said moving the story to Newfoundland automatically changed the film as the area has its own rhythms and style of humour.
From small town antics to world-class racing we shifted gears (sorry) to cover the premiere of Ron Howard's Rush, which focuses on the high octane rivalry between James Hunt (Chris Hemsworth) and Niki Lauda (Daniel Bruhl) during the 1976 Formula One racing season. Writer Peter Morgan (The Queen) said Lauda gave his blessing to the project because it was going to focus on the rivalry between him and Hunt, a racer he had great respect for. Director Ron Howard said the fun challenge for this movie was combining a smart, character-driven piece with the visceral experience of racing that today's cinematic technologies were able to provide.
TIFF Day Four Photo Galleries