39th Toronto International Film Festival Coverage: Day One
Thursday, September 4th, 2014 by Ian Evans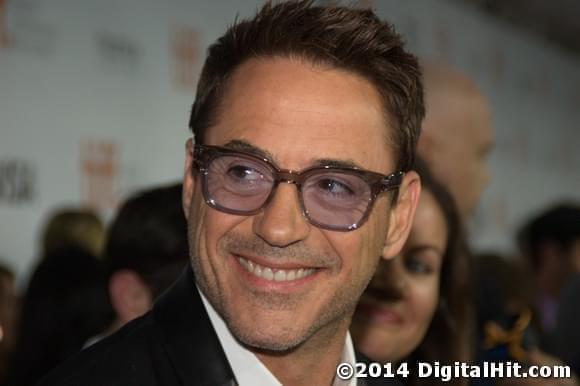 It's the first day of the 39th Toronto International Film Festival and we begin our coverage at Toronto's historic Elgin Theatre, which is known as the Visa Screening Room for the duration of the fest. They're screening the premiere of The Humbling, a Barry Levinson film based on the novel by Philip Roth. It stars Al Pacino as an older actor whose career is fading and examines the relationship he enters into with a friend's lesbian daughter who has long held an infatuation for him.
Pacino said on the red carpet that he saw the film as a tragic comedy. His character is beginning to find it difficult separating what happens on stage and in life. Pacino said Levinson told him to "just go for it" in terms of the comic moments and Pacino said he would have been worried with any other director doing that, but felt safe in the hands of a veteran.
From the VISA Screening Room we headed off to Roy Thomson Hall and the festival's opening night film, The Judge. Okay, just ignore the fact that we've already covered a carpet tonight, suspend disbelief, and accept that this is the "official" opening film of TIFF 2014.
Directed by David Dobkin, The Judge follows Hank Palmer (Robert Downey Jr.), a successful Chicago lawyer who returns home to defend his father (Robert Duvall), a respected judge charged in a hit-and-run case.
The film is produced by Team Downey, the production company run by the film's star, Robert Downey Jr. and his wife, producer Susan Downey. She told reporters on the carpet that their professional pairing works because of mutual respect. "I couldn't do what he does, day in and day out, he couldn't do what I do, and I couldn't do it without him," she said.
83-year-old Robert Duvall, who said the movie was full of twists and turns complimented the film as having a beautifully written, very smart script. He said he doesn't get offered — or accept — many roles right now but joked with reporters that, "I've got a few more left before they wipe off the drool!"
Vera Farmiga, who plays an old flame Downey Jr. abandoned two decades earlier, said the movie "nobly explores" the subject matter of reconciliation.
TIFF Day One Photo Galleries