39th Toronto International Film Festival Coverage: Day Three
Saturday, September 6th, 2014 by Ian Evans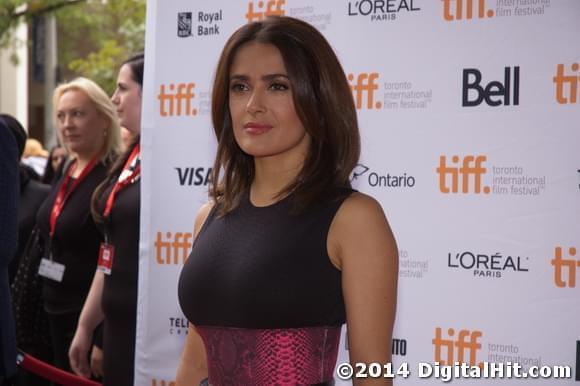 It's the first Saturday of the festival and we have a lot of films to cover today.
First off, it's off to Roy Thomson Hall for the gala premiere of Black or White, which was written and directed by Mike Binder and stars Kevin Costner and Octavia Spencer. Costner plays an attorney, Elliot Anderson, recently widowed, who suddenly finds himself in a custody battle with the paternal grandmother (Octavia Spencer) of his biracial granddaughter. Spencer's Rowena wants the child raised by her drug-addicted son, a man Anderson still blames for the death of his daughter.
Costner enjoyed acting with Spencer, calling her a "kindred spirit". He said their acting styles were both "slow", in terms of memorization and getting ready for their roles, so it was a great experience.
Spencer returned the admiration, praising Costner's financial backing of a project she said was sadly topical.
Kahlil Gibran's The Prophet was next at the red carpet outside Ryerson University's Ryerson Theatre. Produced by Salma Hayek and directed by The Lion King's Roger Allers, the film has a team of acclaimed animators doing their take on the classic text by Lebanese poet Kahlil Gibran.
Hayek discovered the book through her late grandfather, who always had a copy of it on his side table. She read it much later and felt that through it she was getting lessons on how to cope with life from her grandfather. Saying it was a real family film, she was also happy and proud to be able to pass on the lessons to her daughter.
Staying at Ryerson, we then covered Jason Reitman's Men, Women & Children. TIFF is almost like a second home to Jason – several of his films have screened here – and the festival HQ, TIFF Bell Lightbox, sits on Reitman Square, land donated to the festival by his family.
His latest film looks at teenagers and their parents as they try to understand the myriad of ways that the internet has changed, among other things, relationships, self-image and communication. The ensemble cast features Judy Greer, Adam Sandler, Jennifer Garner, Rosemarie DeWitt, Ansel Elgort, J.K. Simmons, and Emma Thompson. At the film's press conference, Sandler was asked if, as a parent, he was scared by what's out there on the internet. Sandler said that some of the material was upsetting and the access so simple, that a parent just has to do their best to protect their life and family from the negative things out there. Jennifer Garner agreed. She's not a big user — if at all — of some of the sites and technologies that were portrayed but she says that she still has to be aware and ready to deal with it when her daughters are at the point where they want to start using them.
One of the elements in the film is texts and instant messages appearing on screen during the scenes. Reitman said that oddly people are very accepting of it as we do seem to be in a world where we're constantly checking out screens during all moments in our life.
Next, we're off the the Princess of Wales Theatre for Noah Baumbach's While We're Young. Ben Stiller and Naomi Watts play a middle-aged couple whose life is an a bit of a lull until they have their creative juices sparked by a young artsy couple portrayed by Adam Driver and Amanda Seyfried. The street in front of the theatre, King, is shut down for the first few days of TIFF and Stiller and Driver delighted the fans by spending a lot of time signing autographs and hopping into selfies.
Back at Ryerson, it was now time for The Sound and the Fury. Directed by, and starring, James Franco, the film is an adaptation of the William Faulkner tale of an ill-fated Mississippi family. Franco who also directed the Faulkner adaptation As I Lay Dying, expressed his appreciation for the author's work. "Faulkner is one of my favourite writers since I was a teenager," he said. "Once I started adapting his work into his movies, one of the things I love is his books are written in such a way that the movies will be period pieces but they pull me into new directions. I can make a period film shot in a contemporary way."
We ended the night back at Roy Thomson Hall for the gala premiere of Lone Scherfig's The Riot Club, which blasts away at the British class system as it follows two young men accepted into Oxord's elite "Riot Club." Actor Douglas Booth said his research took him to some of the "poshest" schools in the UK, where he was able to meet members of similar clubs. He could see that elitism and entitlement were bred into them at a young age. Max Irons said he could see part of the attraction, saying on the red carpet that you'd be hard-pressed to find someone who wouldn't be flattered to join the "top table" especially when you see those members go on to be captains of industry and heads of government.
That's it for Saturday. Time to rest before we hit day four of the festival.
TIFF Day Three Photo Galleries