39th Toronto International Film Festival Coverage: Day Seven
Wednesday, September 10th, 2014 by Ian Evans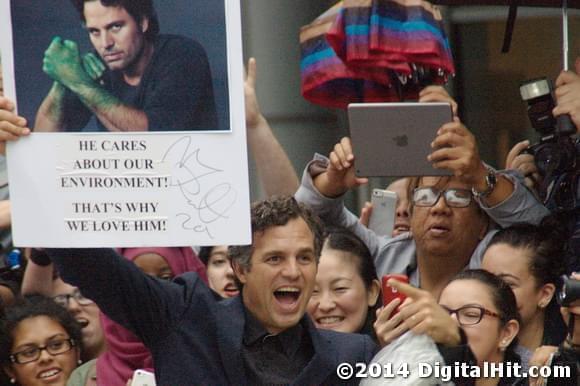 It's a strange day on the red carpet at Roy Thomson Hall. We've had a heat wave, we've had had cooler days, but today is a rainy one with high winds. There's also a bit of a weird vibe on the carpet as reporters have just found out that Toronto's infamous crack-smoking mayor, Rob Ford, has some form of tumour he's being checked out for. With the Festival beginning to be in the wind-down phase, local media are abuzz with the new news and how it might change next month's election. The international media are also full of question for those of us who call Toronto home, as they've only seen the crazy headlines about the crack-smoking politician's time in office. To call this on odd night for us would be an understatement.
The first film of the night was Infinitely Polar Bear, director Maya Forbes semi-autobiographical film about a manic-depressive father trying to raise his daughters. Forbes' daughter, newcomer Imogene Wolodarsky, takes on the role of a fictionalized version of her mother as a young girl, while Mark Ruffalo plays the dad.
Forbes says the title comes from a real story from her life, when, during college, she and her sister had to take their father to the hospital as he was in a manic episode. On the intake form it asked what was wrong with him. He checked "Other" and wrote "Infinitely Polar Bear."
Ruffalo says the part had him swing all over the place, from being funny, to moving, to chaotic. He said having the woman who went through the story directing was "like having the best technical adviser with you every moment. It became this wonderful dance that Maya was leading us in."
The second film, Laggies, had everyone blown away…literally. The winds picked up, the tent covering the red carpet threatened to carry us to Oz, while Keira Knightley and director Lyn Shelton's hair had to battle the gusts during the photos, a problem not affecting co-star Sam Rockwell.
Laggies looks at Knightley's character Megan, a twenty-something who is living below her potential. When an unexpected proposal throws her for a loop, she escapes for a week with a teenager (Chloë Grace Moretz) in order to reassess her life.
Asked if there was such a thing as age-appropriate behaviour, Keira said she wasn't sure if such a thing existed, and if it did, she didn't get the memo. The film is about being rudderless and Shelton said she didn't even realize she had been lost and searching until she started filmmaking in her mid-thirties and realized that was what she was meant to do.
That ends things for today. Let's hope the winds die down.
TIFF Day Seven Photo Galleries