40th Toronto International Film Festival Coverage: Day Three
Saturday, September 12th, 2015 by Ian Evans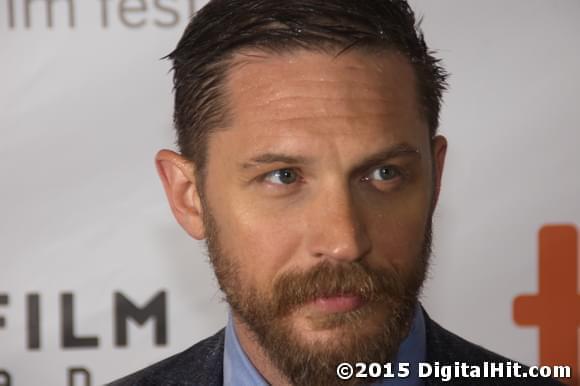 Three premieres had us making our home in the press pen at Roy Thomson Hall on the first Saturday of the 40th edition of TIFF. We were there to cover the gala premieres of Catherine Hardwicke's Miss You Already, Atom Egoyan's Remember and Brian Helgeland's Legend.
Based on screenwriter Morwenna Banks BBC radio play Goodbye, Miss You Already is a comedy-drama about two long-time friends (played by Toni Collette and Drew Barrymore) and the challenges their friendship faces as they both deal with medical issues. Toni and Drew were joined on the red carpet by All-American Rejects frontman Tyson Ritter, director Catherine Hardwicke, writer Morwenna Banks, songwriter Diane Warren and composer Harry Gregson-Williams.
Barrymore, who loved working with Toni Collette, described her character as "strong, capable and accountable" and liked playing a character who "is who she is" and didn't have a big sweeping character arc of change but whose challenge was to remain stable in the face of great change.
Collette described her character, who faces a cancer diagnosis, as a "ballsy, forthright woman" and said that working with Barrymore was "magical and electric" describing her co-star as a "present, thoughtful and open" actress.
Up next was Remember, by Toronto's own Atom Egoyan. It's the story of Zev (Christopher Plummer), a nursing home resident with a fading memory, who is urged to seek out and kill a Nazi concentration camp guard by his friend Max (Martin Landau). Using Max's carefully written instructions to aid his memory, Zev goes on a mission some seventy years in the making.
Landau said the characters that he and Plummer play complement each other as his is mentally bright but in a wheelchair, while Plummer's Zev is physically capable but losing his memory. He had nothing but praise for the Canadian acting icon,who in turn said he was crazy about Landau. Dean Norris, known to TV binge-watching fans as DEA agent Hank Schrader on the AMC series Breaking Bad, said between working with Plummer, Egoyan and producer Robert Lantos it was like being with "Canadian royalty in the film business."
From acting legends we went to the movie Legend which chronicles the lives of Reggie and Ronnie Kray, twin brothers who ruled the underworld scene in London during the Sixties. The film's star, Tom Hardy, was in attendance, as was Emily Browning, who plays Reggie's wife Frances Shea, and Chazz Palminteri, who plays Philly mobster Angelo Bruno. They were joined by director Brian Helgeland, producer Chris Clark and composer Carter Burwell.
Hardy, who braved the rain to sign autographs for his fans, was praised by his co-stars, who had to play each scene with him twice, once with him as Ronnie and once as Reggie. Browning's character narrates the story and she thought that was a way of not glamorizing their activities, as you were "hearing the story in the voice of the one innocent character." Director Helgeland thought she did a magnificent job as the glue that holds the story together.
TIFF Day Three Photo Galleries