40th Toronto International Film Festival Coverage: Day Four
Sunday, September 13th, 2015 by Ian Evans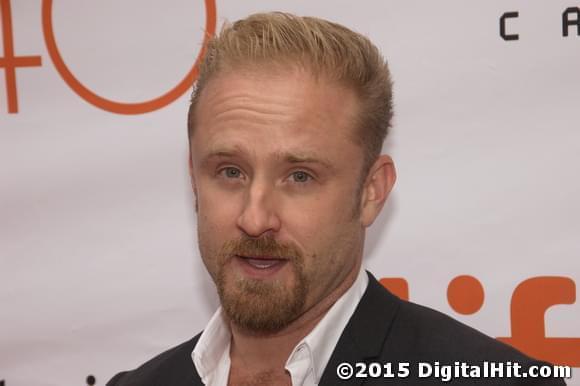 It's the fourth day of the Festival and the hustle and bustle continues. Filmgoers buzz about what they've seen and what they intend to see and the press suits up for another long day.
We're sticking around Roy Thomson Hall again today to cover the gala premieres of The Program, Beeba Boys and Freeheld.
The Program, from director Stephen Frears, follows the scandal surrounding Lance Armstrong (Ben Foster) who participated in most elaborate doping program in the history of cycling. Chris O'Dowd plays David Walsh, the journalist who worked tirelessly to expose Armstrong for the fraud he is.
Director Frears doesn't actually view the film as a film about cycling. In a way, he sees it as a heist film, a crime story, telling the media on the carpet that Armstrong used doping and deception to steal the Tour de France title for seven years and amass great wealth through sponsorships.
Journalist David Walsh felt that it took so long for people to believe what his investigations were finding because they wanted so badly for his story — man beats cancer and becomes a super athlete — to be true. Speaking of Walsh, Chris O'Dowd said it was a treat to play a person with such integrity and dogmatic resilience.
Later in the day, we covered Deepa Mehta's Beeba Boys. The men in the cast had to win the award for best dressed and even the most hardened photographer had to admire their tailored suits and no socks look.
Beeba Boys is loosely based on the life of notorious crime lord "Bindy" Singh Johal and the Punjabi gangs operating on Canada's West Coast. Randeep Hooda plays Jeet Johar, a devoted family man and ruthless gangster whose gang is as deadly as it is well-attired. Mehta, a Festival favourite, delves into the glamour and the grit of the gangster lifestyle.
Mehta said that most crime films are rooted in the cultures they take place in, like the Italian Mafia and its styles and food, so she was interested in a story that looked at the crime lords in Indian culture. Monika Deol, who used to host MuchMusic's Electric Circus, was intrigued by the fact that this story wasn't all fiction but based on actual events in the West Coast crime scene.
Actor Waris Ahluwalia, a designer himself, gave all the credit for the film's look to director Deepa Mehta, who he said had a vision for the look of the Beeba Boys gang, crisp and clean, but then added the colours of Indian culture to it.
Popular Indian actor Randeep Hooda was pleased to be finally working with Mehta. He was also happy to work with a relative new group of actors, saying that he still had enthusiasm for his job so he loved the excitement and energy they brought to the production.
We ended the night with Freeheld, director Peter Sollett's look at the true story of terminally ill New Jersey police officer Laurel Hester (Julianne Moore) and her legal battle to pass her pension benefits on to her domestic partner, Stacie Andree (Elliot Page).
Moore said an actor definitely works with a different set of parameters when playing a real-life person and she wanted to make sure that her performance was a tribute to Laurel Hester. She was glad that she had real chemistry with her co-star Elliot Page and said that they looked forward to working with each other each day.
Despite the LGBT rights aspects and the politics of equality, director Peter Sollett said that first and foremost Freeheld is a love story and that's important he said, "…because if you accept their love as equal, then you will want to see them perceived as equal by the end of the film." The real-life Stacie Andree was at the premiere and Sollett said that, "she was always open to giving us advice on scenes" but most importantly, "her activism and strength inspired us to work at a very high standard."
TIFF Day Four Photo Galleries