40th Toronto International Film Festival Coverage: Day Six
Tuesday, September 15th, 2015 by Ian Evans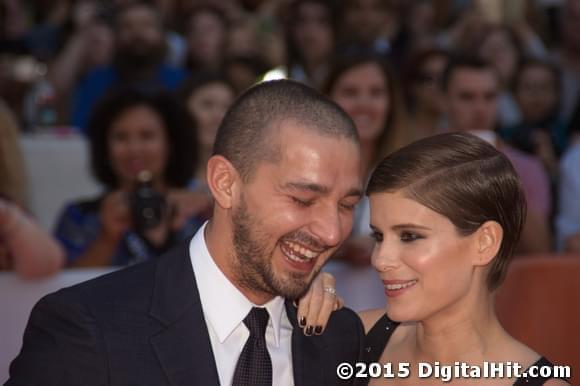 The first five days of TIFF are always really busy, but now things are getting a little quieter and we only covered one carpet at Roy Thomson Hall today.
The film was Dito Montiel's Man Down, which stars Shia LaBeouf, Kate Mara and Gary Oldman in the story of a former Marine desperately searching for his wife and son in a post-apocalyptic America.
Mr. LaBeouf has had an interesting relationship with the media in the last few years. In 2014, he walked the red carpet at the Berlin International Film Festival wearing a paper bag on his head that had "I Am Not Famous Anymore" written on it. On this particular fall Tuesday, he and co-star Kate Mara decided to pose for the photographers and bypass talking to the assembled TV media. Some people would find that strange, thinking it's the paparazzi who are the bad guys. But here's the thing…we're not paparazzi, we're credentialed press photographers. Some of the men and women in the pen work for the daily papers. Some have shot in war zones. Most don't care who's seeing whom. We're shooting stills. They're silent. Meanwhile, the video reporters, the ones who are treated as if they're higher on the food chain, are the ones that ask questions about relationships, or rumours, or, yes, paper bags on heads.
So Kate and Shia posed for us. They smiled. They laughed. It was actually a good shoot with a guy who has a reputation for being difficult. But often these reputations are overblown to sensationalize the news.
Director Dito Montiel, whose directorial debut was 2006's A Guide to Recognizing Your Saints, did spend some time talking to the media. He said that despite the messed up post-apocalyptic world that surrounds the action, it's really just a family story about a father trying to find his son no matter what's going on around him.
TIFF Day Six Photo Galleries