40th Toronto International Film Festival Coverage: Day Seven
Wednesday, September 16th, 2015 by Ian Evans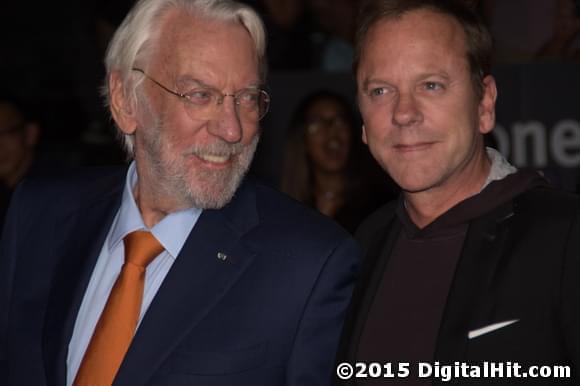 And on the seventh day…
It's Day Seven of the Festival. Some of the U.S. press have already headed home as things begin to wind down in this year's edition. Today a father and son duo are premiering a film that has them sharing scenes for the first time in their careers.
The film is Forsaken and the father and son are the famous Canuck duo of Donald and Kiefer Sutherland. Though the pair were in Max Dugan Returns and A Time to Kill, Forsaken actually marks the first time that they've shared scenes together. The film's a western, and Kiefer plays a deadly gunslinger who returns home hoping to repair the estranged relationship he has with his father. His reconciliation time is interrupted when a local gang terrorizes the town and he's the only one who can stop them.
Kiefer says he couldn't ask "for anything cooler" than to spend time making the film with his father. At the start of his career, appeared in The Bay Boy at TIFF and so to appear with his father, in a film shot in Canada, that premiered in the city he grew up in was a dream come true for him.
The older Sutherland was proud of his offspring's work. Asked what it was like working with his son, Donald replied, "it was like working with a really good actor."
Director Jon Cassar, who worked with Kiefer on the TV series 24, sees Forsaken as a redemption story about a man who has to deal with the person he has become since the Civil War and how others deal with him.
TIFF Day Seven Photo Galleries