43rd Toronto International Film Festival Coverage: Day One
Thursday, September 6th, 2018 by Ian Evans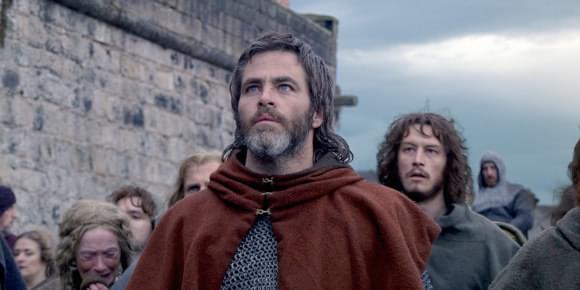 Outlaw King courtesy of TIFF.
It's day one of the 43rd edition of the Toronto International Film Festival and the opening night film over at Roy Thomson Hall is David Mackenzie's Outlaw King, which follows the legendary Robert the Bruce (Chris Pine) as he fights to regain the Scottish throne after being exiled by the English. Tonight's opener is also a glimpse of the evolution film festivals are going through as Outlaw King is actually being distributed by Netflix and will premiere on the streaming service in November. So, in this day and age, is a film festival still solely for films that show in cinemas or can those that wind up on our TVs, tablets and phones also be a part of the mix?
Pine told press on the red carpet that he "relished the challenge of figuring out a very, very complicated guy." Part of that challenge, Pine said, was taking the two-dimensional figure you find in the history books and creating a person who is real and relatable.
Ryerson Theatre was also kept busy with screenings on TIFF's opening night. Neil Jordan co-wrote and directed the thriller Greta. Chloë Grace Moretz plays Frances, who returns a lost handbag to its rightful owner, Greta (Isabelle Huppert). The two become friends but Frances soon discovers that nothing in Greta's life is what it seems.
Jordan's film was followed by a screening of Michael Moore's Fahrenheit 11/9. The documentarian's latest work takes a look at the events and forces that led to the election of Donald Trump in 2016. While many people scoffed at the possibility of a boorish reality show host winning over an experienced policy wonk, Moore was one of the few pundits to go on air and say the spray-tanned developer had a real chance of winning.
The night over at Ryerson was concluded with the opening film of the popular Midnight Madness programme, Shane Black's The Predator. Olivia Munn, Keegan-Michael Key and Canada's own Jacob Tremblay were among the cast to walk the red carpet. A controversy had director Shane Black avoid the carpet and press altogether. It turns out that Munn had discovered that one actor she had a scene with, Steven Wilder Striegel, was a registered sex offender who had pleaded guilty to attempting to lure a 14-year-old girl into a sexual relationship. Director Black was aware of this, but had chosen to "help a friend". Twentieth Century Fox pulled his scene with Munn after she alerted them.