43rd Toronto International Film Festival Coverage: Day Four
Sunday, September 9th, 2018 by Ian Evans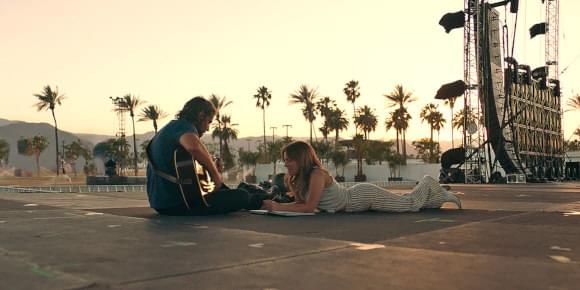 A Star is Born courtesy of TIFF.
It's day four and…oh let's face it…everyone is going crazy about Lady Gaga. Don't worry, we'll talk about her soon.
Emilio Estevez brought his film The Public to TIFF 2018 with a matinee gala at Roy Thomson Hall. Estevez wrote, directed and stars in the film about homeless citizens who occupy a library during a brutal winter cold front in Cincinnati. The film shines a light on homelessness, mental illness and what makes a community more than just a collection of by-laws and regulations. Estevez is joined in the cast by Alec Baldwin, Taylor Schilling, Jeffrey Wright, Jena Malone, Gabrielle Union, Christian Slater, and Michael K. Williams. Baldwin had praise for his director, telling press on the carpet that Estevez is "…admired and adored by everyone in the business. They love the films he makes…very personal films."
What's that buzzing sound? That very loud buzzing sound? It's the Oscar buzz that's been surrounding the latest remake of A Star is Born since it first bowed in Venice just over a week ago. Bradley Cooper directed and stars in the film alongside Lady Gaga, Andrew Dice Clay, Dave Chappelle and Sam Elliott. Cooper plays Jackson Maine, a rock star who seeks comfort at the bottom of a bottle. He discovers Ally (Lady Gaga) and her pure talent and nurtures it. But along with the art comes the pitfalls. At the post-screening Q&A, Sam Elliott had high praise for Cooper, calling him a "genius filmmaker" and saying that as a director who acts who was sensitive to what "actors need or actors want to do the best work."
The night at RTH closed with master French filmmaker Claire Denis' English-language debut High Life. The sci-fi drama stars Robert Pattinson, Juliette Binoche, Mia Goth, and André Benjamin in the story of a group of criminals sent into deep space. Pattinson admitted to press on the carpet that he had pursued working with Claire Denis, saying that he found her work to be innovative and added that her films don't follow conventional narrative techniques and just feel honest.
With the attention on Roy Thompson Hall today it would be easy to forget that there was a lot of activity at the other theatres too.
Over at the Princess of Wales, music legend Quincy Jones was profiled in the aptly named documentary Quincy, which was co-directed by Alan Hicks and Jones' daughter, actress Rashida Jones. The film follows Quincy's life and career as he makes his impact felt on jazz, pop, hip-hop, film and television. Rashida walked the carpet with her father and told the press that "I wanted to be true to his story. I love him so much and I wanted to honour him, obviously, but I also want to tell the whole story."
The PoW also played host to Jake Scott's American Woman, which stars Sienna Miller, Aaron Paul, Amy Madigan, and Christina Hendricks in the story of a woman dealing with her daughter's disappearance over an eleven year period. Miller loved her character, describing her as "flawed and complicated and brave."
Over at Ryerson, Jonah Hill was making his directorial debut with the coming-of-age story Mid90s, about a teenage boy who finds out where he belongs when he meets a group of skateboarders. The film stars Sunny Suljic, Katherine Waterston and Lucas Hedges. At the post-screening Q&A, Hill was moved by the thunderous reception the audience gave the film. Sunny Suljic touched upon the preparation that went into the project with a lot of rehearsals but also an iPod that was given to each actor full of the music Hill wanted to use, helping the actors get into the feel of that moment in time.