Amanda Bynes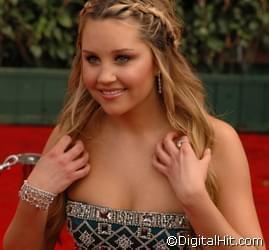 Check out our Amanda Bynes photo gallery.
Born: Apr. 3, 1986 Thousand Oaks, California, USA
[Please note that we are recovering from a bad database backup and some of our bio entries might be a bit stale. We are baking up a fresh batch as soon as possible.]
Amanda Laura Bynes was born on April 3rd, 1986 in Thousand Oaks, California.
Engaging and funny from the get go, Bynes was discovered by Nickelodeon when she performed a comedy routine at The Laugh Factory when she was only ten years old. The network scouts asked her to audition and she landed a role on their tween sketch comedy show, All That. She performed on the show from 1996 to 2000. Soon after, Bynes was offered her own show on Nickelodeon, The Amanda Show, which ran from 1999 to 2001.
She made her big screen debut in 2002, when she played opposite Frankie Muniz in Big Fat Liar. She also began to get attention from mainstream, non-tween, audiences when she was cast as Jennie Garth's sister on the sitcom What I Like About You, which ran from 2002 to 2006.
In 2003, she was in What a Girl Wants with Colin Firth playing her father. In 2005, she was in Love Wrecked with Chris Carmack and also voiced Piper in the computer-animated Robots. She then did the Shakespeare play reworked as a teen movie shtick with 2006's She's the Man.
After the end of her series, Bynes she was seen in 2007's Hairspray with Nikki Blonsky, John Travolta and Zac Efron and then retold the Snow White tale in a college setting in Sydney White. She then worked with Angie Harmon and Harry Connick Jr. on the TV movie Living Proof.
After starring in the 2009 TV movie Canned, Bynes' last major credit was a role in 2010's Easy A with Emma Stone.
Sadly, personal issues have been the only headlines Bynes has been generating of late. She was ticketed for distracted driving in March of 2012 and one month later was charged with a DUI after hitting a police car in West Hollywood. Later that year she was charged with two hit and run incidents though the charges were later dropped after she reached financial settlements with the victims. She also reached a three year probation plea deal that led to her DUI charge being dropped. She was later charged with driving with a suspended license.
In the spring of 2013, Bynes was arrested in New York for criminal possession of marijuana, attempted tampering with evidence, and reckless endangerment after an incident where she was seen behaving strangely and later through a bong out of an apartment window. Bynes underwent a psychiatric evaluation and the case was later dismissed. In the summer of 2013, Bynes was detained by Ventura County sheriff's deputies after she set a small fire in the driveway of a stranger's house in Thousand Oaks, California. She was placed under a three day psychiatric hold.
Amanda's parents filed for conservatorship of their daughter shortly after that incident. Her mother was granted temporary conservatorship over Bynes' financial and medical affairs and she was later admitted to the UCLA Medical Center. She was released to her parents' care in December 2013, but was arrested for a second DUI in September of 2014. She was hospitalized in October 2014 after she went on Twitter to say that her father had sexually abused her. She later recanted the accusations but then claimed a microchip had been implanted in her head and that had made her go on her Twitter rant.
Hopefully Amanda Bynes can get the care she needs and lead a full and healthy life.
As time progresses, we'll have more info about Amanda Bynes here. If you have any comments or suggestions about our coverage, please email us.