Calista Flockhart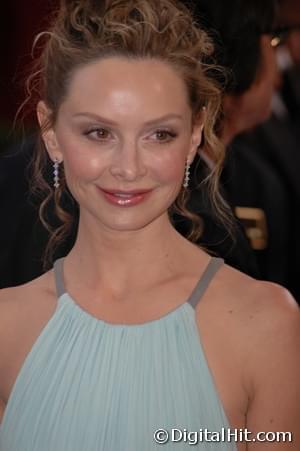 Check out our Calista Flockhart photo gallery.
Born: Nov. 11, 1964 Freeport, Illinois, USA
[Please note that we are recovering from a bad database backup and some of our bio entries might be a bit stale. We are baking up a fresh batch as soon as possible.]
Though many believe that Calista Flockhart was an overnight sensation who tripped into Ally McBeal, she was actually a veteran of the stage before she and her character's short skirts caught our attention.
Calista was attending Rutgers University in the mid-80's and didn't want her major to be undeclared. She enrolled in the fine arts program and started studying acting under drama coach William Esper. Graduating in 1987, Calista moved to New York to pursue an acting career.
She worked quite steadily on the stage, performing roles in plays like Death Takes a Holiday, Sophistry, All for One and an off-Broadway production of Wrong Turn at Lungfish which was directed by Garry Marshall. After doing some small roles on soaps she landed a supporting role in the TV movie Darrow, which starred Kevin Spacey. After that she landed a starring role in The Secret Life of Mary-Margaret: Portrait of a Bulimic, from the HBO series Lifestories:Families in Crisis.
Though she continued to get great reviews for her stage work, she went through a bit of a dry spell with her TV work and money was getting tight. Things looked up though when she won a gig in the Broadway revival of The Glass Menagerie. She received critical raves and won both the Theater World Award and the Clarence Derwent Award. That was followed by her feature debut, a bit part in Robert Redford's Quiz Show, which in turn was followed by a major supporting role in the cable movie Drunks. Director Mike Nichols saw Flockhart's performance in The Loop, and she was cast her as the daughter of Gene Hackman and Dianne Wiest in his comedy The Birdcage.
Flockhart then appeared on stage in the Three Sisters, a show that also featured Amy Irving, Jeanne Tripplehorn, Lili Taylor, and Eric Stolz. Flockhart again received raves and came to the attention of prolific TV producer David E. Kelley, who was developing a show for FOX called Ally McBeal. Though she was initially reluctant to do weekly television, Flockhart was offered the title role. She won a Golden Globe in 1998 for her role as the confused, mini-skirted lawyer.
In December of 2000, Calista was nominated for a Golden Globe for her role in Ally McBeal. She also surprised people in January 2001 with her announcement that she had adopted a baby boy.
Ally McBeal ended its run in 2002. In 2004, she appeared in the film The Last Shot with Alec Baldwin and Matthew Broderick and then took a bit of a break from the big and small screens.
In 2006, Calista returned to the small screen with the series Brothers & Sisters, which also stars Rachel Griffiths and Sally Field.
On the personal side, Flockhart is the longtime partner of Harrison Ford.
As time progresses, we'll have more info about Calista Flockhart here. If you have any comments or suggestions about our coverage, please email us.