Halle Berry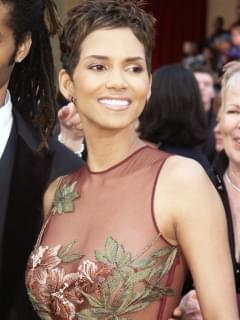 Check out our Halle Berry photo gallery.
Born: Aug. 14, 1968 Cleveland, Ohio, USA
[Please note that we are recovering from a bad database backup and some of our bio entries might be a bit stale. We are baking up a fresh batch as soon as possible.]
Halle Berry was born on August 14, 1968 in Cleveland, Ohio. Named after the Halle Brothers department store, Halle had a tough childhood due in part to an abusive father who abandoned the family when she was four and the struggles of being a mixed-race child in the Midwest.
During her high school years, the stunning Berry began to get involved in beauty pageants. She won the Miss Teen All-American Pageant in 1985 and a year later she was the first runner-up in the Miss USA Pageant. After her pageants she began modeling and soon landed a role in the Who's The Boss spin-off Living Dolls. That was followed by a role on Knots Landing.
Halle landed her first film role in Spike Lee's Jungle Fever in 1991. In that same year she appeared opposite Bruce Willis and Damon Wayons in The Last Boy Scout. She was cast as Eddie Murphy's love interest in 1992's Boomerang and held her own against the comedian. She also received rave notices for her work in the TV mini-series Queen.
In 1994, she played Sharon Stone, the sexy, scheming secretary in the live action version of The Flintstones before turning again to serious work with Jessica Lange in 1995's Losing Isaiah which received mixed notices from the critics. She made a string of relatively forgettable films like Executive Decision, The Rich Man's Wife and B*A*P*S before once again getting critical raves when she appeared with Warren Beatty in the excellent political satire Bulworth.
The next year, she received more raves for her role in the cable movie Introducing Dorothy Dandridge, which she co-produced. The project earned her an Emmy and a Golden Globe.
She gained a lot of media attention in 2000. Unfortunately it wasn't just for her appearance in X-Men with Patrick Stewart and Hugh Jackman, but for driving. She suffered a gash to the forehead when she ran a red light and slammed into another car and earned a misdemeanour charge for leaving the scene of the accident.
She probably stopped a lot of traffic in 2001 when she bared her breasts for the first time in the John Travolta flick Swordfish. That film was your basic popcorn flick but she again bared her body and her soul in the drama Monster's Ball. She received Golden Globe and Academy Award nominations for the role and though Sissy Spacek took home the Globe, Halle was the first African-American actress to win Best Actress at the Oscars® a moment she cherished in a long and tearful speech.
After her award-winning work in Monster's Ball, Halle did some lighter work. She became a Bond girl, appearing as Jinx in 2002's Die Another Day and reprised her role as Storm in 2003's X2: X-Men United. That same year she appeared in Gothika. She returned to the action fold in the 2004 stinker, Catwoman.
In 2005, Halle starred in the Oprah Winfrey produced TV movie Their Eyes Were Watching God and lent her voice to the computer animated Robots. She played Storm once again in 2006's X-Men: The Last Stand and teamed up with Bruce Willis for 2007's Perfect Stranger, which received less than perfect reviews. 2007 also saw her work opposite Benicio Del Toro in Things We Lost in the Fire.
In her personal life, Halle had a tumultuous 4-year marriage to baseball player David Justice which ended in a nasty divorce in 1996. She married R & B singer Eric Benet in January 2001, but that marriage ended in divorce in 2004 after the singer's frequent infidelities. In 2007, she announced she was pregnant with boyfriend Gabriel Aubry's child. They welcomed daughter Nahla Ariela Aubry on March 16th, 2008.
As time progresses, we'll have more info about Halle Berry here. If you have any comments or suggestions about our coverage, please email us.