Hilary Swank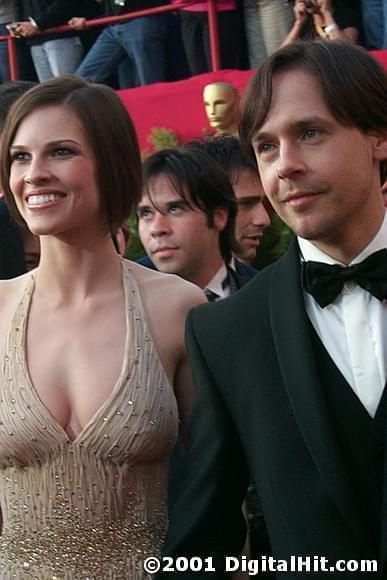 Check out our Hilary Swank photo gallery.
Born: July 30, 1974 Lincoln, Nebraska, USA
[Please note that we are recovering from a bad database backup and some of our bio entries might be a bit stale. We are baking up a fresh batch as soon as possible.]
Not since Dustin Hoffman played Tootsie had a cross-dressing role garnered so much Oscar® attention. Hilary Swank's performance in Boys Don't Cry earned her critical raves as well as a Golden Globe and Oscar® on her mantle.
Hilary was born in Lincoln, Nebraska on July 30, 1974. She grew up in Bellingham, Washington. In her high school years she devoted time to the stage and athletics. As a jock Swank swam in the Junior Olympics and state championships. She also ranked fifth in the state for gymnastics.
Acting was also a major activity for Swank and she appeared in several local stage shows. At the age of sixteen she decided to pursue her acting career in Los Angeles. While still attending high school, she was able to land small roles in shows like Harry and the Hendersons, Growing Pains, and Evening Shade.
By 1992, Swank was a regular on the TV series Camp Wilder. That year she also received her first film credit, appearing in the movie version of Buffy the Vampire Slayer.
Swank next appeared in a film that inspires the question "Was the world asking for another sequel?": The Next Karate Kid. The black belt almost turned to a black eye as the reviews for the film were dismal. Swank continued to appear in TV movies and small flicks, but then she landed the role that put her on most people's radar: Carly Reynolds in the long-running youth angst show Beverly Hills, 90210. Her character was on the show for sixteen episodes, long enough to catch some attention.
That same year, Swank exchanged vows with Rob Lowe's younger brother, Chad. However, his blushing bride soon started dressing like a man. Swank was throwing herself into preparations for her role in Boys Don't Cry. It was the real-life story of a young Nebraska woman, Teena Brandon, who lived as Brandon Teena and was subsequently raped and killed. The film grabbed a lot of positive notices at places like the Toronto International Film Festival and suddenly Swank's name was being mentioned at awards season. She had to make room on her mantle for an Oscar, a Golden Globe and an Independent Spirit Award. Not bad for a 90210 survivor.
She made The Gift in 2000, The Affair of the Necklace in 2001 and worked opposite Al Pacino in 2002's Insomnia.
In 2004, Swank appeared with Morgan Freeman and Clint Eastwood in Eastwood's Million Dollar Baby. The role of a female boxer earned Swank an Oscar, a Golden Globe and a SAG Award.
As time progresses, we'll have more info about Hilary Swank here. If you have any comments or suggestions about our coverage, please email us.