Mena Suvari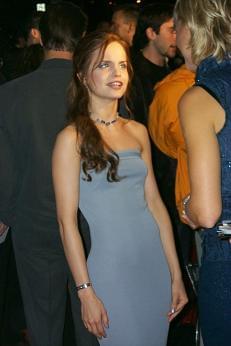 Check out our Mena Suvari photo gallery.
Born: Feb. 9, 1979 Newport, Rhode Island, USA
[Please note that we are recovering from a bad database backup and some of our bio entries might be a bit stale. We are baking up a fresh batch as soon as possible.]
Mena Suvari had a very American year in 1999, appearing in both American Beauty and American Pie. The two films also showed the young performer's range as the first is darkly comedic and the second full of comedy so broad it needs red flags and a police escort when it rolls down the highway.
Mena Suvari was born in Newport, Rhode Island on February 9th, 1979. She got into modeling at the age of 12, when her family was living in South Carolina. She was noticed by the Wilhelmina agency and lied that she was 13 so that they would sign her.
She worked as a model for five years, frequently commuting from her home in Charleston to her work in New York. She eventually landed an ad for Rice-a-Roni and Mena and her parents headed off to Los Angeles.
Her first TV appearance was in 1995, when she worked on an episode of the ABC show Boy Meets World. She also landed roles on ER and Chicago Hope. The latter won her critical praise for her work portraying an HIV-infected teen.
Her first film gig was in Gregg Araki's Nowhere, which also featured Denise Richards. Unfortunately the film was declared dead on arrival, but Mena's next film appearance was in the better received Kiss the Girls, which starred Ashley Judd and Morgan Freeman. Roles in Slums of Beverly Hills and The Rage: Carrie 2 followed.
1999 started off with a whimper as Suvari appeared as Rob Lowe's daughter in the awful NBC mini-series Atomic Train. She followed that with American Pie, a perfect melding of the typical summer teen flick with the gross-out comedy genre. She could have easily settled into the carbon-copy teen film world, but her next role showed her maturity when it came to her career. She chose the Kevin Spacey vehicle American Beauty. The film's critical success and Oscars® ensured that Mena was in the minds of directors. Though some felt all the awards attention went to the older cast members, the British didn't make that mistake and Mena and her co-stars Thora Birch and Wes Bentley all received supporting BAFTA nominations.
Mena did do a couple of lighter flicks after American Beauty. She filmed Sugar and Spice and Loser, which also co-starred American Pie's Jason Biggs. It was on the set of Sugar and Spice that Mena met cinematographer Robert Brinkmann. It was just before the Oscars® that the world discovered that the 21-year-old had married the 38-year-old. 2001 also saw Mena in The Musketeer and American Pie II.
The next year, she appeared in Spun with Jason Schwartzman, Mickey Rourke, Brittany Murphy and John Leguizamo as well as Sonny, which saw her working with James Franco, Brenda Blethyn and Harry Dean Stanton.
In 2004, Mena appeared opposite Colin Firth in Trauma and also had a seven episode arc on the HBO series Six Feet Under which starred Peter Krause, Michael C. Hall and Frances Conroy.
Suvari kept very busy in 2005. She worked with Queen Latifah and Alicia Silverstone on Beauty Shop, appeared alongside Amy Adams, Colin Hanks and James Van Der Beek in Standing Still, worked with William H. Macy, Julia Stiles and Joe Mantegna on Edmond, made Domino with Keira Knightley and Mickey Rourke and appeared in Rumor Has It with Kevin Costner, Jennifer Aniston, Mark Ruffalo and Shirley MacLaine. That same year she ended her five year marriage to Brinkman.
2006 was another productive year for Mena, appearing in the TV movie Orpheus with Fairuza Balk, Caffeine with Katherine Heigl and Breckin Meyer, The Dog Problem with Giovanni Ribisi and Scott Caan, and Factory Girl with Sienna Miller, Guy Pearce and Hayden Christensen. The following year, she appeared with Alec Baldwin, Freddie Prinze Jr. and Scott Caan in Brooklyn Rules and Stuck with Stephen Rea.
Mena was busy again in 2008. She worked with Sienna Miller and Peter Sarsgaard in The Mysteries of Pittsburgh, Nick Cannon on Day of the Dead, Narcia Gay Harden and Matthew Modine on the TV movie Sex and Lies in Sin City and Jack Huston on The Garden of Eden.
We wouldn't see Suvari again until 2010, when she appeared on a episode of Psych. She also married concert producer Simone Sestito that year, a union that would only last 18 months. The next year, she did an episode of The Cape, the TV movie No Surrender, You May Not Kiss the Bride with Dave Annable, Katharine McPhee and Rob Schneider, Restitution with Tom Arnold and C. Thomas Howell and a two episode arc on American Horror Story.
In 2012, she reunited with her American Pie co-stars for the aptly-named American Reunion. The small screen called her in 2013, with the TV movie Stalkers opposite Drea de Matteo and a seven episode arc on Chicago Fire. 2014 saw Mena in the horror flick Don't Blink with Brian Austin Green and the comedy The Opposite of Sex with Kristin Chenoweth, Eric Roberts and Geoff Stults. In 2015, she worked with Martin Sheen on Badge of Honor.
As time progresses, we'll have more info about Mena Suvari here. If you have any comments or suggestions about our coverage, please email us.