Miley Cyrus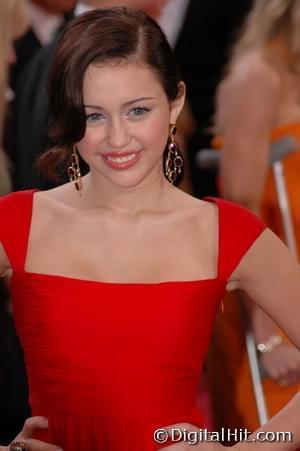 Check out our Miley Cyrus photo gallery.
Born: Nov. 23, 1992 Franklin, Tennessee, USA
[Please note that we are recovering from a bad database backup and some of our bio entries might be a bit stale. We are baking up a fresh batch as soon as possible.]
Born Destiny Hope Cyrus in Franklin, Tennessee on Nov. 23, 1992, Cyrus was destined to follow in the footsteps of her father, singer Billy Ray Cyrus. She was nicknamed Smiley by her father for being such a happy baby and from that the nickname Miley was born.
Being one of six children in her family, Miley began performing at an early age. Her first big break was on her father's show Doc in 2003. That same year, Cyrus landed a small part in Tim Burton's Big Fish whose cast included Ewan McGregor, Albert Finney, Billy Crudup, Jessica Lange, Helena Bonham Carter, Alison Lohman and Marion Cotillard.
She impressed Disney executives when she auditioned for the title role of the 'tween series Hannah Montana. Debuting in 2006, Hannah Montana, which also stars her father, has been a huge success for the young star and has become an industry unto itself with clothes, records, DVDs and books. She has also appeared on The Suite Life of Zack and Cody in 2006 as Hannah Montana, High School Musical 2 with Zac Efron, and 2007's Emperor's New Musical. 2008 also saw the straight-to-video release Hannah Montana: One in a Million, a 3d concert film, Hannah Montana/Miley Cyrus: Best Of Both Worlds Concert, and she worked on The Hannah Montana movie coming out in 2009.
Miley's concert career has not been without some controversy. Thousands of fans sued her fan club when they felt misled that membership would give them special access to tickets. Her tickets have been such a valuable commodity that one misguided parent in Texas lied about a dead soldier in Iraq to win tickets for her daughter in an essay contest.
Speaking of controversy, Miley's clean Disney image was hit by a double whammy in April 2008. First, racy, private photos of the 15-year-old Cyrus were hacked off her MySpace page. Then Miley apologized for a Vanity Fair photoshoot by Annie Leibovitz that included Cyrus wrapped in a stain sheet with her back exposed. The actress/singer said she was "embarrassed" and the Disney Channel said that "a situation was created to deliberately manipulate a 15-year-old in order to sell magazines." Vanity Fair stated that Miley's parents, managers and Disney handlers were all on set, had seen the photos during the shoot, and "everyone thought it was a beautiful and natural portrait of Miley." Obviously between the internet photos and the magazine shoot, someone has become worried about the soapy clean billion dollar boat being rocked.
As time progresses, we'll have more info about Miley Cyrus here. If you have any comments or suggestions about our coverage, please email us.