Wesley Snipes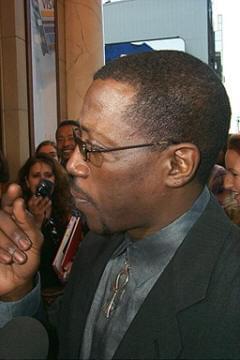 Check out our Wesley Snipes photo gallery.
Born: July 31, 1962 Orlando, Florida, USA
[Please note that we are recovering from a bad database backup and some of our bio entries might be a bit stale. We are baking up a fresh batch as soon as possible.]
If an actor has versatility in his bag of tricks, he can expect to stay working for a long time. So don't worry, the extremely versatile Wesley Snipes is sticking around.
Wesley Snipes grew up in the Bronx, an area which provides its own training on street smarts. He studied drama for a while at the High School for the Performing Arts, the Fame school, but had to drop out when his family moved to Florida. A few years later he completed his acting education at S.U.N.Y.-Purchase.
Wesley's first role in a big movie was in Goldie Hawn's Wildcats, but he really got noticed when he played a street tough in the video for Michael Jackson's Bad. One of those people noticing him was Spike Lee who then cast him in Mo' Better Blues and Jungle Fever.
After that, Mr. Snipes was on a roll. He is a martial-arts expert who made a great action hero in Passenger 57 and Rising Sun. He was comedic in To Wong Foo: Thanks for Everything, Julie Newmar and White Men Can't Jump. He's been a homicide detective in Murder at 1600, an adulterous husband in One Night Stand, and a comic-book hero in Blade. Again he went easily from action figure to the more sedate drama of Maya Angelou's Down in the Delta in 1998.
In 2000, Snipes played his action side again with the lead in The Art of War. He kept himself busy in 2002, appearing in Liberty Stands Still, Zigzag, Blade II and Undisputed.
After appearing in Unstoppable and Blade:Trinity (with Jessica Biel and Ryan Reynolds) in 2004, Snipes career unfortunately took a turn into direct-to-video releases.
Snipes personal life took a downturn as well when, in 2006, he was indicted for tax fraud for failing to file returns between 1999 and 2004. Snipes was a follower of a group that believed income taxes were illegal. After a lengthy trial, Snipes was sentenced in April 2008 to three years in prison.
As time progresses, we'll have more info about Wesley Snipes here. If you have any comments or suggestions about our coverage, please email us.