Roku 3 media player review: powerhouse streaming in a compact device
Aug 25, 2015- Permalink
As I've mentioned before, I cut the cord back in the spring of 2011, instead getting my broadcast TV channels via an over-the-air (OTA) antenna. Still, as a pop culture pundit I needed to be able to look at some of the streaming options and Netflix was top of my list. I had a Blu-ray player with a built-in Netflix app, but frankly it was pretty terrible at it, stopping shows to buffer video, exiting unexpectedly, or sometimes just refusing to launch.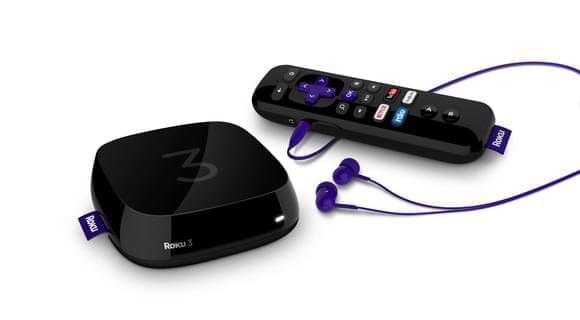 The Roku 3 media player.
Enter the Roku 3. Depending on your level of physical activity, it's either the size of a hockey puck or an ice cream cookie sandwich. The only way installation could be easier would be if it jumped out of the box and did all the connections for you.
No really, it's that simple. You attach the Roku 3 to an HDMI port on your TV (HDMI cable not included). You plug the power cord into the back of the Roku 3, plug it into an outlet, put the included batteries into the remote and follow the onscreen setup instructions which include choosing either 720p or 1080p HD output and setting up your internet connection.
Speaking of internet connections, you can either use the Roku 3's internal Wi-Fi adapter, or, if your router has a spare port available and you have a network cable, you can use the Roku 3's ethernet port to wire it into your home network. I'd always recommend the wired option over the Wi-Fi one as it just makes for a faster connection with less lag. Once you've made your internet connection, you're instructed to go the Roku site and make an account, which will then be mated to your Roku 3 unit. Since some of the Roku channels are of the pay variety, a credit card is required to setup the account, but nothing is charged to your card unless you use any of the options that require payment.
From taking it out of the box to watching my first Roku screen on the TV took me less than ten minutes. Seriously, the coffee I made before beginning hadn't even started to cool. The remote in Canada has handy one-step launch buttons for Netflix, YouTube, Google Play and rdio, while U.S.-targeted units have launch buttons for Netflix, Amazon, rdio and Hulu. Before exploring other channels (Roku's TV-centric name for their apps and video gateways), I decided to give the Netflix channel a try.
Again, setup was dead simple. I simply linked my Roku 3 to my Netflix account and I was in. Unlike my Blu-ray player, the Netflix playback was smooth as silk, the fast-forward and rewind options were great, and it was easy to access the closed caption and language controls. Top marks for using Netflix on the Roku 3.
Next up, I checked out Crackle, an ad-supported streaming site that is most famous for being the home of Jerry Seinfeld's web series Comedians in Cars Getting Coffee. Setting up a free account on Crackle.com meant I could be elsewhere and add programs to my watch list and they'd be easily accessed on the Roku 3 when I got home. This sort of sign in and link the player feature was also available for YouTube and various streaming music sites.
The remote has some great features too. First of all, it's actually a Wi-Fi device, not an infrared transmitter, so you don't even have to be in the same room to control the Roku. Okay, I'm not actually sure why I'd want to control a TV-connected device if I'm in another room, but I'm sure I now sleep better knowing that I could if I wanted to. Secondly, the Roku 3 comes with a set of ear buds. Plug them in to the remote and it mutes the TV, which is great if you want to watch Netflix at 3 a.m. without disturbing other people in the home. Thirdly, you can press the Search button on the remote and speak into it and speech recognition software will take your search term and scour multiple channels. So say "Jennifer Lawrence" and it will show you what Roku channels her films can be found on. The speech recognition is pretty darn accurate, though I suppose if you're bored you can give it really complex names and try and trip it up.
While most of the Roku channels are free, there are some pay-per-use or subscription channels. Obviously, using the Netflix channel requires that you have a Netflix account. If you're in the U.S., the same goes for Hulu. There are also sport subscription channels for oodles of MLB, NHL, MLS and NFL action. Some of the pay options are limited in Canada, but obviously my U.S. readers have no issues signing up for Hulu, HBO on the Go, etc. There are also some free (and some pay) game options and yes, I found myself playing the poker one occasionally. Several TV stations also have Roku channels showing news broadcasts, so if you're an OTA TV user who misses out on 24 hr news when you're away from your computer, you do have a few options to grab the headline-grabbing stories.
There are also many specific, very niche, private Roku channels out there. A private channel is one that isn't listed in the official Roku directory, but can be added to the Roku 3 by entering a link code. If you're the creative type, you can also sign up for a developer's kit and create your own Roku channel.
The Roku 3 also has a slot for a MicroSD card and a USB port. Adding a MicroSD card allows you to store more channel or game play information on the Roku, while the USB port allows you to connect either a USB stick or even a full USB external hard drive, giving you access to your own collection of photos, videos and music to enjoy on your TV.
If I had one quibble with the Roku 3, it'd be the bright white LED light on the front that illuminates while the unit is accessing the 'net. The light is bright enough to help ships navigate stormy seas, so if your Roku 3 is sharing your bedroom with you, it might be a good idea to find a way to cover the LED, unless you like a night light.
Dead simple to set up, easy to operate, and cute to boot, I can't find any reason not to recommend the Roku 3.