General Evans Above Archive for Aug 09, 2017
Pure Country: Pure Heart Blu-ray review
Aug 09, 2017 – permalink
We were recently given the chance to preview Pure Country: Pure Heart, part of the Pure Country series of family-friendly movies produced by Warner Bros. Home Entertainment and WWE Studios. It was released exclusively through Walmart on August 1st, 2017 and is available in-store and on Walmart.com, though I have yet to see it pop up on the Walmart.ca site. I reviewed the combo pack, which comes with Blu-ray and DVD discs as well an option for a digital download.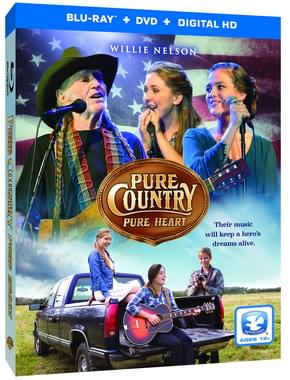 Pure Country: Pure Heart
is available exclusively at Walmart.
The movie is directed by Damon Santostefano and was written by best-selling author Holly Goldberg Sloan who has also written Angels in the Outfield and Made in America. It tells the story of two sisters, played by One Life to Live's Kaitlyn Bausch and Dolphin Tales' Cozi Zuehlsdorff, who stumble upon a letter about their late father, a Marine who died in Iraq while saving the lives of members of his unit. The wannabe country artists know very little about their father as their mother (Amanda Detmer) doesn't like to talk about the past. Aided by their photographer friend (Dara Sisterhen) and a friendly Korean War vet (the always great Ronny Cox), they discover that their father was a budding country music star and sneak off to Nashville to learn about the father and hero they barely knew.
Pure Country: Pure Heart defines family-friendly and the whole gang will feel comfortable watching this film together. The saltiest the language gets is a couple of uses of the word "hell" which the speakers are quickly chastised for. The film is sweet as pie (and you'll drool over the pies in this film) but it's not saccharine. Look, I'm a jaded, big city guy, but even I was charmed by the simple, yet heartfelt, story.
The film is driven by music, featuring 23 songs of which 16 are new. Willie Nelson performs his classic "We Don't Run", Tony Award nominee Laura Bell Bundy sings "Grass Ain't Greener" and Ronny Cox (who is also a singer-songwriter) performs his own "Silver City". There's also a performance by Billy Lynn's Long Halftime Walk's Matthew Barnes. The songs don't slow things down at all and the story moves along at a nice, yet not breakneck, pace.
I have one issue with this release but it's a small one. Willie Nelson, who has a lengthy acting resume besides being a country music icon, is featured prominently on the box art and his name is the only name gracing the cover. Taking out my stopwatch, Willie appears in about three minutes and fifty-two seconds of the film's 84 minute running time. This is no knock against Mr. Nelson (again, the man's a legend) but I think it detracts from the performances that carry this film. Bausch and Zuehlsdorff are engaging leads as sisters Ada and Piper and they harmonize beautifully when singing. Dara Sisterhen is the perfect combination of book smarts and adventure and Matthew Barnes will charm the women in the audience no matter the age. Cox's veteran has sparkle of mischief in his eye. Myra Turley has the perfect amount of strength and love as the girl's grandmother, who understands both her granddaughters' need to find out more about their father and the pain and loss that keeps her daughter evasive to their inquiries. Amanda Detmer's Elizabeth has both the backbone to raise two teenage girls alone and the softness to portray the loss that she's still feeling. Laura Bell Bundy, whose Broadway pipe's have also seen her work on a country music career, easily handles both her acting and singing duties. Music fans will also enjoy a small cameo by Ivan Neville, while wrestling fans will enjoy seeing WWE icon Shawn Michaels.
Pure Country: Pure Heart is a charming, heartfelt story that the whole family can enjoy.