Robin Williams: Comic Genius
DVD

Review

Nov 21, 2018- Permalink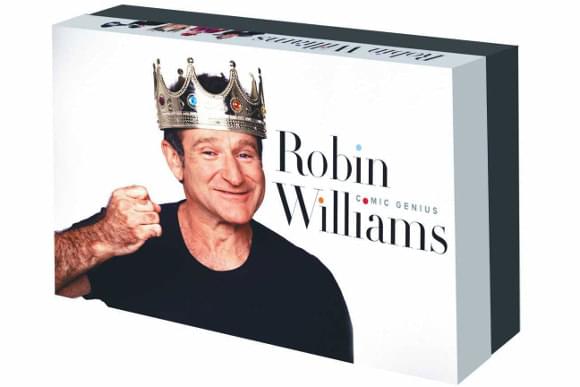 Robin Willams: Comic Genius available from Time Life.
Fans of the late, great Robin Williams can rejoice with the release of Time Life's Robin Williams: Comic Genius, which collects over 50 hours of his TV work, including all five of his HBO stand-up specials, talk show and late night performances, as well as backstage footage and interviews with friends like Billy Crystal, Steve Martin, Martin Short and Jay Leno. There's also eleven episodes of Mork & Mindy (including the two-part pilot), James Lipton's ninety minute interview with Robin on Inside the Actors Studio, a collection of his USO shows before troops around the world, various promos and featurettes produced for this exclusive collection.
The 22 DVD collection also includes the HBO documentary Robin Williams: Come Inside My Mind that was directed by Emmy winner Marina Zenovich and produced by Oscar winner Alex Gibney. The collection also includes a 24-page book with photos from Arthur Grace, tour notes and more.
Capturing this much of Robin's electric energy is like shoving the sun into a soda bottle, but the folks at Time Life have carefully curated this amazing collection. Available exclusively at robinwilliams.com, the 50+ hour, 22 DVD set is $199.90 US or, if you prefer, five payments of $39.98 US. If you have a Robin Williams fan on your holiday shopping list or you want to treat yourself, then this DVD set is worth looking into.
Robin Williams: Comic Genius is also available as a 12 disc 30+ hour Collector's Set, retailing at $99.95 US. This is the item that we had for review. It includes the five HBO specials, footage from the USO tours, the featurettes, archival footage of early stand-up work, the first six episodes of Mork & Mindy, the best of his work on The Tonight Show with Jay Leno and SNL, interviews with Jay Leno, Pam Dawber, Lewis Black and David Steinberg and the HBO documentary Robin Williams: Come Inside My Mind.
Depending on the era of the footage, aspect ratios range from 1.33:1 (4:3) to 1.77:1 (16:9), while audio can be either Dolby Digital Mono or Stereo. Transfer quality also depends on the age of the source material. The audio levels are good which is important with a comedian whose performances go a mile a minute.
Watching Williams spin his comic masterpieces at breakneck speed is eminently satisfying and whether he's doing it on stage or on the couch next to a talk show host, he never fails to assault your funny bone. Williams gave us some great comedic and dramatic performances on film, but watching this collection takes us back to the genesis of his art. Whoopi Goldberg said "He's kind of like Camelot, one brief shining moment known as Robin Williams and we got to see it." With Time Life's Robin Williams: Comic Genius, you'll be able to see it again and again.