Game of Thrones: The Complete Collection available in a Premium Blu-ray Set on December 3rd
Jun 27, 2019- Permalink
If you or a family member are lamenting the end of Game of Thrones, fear not, as Game of Thrones: The Complete Collection will hit store shelves on December 3rd, 2019.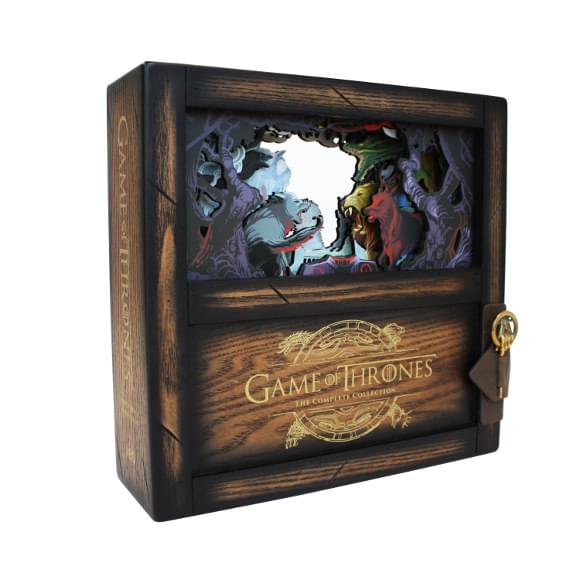 Game of Thrones: The Complete Collection limited-edition collectible set
Avid collectors will want this premium version, a limited-edition set packaged in a wooden shadow box case, featuring beautiful, multi-layered panel designs by Robert Ball that summarize the Game of Thrones story. Each season is represented by a different layer, showcasing iconic characters and memorable moments from the show, all clambering toward the Iron Throne. The set also contains a "Hand of the King" pin clasp, which holds all nine custom plated disc sleeves.
This premium edition's Blu-rays also feature an exclusive two-part Game of Thrones: Reunion Special hosted by Conan O'Brien. Shot in Belfast in front of an audience, the special features cast members from the final season including Kit Harington, Emilia Clarke, Sophie Turner and more, as well as previously departed fan-favorites like Sean Bean, Jason Momoa, Mark Addy and others.
Additional bonus content includes all-new deleted and extended scenes, animated histories and lore pieces, fascinating behind-the-scene featurettes, audio commentaries and the documentary featured on DVD in two parts, Game of Thrones: The Last Watch, by filmmaker Jeanie Finlay.
HBO will also release Game of Thrones: Season 8 in a stunning 4K Ultra HD and Blu-ray Steelbook, and the single season DVD/Blu-ray. Additionally, Game of Thrones: The Complete Series will also be available on DVD/Blu-ray without the collectible packaging. These sets are loaded with extra content and will also be available to own on December 3rd.
Please note, fire-breathing dragons are not included. They kept melting the Blu-rays.