Universal Pictures Home Entertainment Gift Guide
Nov 20, 2020- Permalink
I've said this a few times in 2020, but for those of us who have been locked down or decided to voluntarily lock ourselves down during the COVID-19 pandemic, home entertainment has played a large part in passing the time and giving us a respite from the constant drumbeat of news. Movies and TV shows can be entertainment comfort food and the back catalog of Universal and its affiliated labels is a smorgasbord of old friends and gems we always meant to get around to watching. In this Universal Gift Guide, I'll be looking at some of the movies you can treat yourself, friends, and family to this holiday season.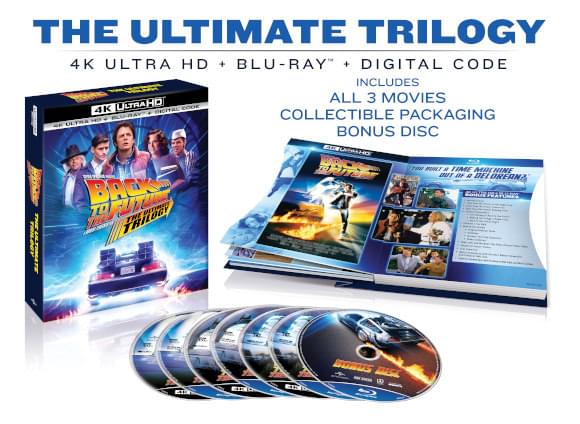 One of the most anticipated back catalog releases from Universal this year was the release of the Back to the Future: The Ultimate Trilogy on 4K UHD, the first time for the franchise in that format. The 4K UHD Combo Packs also come with Blu-ray copies and digital codes. Besides the pre-existing special features, the set also comes with a bonus disc with over an hour of brand-new content such as rare audition footage from Ben Stiller, Kyra Sedgwick, Jon Cryer, Billy Zane, Peter DeLuise and C. Thomas Howell, a tour of the film's props and memorabilia hosted by co-writer/producer Bob Gale, a sneak peek at the new musical show, and a special episode of the popular YouTube Series "Could You Survive The Movies?" Special features on the individual films' discs include the usual array of commentary tracks, deleted scenes, behind-the-scenes looks at various production aspects, as well as cast and crew interviews. The set was released earlier this year but you may also be able to still get your hands on some limited edition versions at specific retailers. Amazon had a 4K UHD gift set featuring a levitating hoverboard replica, Target had a Blu-ray only version with the hoverboard replica, while Best Buy had a 4K UHD Steelbook set. For fans of the franchise, Back to the Future: The Ultimate Trilogy is a great gift idea.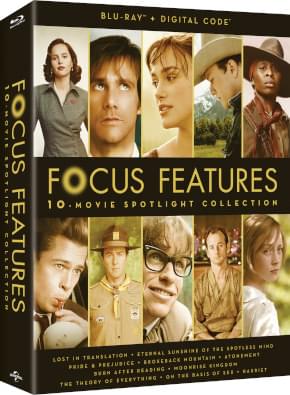 If someone on your shopping list loves the films released by Universal's indie and foreign film arm Focus Features, then the Focus Features 10-Movie Spotlight Collection will satisfy their needs. In one fell swoop, their home entertainment library will add Atonement, Brokeback Mountain, Burn After Reading, Eternal Sunshine of the Spotless Mind, Harriet, Lost in Translation, Moonlight Kingdom, On the Basis of Sex, Pride & Prejudice, and The Theory of Everything. It's like having your own private film festival in a box. Universal Pictures Home Entertainment sent me a copy of the set to review. On the whole, the picture quality of the 1080p AVC-encoded transfers is very good with perhaps Eternal Sunshine of the Spotless Mind and Lost in Translation in need of a source upgrade, while it must be noted that it was an artistic choice to shoot Moonrise Kingdom on Super 16mm film. Again, that's just pointing out a slight difference with those three films, the detail and colour palettes look very good in all of them. As for sound, the films come with Dolby DTS-HD Master Audio 5.1 soundtracks, except for the most recent film, Harriet, which has a Dolby DTS-HD Master Audio 7.1 track. They all do a good job of placing you into the environments and the dialogue is clear and scores dynamic. All in all, this is a great collection and a good way to add to your collection.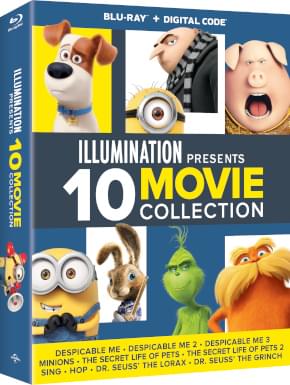 Another collection I had a chance to look at was the Illumination Presents: 10-Movie Collection which highlights Illumination's animated projects between 2010 and 2019. The 10 disc set includes Despicable Me, Despicable Me 2, Despicable Me 3, Dr. Seuss' The Grinch, Hop, The Lorax, Minions, The Secret Life of Pets, The Secret Life of Pets 2, and Sing. It's a great set for kids of all ages and modern animated film collectors. The 1080p AVC-encoded transfers are amazing, with detail in the animation and backgrounds and palettes that pop with bold colours. The only one that really has any issues to speak of is Hop and that's only because the animation has to share the stage with live action elements and there's some grain that's more noticeable, but really that's just a quibble for the sake of quibbling. The discs come with a variety of audio options. The first two Despicable Me films, Hop and The Lorax have DTS-HD Master Audio 5.1 soundtracks, Despicable Me 3 has a DTS-X track, while Dr. Seuss' The Grinch, Minions, The Secret Life of Pets, The Secret Life of Pets 2, and Sing have Dolby Atmos tracks.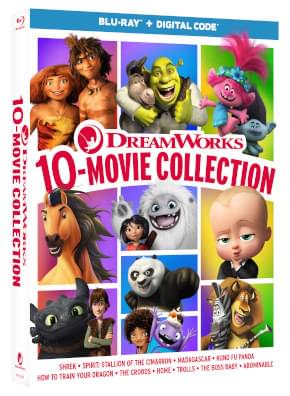 Universal also released the Dreamworks 10-Movie Collection, which corrals together ten of the animation wing's titles: Shrek, Spirit: Stallion of the Cimarron, Madagascar, Kung Fu Panda, How to Train Your Dragon, The Croods, Home, Trolls, The Boss Baby, and Abominable. The animation looks great in these 1080p AVC-encoded transfers and the colour palletes are a veritable cornucopia of hues. Sharp images and great textures are present in each movie with no sign of compression artifacts or digital noise. On the audio side, there's a few different tracks. Shrek has a Dolby TrueHD 7.1 track. How To Train Your Dragon, Kung Fu Panda, Madagascar, and Spirit: Stallion of the Cimarron have a Dolby TrueHD 5.1 track. The Boss Baby, The Croods, Home, and Trolls offer a DTS-HD 7.1 Master Audio track. Finally, the latest entry, Abominable, goes all out with a Dolby Atmos track. Dialogue is clear and the scores are bright and dynamic. Your surrounds will put you in the animated environment, while even your subwoofer gets to add some extra oomph were necessary. It's a great set to build an instant collection.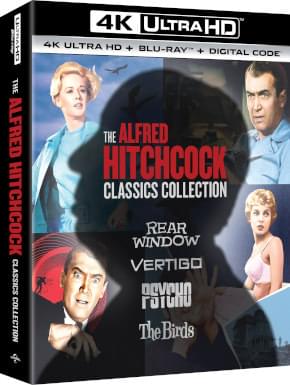 Finally, the Universal gift guide wouldn't be complete if I didn't mention a set released earlier, the amazing 4K Alfred Hitchcock Classics Collection. I did a full review of it here. If you know a Hitchcock fan get it for them and heck, buy a copy of it for yourself.
You really can't go wrong buying any of these Universal sets for your film-loving friends and family.