Raya and the Last Dragon digital review
May 19, 2021- Permalink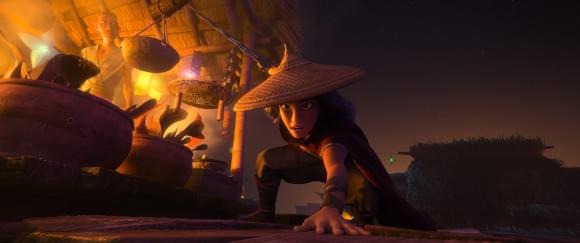 Raya and the Last Dragon ©2021 Disney
Raya and the Last Dragon, the latest from Disney Animation Studios, starts with a little history lesson. The fictional land of Kumandra – inspired by the countries of Southeast Asia – was a unified country where humans thrived and dragons brought rain and prosperity. When menacing energy ball creatures called the Druun arrived to turn people into stone, one dragon, Sisu, spared humankind with a powerful gem. Still the greed and ambition of people divided the kingdom into five separate regions called Fang, Heart, Spine, Tail and Talon. Five hundred years later, the protector of the gem (Daniel Dae Kim) and his young daughter, Raya (Kelly Marie Tran), try to broker peace but a betrayal by a young Fang princess, Namaari (Gemma Chan) shatters that dream and the Druun once again rise in power, turning many to stone.
With the history lesson over, we flash forward a few years to the beginning of our adventure. Raya is a young woman with a mission and the fighting skills to match. Traveling with her cute and easily distracted pet/transportation Tuk Tuk (Alan Tudyk), she searches the desolate world and manages to conjure up the long lost dragon, Sisu (Awkwafina).
I'll leave the details of the adventure for you to discover, as writers Qui Nguyen and Adele Lim have woven a quest full of friendships and betrayal, laughs and sadness, fights and feedings. Directors Don Hall and Carlos López Estrada – along with co-directors Paul Briggs and John Ripa – led their animation team to create a movie of sweeping vistas and epic battles that can just as easily focus on smaller comic scenes and emotional moments. The computer animation is beautiful and details such as hair and water and facial movements illustrate how far the technology and art has come over the last twenty or so years.
The characters are just as good. Kelly Marie Tran voices Raya with a strength and purpose that shows that modern Disney princesses are not waiting around to be saved by a prince anymore. Awkwafina gives us a Sisu whose vocal performance is full of humour but tinged with sadness. Gemma Chan's Namaari is a warrior princess with layers. Even standard comic relief characters like Tong (Benedict Wong), Boun (Izaac Wang), and Little Noi (Thalia Tran), bring us nuanced performances that are informed by the losses they have suffered.
Disney has just released a 4K Ultra HD Combo pack with an accompanying Blu-ray and Digital code. Disney sent me an HD digital review code, and though my recommendation would always be to get the physical media with its superior bitrate and audio presentation, my review is based off watching it on Google Play. It's currently available for an extra Premiere Access fee on the Disney+ streaming service, though it will be available as part of the regular Disney+ offering in June.
The video presentation is presented in a 2.39:1 aspect ratio. The colour palette is wide, ranging from lush jungle greens and desolate desert browns to the iridescent blue glow of the dragon gem. The scenes and characters have amazing detail and I was particularly impressed by the hair, movement of fabrics, and the appearance of the water scenes.
The soundtrack of my digital experience was a Dolby 5.1 experience and the surrounds immerse us in Raya's world with both atmospheric effects and action moving through the soundscape. Dialogue is clear and centred.
Raya and the Last Dragon is a fun adventure for the whole family and if you want it in your home entertainment library, I'd recommend going for the physical media experience.