Desert Space – Hot Docs 2022 review
May 05, 2022- Permalink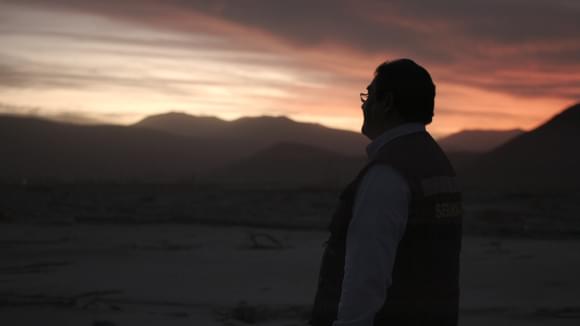 Desert Space
Screening as part of Hot Docs' Made in Chile program, Yerko Ravlic's Desert Space follows Leonel Codoceo, who works as a mining company security guard in the town of Copiapó, located in northern Chile's Atacama Desert.
His job and life may seem lonely at first, with an ex he's trying to reconcile with in Australia, but he has a circle of friends that share the same passion that he has: UFOs. Pretty much every night, Leonel spends hours watching and recording the night sky, looking for light or movement that may indicate that we are not alone. He and his friends then pore over the recordings, carefully tagging possible sightings in a spreadsheet that he maintains. This group supports and cares for his work and his passion is leading him to organize a vigil of fellow skywatchers.
Ravlic's direction moves at a pace that gives us a feeling of the quiet effort that our subject expends every night. This is not a documentary that comes at you with narration or interviews. We are bystanders quietly accompanying Leonel on his nightly watches and you'll find yourself scanning the night sky looking for something as well.
And what a sky. Nathaly Cano's cinematography captures the star-filled sky perfectly. If you're a city dweller who has never ventured from the light polluted skies, you'll be amazed by how much of the cosmos is unfolding above us. Just look carefully, you might miss something.