Evans Above
Jul 09, 2020
2020 has been a terrible year. I dread turning on the news and when I do watch it, I tend to go overboard and watch too much. In order to get to sleep your mind needs a break.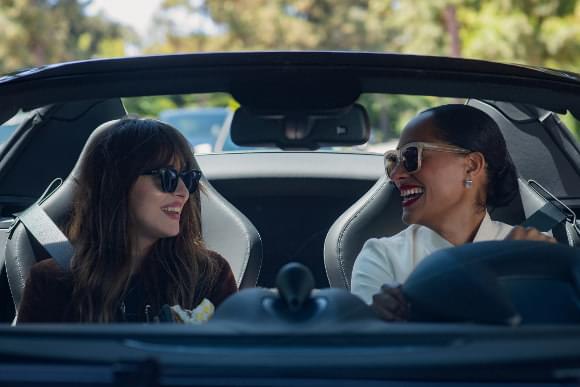 Photo credit: Glen Wilson ©2020 Focus Features,
LLC
. All Rights Reserved
When I first saw the trailer for the rental VOD release of The High Note, I thought it would be a fluffy look at the music business. The sort of plot that is full of so many tropes that you can anticipate what the next scene will be. I didn't realize that is exactly what I needed. You'll root for Dakota Johnson. Tracee Ellis Ross is just so totally likable. I was distracted. I was entertained. The musical numbers are very good. An emergency with our server got in the way of me doing a full review of my home screening, but I'll link to one shortly.
The High Note was released by Focus Features for digital purchase on July 7th and will be available on DVD and Blu-ray on August 11th.
Jun 22, 2020
As many of us are still inside during the pandemic, home entertainment is something we're consuming voraciously, whether it's catching up on old favourites or checking out movies and shows we haven't seen before. The July and August releases from Paramount have something for everyone.
Body Cam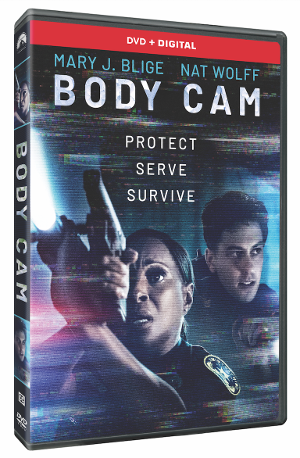 This Mary J. Blige vehicle hits the streets in DVD format on July 14th. Blige pays a veteran cop Renee Lomito, who's investigating the bizarre murder of a fellow officer. When body cam footage shows a mysterious figure, Lomito suspects that a supernatural entity is targeting officers. As she dives deeper into the mystery, she uncovers a secret in the police force. This action thriller also stars Nat Wolff.
Clueless 25th Anniversary Edition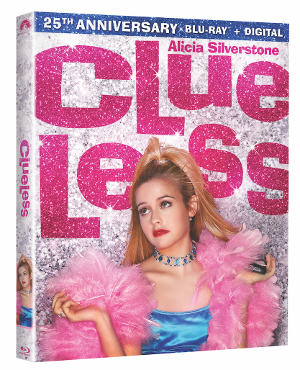 Since Paul Rudd is apparently ageless, the following tidbit might be a hard pill to swallow. On July 14th, Paramount is releasing the 25th Anniversary Edition of Clueless.
Amy Heckerling's comedy, which is being released as a Blu-ray/Digital combo, stars Alicia Silverstone as Cher, a 15-year-old Beverly Hills High School student who befriends a new student and decides to give her a makeover. Loosely based on Jane Austen's 1815 novel Emma, the movie has dedicated fans and a cast that features Paul Rudd, Brittany Murphy, Donald Faison, a pre-Fox News Stacey Dash, Jeremy Sisto, Breckin Meyer, and Wallace Shawn. This new release includes over an hour of unreleased extras including a "Clue or False" trivia game, a fashion featurette, a look at the class of '95, a "Suck 'n Blow" tutorial, original theatrical trailers and more.
Hawaii Five-O (2010): The Final Season
The 2010 update of Hawaii Five-O lasted ten seasons, falling just two years short of the twelve year run of the original 1968 series.
The 10th season set is being released on DVD on July 28th. The HPD has their hands full in the final season dealing with bomb threats, kidnapping, assassinations and pirates all set against the backdrop of the island paradise. Lt. Commander Steve McGarrett (Alex O'Loughlin), and Detective Sgt. 'Danno' Williams (Scott Caan) face new adversaries, old foes and their final showdown with the Yakuza. The 22 episode five disc set even includes appearances from another updated series in the form of guest appearances by Magnum P.I.'s Thomas Magnum (Jay Hernandez) and Higgins (Perdita Weeks).
NCIS: The Seventeenth Season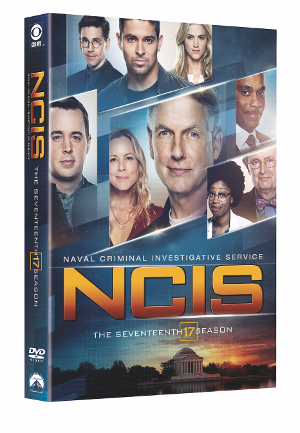 Also out on DVD on July 28th is the 17th season of NCIS, which stars Mark Harmon as Special Agent Leroy Jethro Gibbs. Gibbs and his second-in-command, Senior Special Agent Timothy McGee (Sean Murray), spend the season trying to figure out the identity of the deadly terrorist known as "Sahar" and the location of Sahar's next target. Along the way they deal with cases involving murdered Marines, an attack on Arlington National Cemetery, crashed fighter jets and secrets that could tear the team apart.
Wilmer Valderrama, Emily Wickersham, Maria Bello, Brian Dietzen, Diona Reasonover, Rocky Carroll, and David McCallum also star in this 5-disc, 20-episode collection.
Blaze and the Monster Machines: Race for the Golden Treasure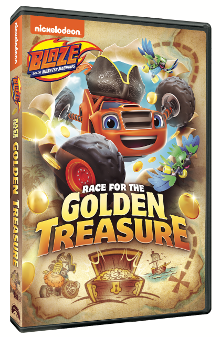 Young viewers will be interested in the July 28th DVD release of Blaze and the Monster Machines: Race for the Golden Treasure.
It's a high-speed, high-seas treasure hunt as Blaze and Pegwheel the Pirate-Truck search for three keys that can unlock a golden treasure. They then race to the Island of Lost Treasure and speed through an ancient race track in search of a magical wishing wheel.
Shimmer and Shine: Glitter Magic!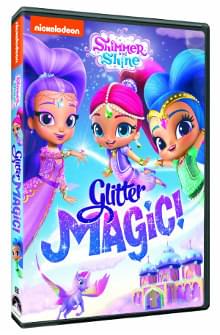 Moving into August, August 4th to be exact, we have the DVD release of Shimmer and Shine: Glitter Magic.
In this seven episode set, Shimmer and Shine meet the Glitter Genie, learn Glitter Magic, light up the world with Glitter Pets, save a glitter volcano, and much more.
Tom Clancy's Jack Ryan – Season Two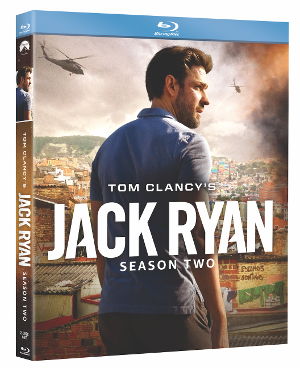 The second season of the Amazon Prime series hits the streets in Blu-ray and DVD formats on August 4th. John Krasinki takes on a role a million miles from The Office, portraying CIA analyst Jack Ryan.
Ryan has uncovered a far-reaching conspiracy that he must deal with alongside his boss, James Greer (Wendell Pierce). The eight episode set, which includes deleted scenes exclusive to this release, also stars Michael Kelly, Tom Wlaschiha, Noomi Rapace, Jordi Molla and Cristina Umaña.
NCIS: Los Angeles: The Eleventh Season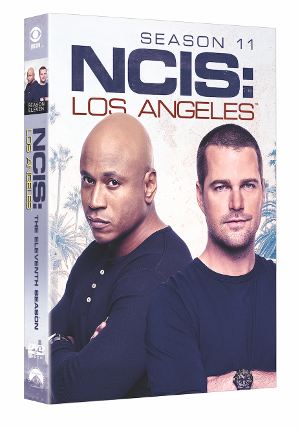 The 11th season of the NCIS spin-off NCIS: Los Angeles is being released in DVD format on August 4th.
Special Agents 'G' Callen (Chris O'Donnell), Sam Hanna (LL Cool J) deal with spies, terrorists and arms dealers in this 22 episode 5-disc set. If murder, theft and international intrigue aren't enough for the LA team, Special Agent Kensi Blye (Daniela Ruah) and LAPD liaison Marty Deeks (Eric Christian Olsen) ponder having children, while tech geniuses Eric (Barrett Foa) and Nell (Renée Felice Smith) work on maintaining their relationship as Eric goes undercover.
NCIS: New Orleans: The Sixth Season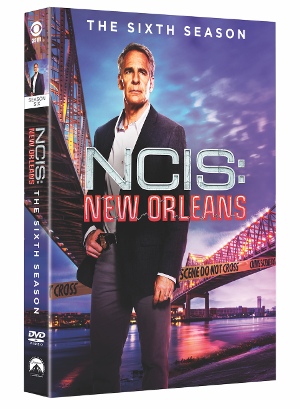 August 11th sees the DVD release of yet another spin-off from the original NCIS, this time set in New Orleans. In this version, Scott Bakula plays Special Agent Dwayne Cassius Pride and he and his team have their hands full in the 20 episodes of season six. Their case load is full of the usual threats, but when they lose one of their own, the situation becomes personal. The big question for the season, will vengeance push Pride over the edge or will he remain loyal to the law?
Blue Bloods: The Tenth Season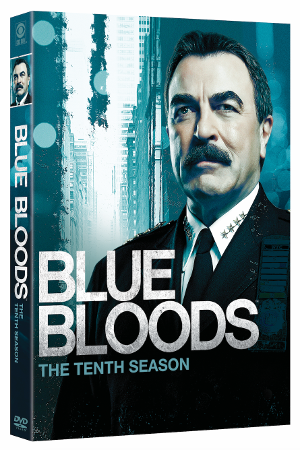 When he isn't pushing reverse mortgages in commercials, Tom Selleck portrays New York City Police Commissioner Frank Reagan in Blue Bloods, the story of the fictional Reagan family, who all work in law enforcement. Season 10, being released on DVD on August 18th, starts with with newlyweds, Jamie (Will Estes) and Eddie (Vanessa Ray) attempting the rocky balance of their work and personal lives. Meanwhile, Trial Bureau Chief Erin Reagan (Bridget Moynahan) must deal with a job that is more political than she wants and also puts her at odds with confronts the realities of a job that tends to be more political than she would like, and often puts her at odds with her father or brothers. Other threads in the season follow detectives Danny Reagan (Donnie Wahlberg) and Maria Baez (Marisa Ramirez) as they work on distressing crimes while Selleck's character, Frank Reagan, has to deal with situations at 1 Police Plaza. It's a recipe for family, legal and crime drama.
Well, that's it for the July and August releases from Paramount Home Entertainment.
May 19, 2020
Jane Austen's books have had numerous adaptations and director Autumn de Wilde takes a clever jab at Emma, with Anya Taylor-Joy in the title role. Available for your home collection, I had a chance to look at the Blu-ray set thanks to Universal Home Entertainment.
The 1080p AVC-encoded transfer is in a 1.78:1 aspect ratio, as opposed to the theatrical release's 1.85:1 ratio. Emma was shot digitally and the transfer is beautiful. The image is crystal clear and details are sharp, from the skin textures and the countryside to the gorgeous period costumes, which show off every stitch and accessory. The colour palette is stunning, showing off the lush greens outside and the costumes and household designs inside. Black levels are nice and deep. There is no digital noise to speak of and there don't appear to be any compression artifacts, banding or aliasing. It's a fine looking presentation.
On the audio side, your ears have a choice of English DTS-HD Master Audio 5.1 and 2.0 Descriptive Audio soundtracks as well as a French DTS 5.1 track. Subtitles are available for in English SDH, French and Spanish. Being an Austen story, dialogue is front and center and, well, that's where you'll find it in the mix, crystal-clear and prioritized. Atmospheric effects put you in the countryside and the musical score is clear and dynamic. It's a really nice audio presentation.
On the extras side, the set also comes with a DVD and a digital code. There's a selection of deleted scenes, a gag reel, a look at the casting and rehearsals, a look at director Autumn de Wilde, a piece on the production design, and a commentary track from de Wilde, screenwriter Eleanor Catton, and Director of Photography Christopher Blauvelt.
A light take on a classic story, coupled with beautiful video and audio presentations and a nice selection of extras makes Emma an easy addition to your physical media collection.
May 18, 2020
The COVID-19 lockdown is a struggle when you're used to going out and about, but those of us who are able to shelter-in-place at home must be thankful for those who are out doing work deemed essential and thoughtful as we think about the people and families who this virus has personally touched.
Online meetings help us keep in touch with family and co-workers, while streaming services and physical media are the entertainment comfort food that help us pass the hours. From new favourites to classics, these diversions help us deal with the news during these uncertain times. Paramount has a slate of great releases coming out in May and June and you shouldn't find it hard to find something to help you pass the time.
RAY DONOVAN: THE SEVENTH SEASON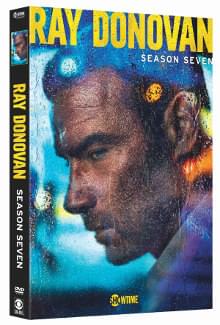 The seventh season of Ray Donovan stars Liev Schreiber as a crime fixer working for the rich and famous. While the work with his therapist seems to be making progress, he keeps getting pulled back to his old self to deal with issues and dangers from the past. The DVD release of season seven hit stores May 5th, 2020
GUNSMOKE: THE COMPLETE SERIES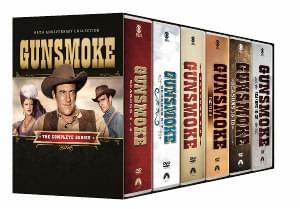 A classic series deserves a hefty box set and that's what you'll get with the Paramount release of Gunsmoke: The Complete Series on DVD which hit the shelves on May 5th. The set includes all 625 episodes of the 20 season run of the award-winning Western that starred James Arness as U.S. Marshall Matt Dillon. Spread out over 143 discs, the remastered and restored set also includes bonus features like episode previews, audio commentaries and featurettes. Joining Marshall Dillon in the series are cast members that include Dennis Weaver, Milburn Stone, Amanda Blake, Burt Reynolds, Ken Curtis, and Glenn Strange. If you've already been building your Gunsmoke collection, Paramount released Gunsmoke: The Final Season on the same date.
BUBBLE GUPPIES: THE GREAT GUPPY GAMES!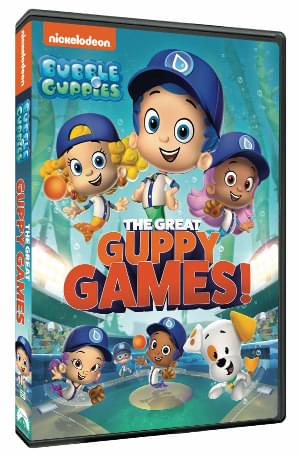 While you're watching Gunsmoke, the little ones can be entertained with the adventures of the Bubble Guppies. In the DVD collection, which came out on May 12th. The aquatic pals take part in the Summer Camp Games, the Super Ballet Bowl, and the Glitter Games. They also enjoy a game of Puddleball and the elephant Trunk-A-Dunk.
SONIC THE HEDGEHOG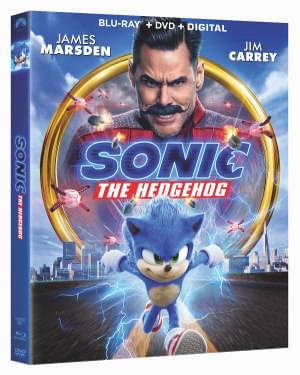 May 19th will see the home release of everyone's fave Sega game star, Sonic the Hedgehog, as he hits the big screen. Voiced by Ben Schwartz, Sonic battles evil genius Dr. Robotnik (Jim Carrey) to stop him from carrying out his plans for world domination. What is it with evil geniuses? They never seem satisfied just dominating a region. Sonic teams up with Sheriff Tom Wachowski (James Marsden) in this live-action adventure for the whole family. Sonic the Hedgehog is available in a 4K UHD/Blu-ray Combo, a Blu-ray/DVD Combo, and on DVD.
THE LOUD HOUSE: ABSOLUTE MADNESS – SEASON 2, VOLUME 2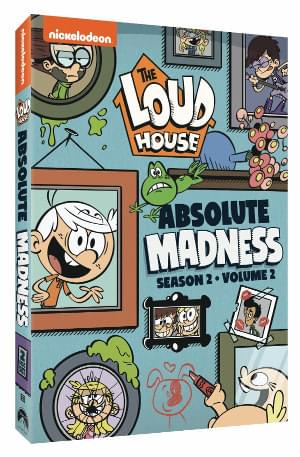 The Loud House follows the animated adventures of the ten girls and one boy that make up the gaggle of kids in the Loud family. Coming out on DVD on May 19th, brother Lincoln must deal with the hijinks as his sisters swap rooms based on a compatibility test. While Lisa works on her social skills, Lynn learns a lesson about sportsmanship. And of course, the Louds are anything but quiet in the process.
STAR TREK: SHORT TREKS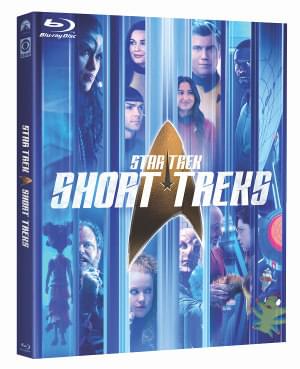 Star Trek: Short Treks will be available on DVD and Blu-ray June 2nd, and will bring fans of the Star Trek universe together on an exploration of the themes and characters we've seen throughout the years. The Star Trek: Discovery storyline expands with episodes featuring fan-favourites Rainn Wilson (Harry Mudd), Ethan Peck (Spock), Anson Mount (Captain Christopher Pike), Rebecca Romijn (Number One) and more. These nine shorts deliver nearly two hours of live-action and animated adventures never-before-seen in Star Trek's history. The sets special features include a making-of featurette, in-depth cast interviews and exclusive series commentaries.
ROGUE WARFARE: THE HUNT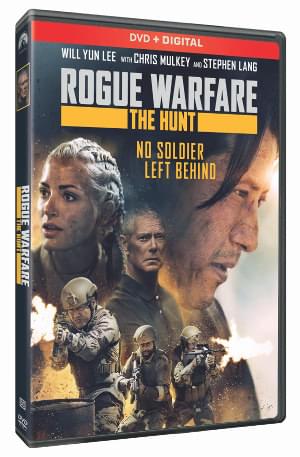 Available on DVD June 2nd, Rogue Warfare: The Hunt is the second action-packed installment of the Rogue Warfare trilogy. In this chapter, the President of the United States orders a daring rescue mission when the leader of an elite team of soldiers is captured by terrorists.
URBAN COWBOY 40TH ANNIVERSARY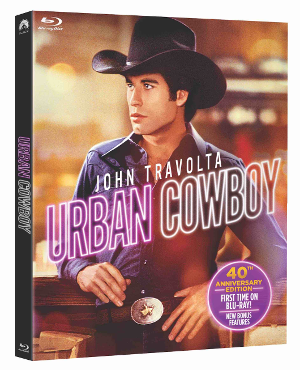 This John Travolta film, directed by James Bridges and co-starring Debra Winger, turns the big four-oh this year and Paramount is celebrating with a new Blu-ray release on June 2nd. Urban Cowboy is your typical boy meets girl, boy marries girl, boy loses girl over gender equality views, boy tries to win girl back by winning mechanic bull-riding competition story.
FRIDAY THE 13TH 40TH ANNIVERSARY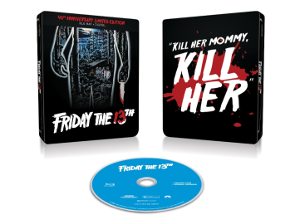 Also turning 40 this year, Friday the 13th will celebrate its birthday with a Blu-ray Steelbook release on June 16th, probably followed by Jason killing all the partygoers. The limited edition steelbook features artwork from the original poster and an uncut, unrated version of the flick. Previously released bonus content includes commentary, interviews with cast and crew, and behind-the-scenes featurettes. The film stars Betsy Palmer, Adrienne King, and Kevin Bacon.
GLADIATOR 20TH ANNIVERSARY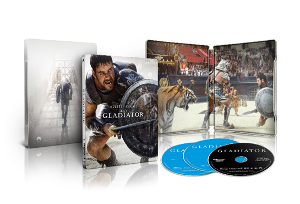 Also celebrating a birthday, Gladiator turns 20 and Paramount will mark the occasion with a 4K Blu-ray Steelbook release on June 16th. Director Ridley Scott's film won five Academy Awards, including Best Picture and a Best Actor for star Russell Crowe. The 4K Steelbook includes access to a digital copy of the film and both theatrical and extended versions of the feature on 4K Ultra HD, along with two separate commentaries. The two Blu-ray Discs included in the set boast over four hours of previously released bonus content, including commentaries on both versions of the film, a comprehensive documentary about the making of the movie, featurettes, deleted scenes, and more.
BRAVEHEART 25TH ANNIVERSARY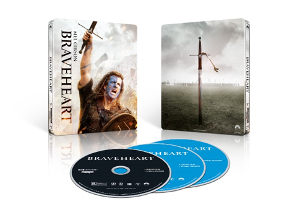 Another anniversary is being celebrated as Paramount marks the 25th year since the release of Braveheart. A 4K Blu-ray Steelbook will hit stores on June 16th. Braveheart took home five Academy Awards, including Best Picture for its saga of power, passion, and the fight for freedom. Mel Gibson, who won Best Director, stars as William Wallace, a Scotsman who rallied his countrymen to liberation from oppressive English rule. The 4K Steelbook includes access to a digital copy of the film and previously released commentary by Mel Gibson on both the 4K Ultra HD and Blu-ray presentations, along with more than two hours of previously released bonus content, including interactive timelines, a making-of documentary, multiple behind-the-scenes featurettes, and more.
Note: Braveheart and Gladiator will also be available in a 4K UHD 2-movie collection set.
SOUTH PARK: THE COMPLETE TWENTY-THIRD SEASON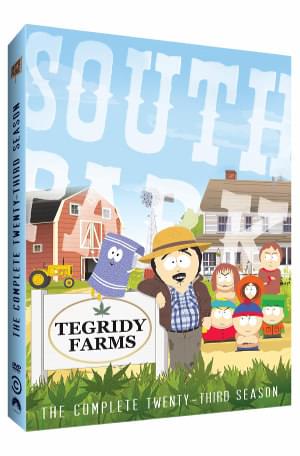 Available on Blu-ray and DVD on June 23rd, this latest installment of the South Park series will see Stan, Kyle, Cartman, Kenny, and Randy explore the wonders of the human biome, tackle the consequences of immigration, and get banned in China. And I'm pretty sure Kenny will get killed a few times.
EVIL: SEASON ONE
Finally, Paramount will round out June with the release of the first season of the series Evil, which teams skeptical psychologist Kristen Bouchard (Katja Herbers) with priest-in training David Acosta (Mike Colter) to explore the evil humanity is capable of. Together, the pair dive into the Catholic Church's files of occult phenomena to bring them to rational conclusions – or attempt to. Angel sightings, demonic possessions, prophecies and conspiracies will test their faiths and push them to their limits as they learn that the world's darkness may run deeper than they ever thought possible. The 13 episodes of season one hits stores on June 30th.
Well, there's a selection of physical media and engaging stories from Paramount to get you through this crazy time. Enjoy.
May 08, 2020
Learning to talk to the animals is easy compared to dealing with shipping during a pandemic. So while Universal Home Entertainment's Dolittle came out April 7th, I received my review copy last week. As home entertainment, from movies to sitcoms, is helping us get through this period of self-isolation, I'd like to thank all those workers who helped get it to me. I recently sat down with the 4K version of the movie, which also comes with a Blu-ray copy and digital code. The critics weren't too kind to Robert Downey Jr.'s version, citing a reliance on cheap laughs and toilet humour, but they weren't kind to the versions with Eddie Murphy and Rex Harrison either, so maybe it's the whole talking to animals genre. Anyway, let's take a look at the technical aspects of this release.
The HEVC/H.265-encoded 2160p HDR10+ and Dolby Vision transfer is presented in the theatrical release's 1.85:1 aspect ratio. It's stunning to look at. The colour palette is intense from lush greens of foliage, to earthen colours, and an array of brilliant animal tones. The image is crisp and sharp, whether it's skin, hair, textiles, environmental or manmade elements, real or CG. The computer-generated elements blend in seamlessly with the actors and real environments and that is an improvement over previous iterations of this story: the technology is at a point where an actor can quite believably be having a conversation with a polar bear. There is no real sign of digital noise or compression artifacts and as video presentations go, this one is just stunning.
On the audio side of things, your ears are given the choice of English Dolby Atmos and Dolby TrueHD 7.1 soundtracks as wells as French and Spanish Dolby Digital Plus 7.1 tracks. Subtitles are availe in nglish SDH, French and Spanish. The surround speakers will place you into the action with elements moving throughout the soundscape and the low end gives necessary oomph to the action and the music. The score is dynamic and crystal clear, as is the dialogue, which you'll have no trouble understanding. It's not the type of audio presentation that will blow you away and earn bonus marks, but it checks all the boxes and does an excellent job.
Besides a Blu-ray copy and a Movies Anywhere digital code, the movie comes with a series of six very short video extras that basically delve into characters and production. Given the visual artistry is the strongest thing Dolittle has going for it, it would have been nice to see some more pieces on the visual effects that went into making this flick.
Dolittle does little with story and relies on some cheap laughs (fart jokes anyone?) but it's surrounded by excellent visuals and good sound. The little ones — and fans of Adam Sandler's work with Rob Schneider — might be amused and as we're all going through this strange time, it does provide an example of great visual effects and something to look at.
Apr 01, 2020
In my theatrical review of Star Wars: Episode IX – The Rise of Skywalker I was torn. I said I loved it's look and nostalgic recalls. I was in the camp of people who liked Rian Johnson's The Last Jedi and felt that this latest installment seemed to be trying so hard to satisfy the contingent of angry fans that it turned a "saga about a ragtag group of rebels into a polished, sanitized, homogeneous product." I'm still torn about it, but at least now I have the opportunity to think about it over repeated viewings at home as Disney has released it on Digital, 4K and Blu-ray. I had a chance to review the 4K Ultimate Collectors Edition.
The video presentation is flawless. The 2160p/HDR UHD HEVC/H.265-encoded transfer is in the theatrical release's 2.39:1 aspect ratio. The black levels are deep which is, you know, really helpful in a movie chock full of scenes in space and dark, moody interiors. The colour palette ranges from dark jungle greens to the grey uniforms and clean interiors of Kylo Ren's fleet. Details are sharp and crisp from facial features and textiles, to worn rebel ships and sandy environments. I didn't notice any digital noise or compression artifacts. If there were any, I'm pretty sure Kylo had them killed.
On the audio side, your ears have the choice of English Dolby Atmos and Dolby TrueHD 7.1 tracks as well as French and Spanish Dolby Digital Plus 7.1 tracks. Subtitles are available for English SDH, French, Spanish, Danish, Finnish, Norwegian, and Swedish. Like many recent Disney releases, you'll have to increase the volume a scootch over reference levels to get the full effect of the soundscape. The low frequency elements add the right amount of menacing to the First Order fleet. Ships and battles move perfectly across your surround speakers. You're immersed so much in the action that you'll want to become a Jedi. John Williams' score sounds beautiful and the dialogue is crystal clear. Top marks.
As for extras, the set comes with a Blu-ray copy and a digital code. There is also an additional Blu-ray disc of bonus content. The Skywalker Legacy is a 2 hour documentary that looks at both the making of this film and the entire saga to date. There's a featurette on the speeder chase, a look at the various creatures that populate the saga, and a piece on Warwick Davis, who return to the saga, this time accompanied by his son.
Star Wars fans are going to want to add Star Wars: Episode IX – The Rise of Skywalker to their collection. Flawless video, beautiful sound and a full-length documentary in the extras. A must have.
Feb 26, 2020
When Frozen came out in 2013, it was a huge box office hit that spawned a merchandising avalanche and a million YouTube videos of toddlers singing "Let It Go." It took six years for Disney to release a sequel and though some loved Frozen II as much as the first, others found it to be a bit lacking in comparison. Which side of the snowball fight are you on? You can decide at home as Disney has released it for your home library. I had a chance to review the Blu-ray/DVD/Digital combo pack.
The 1080p AVC-encoded digital transfer is in the theatrical release's 2.39:1 aspect ratio. The video presentation is strikingly beautiful. It's crystal clear and the characters and their environments have impeccable detail. The colour palette is bold and looks great whether it's fall foliage or ice and snow. There's no digital noise or compression artifacts, black levels are deep, and there's detail even in darker scenes. This presentation can go to the head of the class.
On the audio side, your ears are treated to an English DTS-HD Master Audio 7.1 soundtrack, English Descriptive Audio Dolby Digital 2.0 tracks and French and Spanish Dolby Digital 5.1 tracks. Subtitles are available in English SDH, French and Spanish. The soundscape makes good use of the surrounds and you'll be so immersed in the action that you might want to bring a parka. Sometimes the low frequency parts could use a little more oomph (which is a valid scientific term) and as this is a musical, the score is bright and dynamic. Dialogue is clear, centred and well-prioritized.
Besides a DVD copy and a Movies Anywhere digital code, Frozen II also comes with over an hour of extras. You can play the movie in karaoke format, with lyrics onscreen to sing along with. There are outtakes from the voice recording sessions, deleted scenes and songs, a look at the score and production, music videos, and the song "Into the Unknown" in 29 languages.
If you love Frozen II, you'll love this home entertainment release. Dazzling video and audio and a nice collection of extras make this an easy purchase.
Feb 24, 2020
I really enjoyed Ford v Ferrari. I initially screened it at the Toronto International Film Festival and enjoyed it so much that I saw it again at a press screening closer to its theatrical release. 20th Century Fox released it for home entertainment on February 11th and I received a Blu-ray/Digital combo to review last week. The movie tells the true-life story of Ken Miles (Christian Bale) and Carroll Shelby (Matt Damon), whose racing and design team helped the Ford Motor Company defeat Ferrari at the 24 Hours of Le Mans. It's just good old solid filmmaking with great performances and amazing race scenes.
The 1080p AVC-encoded transfer is in the theatrical release's 2.39:1 aspect ratio. The detail on the video presentation is excellent from sun-weathered faces to greasy overalls to gritty race tracks. The colour palatte is pleasing and natural and captures everything from the sun-drenched sky over a desert race track to the more muted tones in the garages and rainy Le Mans track. Contrast and black levels are good and there really isn't digital noise or compression artifacts to comment on. All in all, it's just a very good video presentation.
Your ears are given the choice of an English DTS-HD Master Audio 7.1 soundtrack, English Dolby Digital 2.0 and descriptive audio 5.1 tracks and French and Spanish Dolby Digital 5.1 tracks. Subtitles are available in English SDH, French and Spanish. The sound editing team have outdone themselves. Your surround speakers are given such a workout that they'll probably hit the showers afterwards. You'll be immersed in the races as the cars in the races move around the soundscape so well that you'll swear you need to check your blind spot. Low frequency growls from the engines add extra heft to the races. But even in quieter non-race scenes, the ambient effects are very good. Dialogue is clear and well-prioritized and the score is bright and dynamic.
Besides the digital code, you also get theatrical trailers and a one-hour look at the production and the real-life story behind it.
With great performances, stunning video and audio, and a lengthy behind-the-scenes doc, you'll want to park Ford v Ferrari in your physical media collection.
Feb 22, 2020
Jojo Rabbit is a polarizing film with people either loving it or looking upon it with disdain. Some dismissed a comedy that featured Adolf Hitler as a boy's imaginary friend as a travesty, even if they hadn't seen it. Mel Brooks once told NPR, "Listen, get on a soapbox with Hitler, you're gonna lose — he was a great orator. But if you can make fun of him, if you can have people laugh at him, you win." I happen to be in the love Jojo Rabbit camp. Director Taika Waititi, who adapted the screenplay from Christine Leunens' book Caging Skies and also plays the imaginary Hitler, gives us the story of a young boy whose father is gone so he has sought a hero figure. For him that figure just happens to be Hitler. It's an examination of the cult of celebrity, the seduction of populism. At one point, the young boy is told that "You're not a Nazi, Jojo, you're a 10-year-old kid who likes dressing up in a funny uniform and wants to be part of a club." It's not hard to see parallels with populist movements currently growing around the world and when it's not being funny, Jojo Rabbit is a warning not to lose your individuality and critical thinking skills and allow a movement to steer you in the wrong direction. So you might love it or hate it. If you want to see for yourself, 20th Century Fox Home Entertainment has now released it for your home entertainment library. I had a chance to review the Blu-ray, which also comes with a digital code.
The 1080p AVC-encoded digital transfer is in the theatrical release's 1.85:1 aspect ratio. The video presentation is sharp and full of detail, from facial features to the clothes and uniforms and environments. The colour palette isn't just the drab olives and browns that we'd expect from a wartime film. There are pops of colour, especially in Jojo's home, as this is a world seen through a young boy's excited eyes. Contrast and black levels are generally very good, though there are a few darker scenes in the home that lack some shadow detail.
On the audio side, your ears have a choice of an English DTS-HD Master Audio 5.1 soundtrack, an English Dolby Digital 5.1 descriptive audio track and Spanish and French Dolby Digital 5.1 tracks. Subtitles are available in English SDH, French and Spanish. Surrounds provide good ambient effects and the dialogue is clear and well-prioritized.
Besides the digital copy, the extras include some deleted scenes, outtakes, a half-hour "Inside JoJo Rabbit" featurette, trailers, and audio commentary from Taika Waititi that includes the director calling up some of the cast and interviewing them.
With a great cast, excellent video and audio, and a small collection of extras, I think Jojo Rabbit is a worthy addition to your home library.
Feb 19, 2020
Roland Emmerich's Midway may sometimes lack some emotional depth and have line deliveries right out of a 1940s recruitment/morale film, but it does a very good job of telling us the story behind one of the pivotal naval battles in the Pacific Theater during WWII. Like 1970's Tora! Tora! Tora!, we see the story from both sides and get inside the thinking process of the admirals and captains. It's not just a dry history lesson though, as Emmerich brings to life not just the Battle of Midway but the attack on Pearl Harbor that proceeded it. Pilots take risks, intelligence analysts make educated guesses and we get entertained along the way. Lionsgate has just released Midway for your home entertainment library and I had a chance to review the 4K Ultra HD, Blu-ray and Digital combo pack.
The 2160p H.265/HEVC-encoded transfer is presented in the theatrical release's 2.39:1 aspect ratio. Details on fabrics, real items and facial features are excellent, and even though some of the CGI elements and green-screened backgrounds can have a little softness, the detail is still quite good. The colour palette is mostly muted with a lot of greens, beiges and greys, but when colours pop, like on the dress of a nightclub singer, they're beautifully saturated. Contrast and black levels are generally good, though there is some crushing in the darkest scenes. There's some digital grain added, which gives it an almost historical footage look at times, so you'll have to decide if it's an artistic choice or an irritant. I didn't mind.
On the audio side, there are some different options depending on country. I was sent a US review copy, which comes with an English Dolby Atmos track, an English Dolby Digital 2.0 descriptive track and a Spanish Dolby Digital 5.1 track. Subtitles are available in English SDH and Spanish. According to the box photo on Amazon Canada, the Canadian version doesn't have Atmos, but rather English and French DTS-HD Master Audio 5.1 tracks and subtitles in English SDH only. Not quite sure why the Canadian version would lose the Atmos. Speaking of Atmos, the immersive soundtrack makes excellent use of the height speakers. The battle scenes have bullets, bombs and planes traversing the whole soundscape, while the low frequency effects have ample power. The musical score is clear and dynamic, while dialogue is clear and well-prioritized.
Besides the Blu-ray copy, there's also a digital copy code. The other extras include audio commentary by Roland Emmerich, a look at the filmmakers's goal of accuracy, a look at some of the real-life characters, a featurette on Emmerich's interest in Midway, historical looks at the legacy of the battle and the important code-breaking that gave the US an intelligence upper hand, a touching piece with two Midway veterans and a theatrical trailer.
Midway does a very good job of showing us the battle of Midway, the events leading up to it, and the men in uniform on both side who had to live and die by the political decisions that led to the war. With an excellent video and audio presentation coupled with a nice collection of extras, historical buffs will want to add this one to their home collection.