Evans Above
Nov 07, 2018
Fourteen years after The Incredibles introduced us to the Parr family, Incredibles 2 revisits our favourite superheroes to see what's up. Apparently, superheroes are on the outs with society and the Parrs find themselves out of a job. When the family matriarch, Helen a.k.a. Elastigirl, gets offered a new gig fighting crime, Bob (Mr. Incredible) must deal with his jealousy and brood of superhero kids. You can take their adventures home now, as Disney released a Blu-ray, DVD, digital download multi-screen edition on November 6th, 2018.
The disc's 1080p AVC-encoded transfer is released in the movie's original 2.39:1 aspect ratio. Details in this transfer are great, whether they be fabrics, scene environments, or aspects of the characters. The colour palette is bold and vibrant, which befits the whole superhero theme and comic book inspiration. Black levels are nice and deep, especially in night scenes and any digital noise and banding is so brief as to not be worth mentioning. So why the heck did I mention it? All in all, you'll be pleased with this presentation.
So, your eyes will be pleased, but what about your ears? The Blu-ray comes with multiple soundtracks, including an English DTS-HD Master Audio 7.1 track and Dolby Digital 2.0 descriptive audio track and French and Spanish Dolby Digital 5.1 tracks. On the subtitle front, there are English, English SDH, French, and Spanish captions. Like many recent Disney titles, the output volume mix is a little lower, which means you'll have to crank your system up a little more than recent non-Disney discs. Once you've done that, the surround speakers are put to good use, though low end frequencies that boost the explosions, punches and superhero antics could use a little more oomph in the mix. The dialogue is centred and clear.
On the extras side, there are extras on the main disc as well as a second bonus disc. The combo pack also comes with a DVD and a digital download code. The main disc includes the animated shorts BAO and Auntie Edna as well as a lesson in animation from director Brad Bird and his commentary track. The bonus disc includes a series of featurettes exploring the making of the film and the short BAO, as well as the production design. There are also deleted scenes, vintage toy commercials, promos and trailers and cast and crew interviews.
When you take a story the whole family can watch and toss in great video and audio presentations, adding Incredibles 2 to your home entertainment library is a no-brainer.
Oct 23, 2018
I was never a big fan of ABBA. At least that's what I told my friends and myself, but strangely I seem to know a lot of the lyrics and find my foot tapping when they come on the radio. Maybe I have to deal with this, but the therapy can be helped by the Blu-ray release of Mamma Mia! Here We Go Again: Sing-Along Edition on October 23rd, 2018.
The movie's AVC-encoded 1080p transfer is presented in a 2.40:1 aspect ratio. The digitally shot production results in a transfer that is full of crisp details. The colour palette pops off the screen and the ocean water looks particularly beautiful. The video presentation doesn't exhibit any compression issues and it's a joy to look at.
On the audio side of things, your ears have a choice of English Dolby Atmos and Dolby TrueHD 7.1 soundtracks as well as Spanish and French Dolby Digital Plus 7.1 tracks. You'd expect that a musical would pay attention to the sound and your expectations will be met. The music and lyrics are crisp and clear and rich and your surround speakers will immerse you in the Greek environment so much that you'll be checking your credit card bill for airline tickets. In addition to the music, dialogue is also clear and centred.
When it comes to extras, you won't be disappointed, starting with a DVD copy and a digital download code. There's a bunch of deleted and extended scenes and songs, about 46 minutes of sing-alongs which offer onscreen lyrics to help you test your vocals, and various featurettes that cover costumes, choreography and cast interviews. There are also a couple of commentary tracks.
With dazzling vistas and toe-tapping numbers presented with an excellent soundtrack, fans of the Swedish pop stars will not be upset adding Mamma Mia! Here We Go Again to their home entertainment libraries.
Oct 15, 2018
When Ant-Man came out in 2015, I found it a nice blast of fresh air. I love the Marvel Cinematic Universe as much as the next fan, but I guess Paul Rudd's comedic energy was a nice addition to the genre. A sequel, Ant-Man and the Wasp, was out earlier this year and will be released for home entertainment on October 16th, 2018. I checked out the Blu-ray edition.
The 1080p AVC-encoded transfer is in the theatrical release's 2.39:1 aspect ratio. The transfer is great, with sharp details on natural and man-made items and in the computer-generated effects. Skin tones look good, contrast is excellent and the black levels nice and deep. The colour pallete is dazzling and there really isn't anything to complain about in terms of digital noise or artifacts. All in all, it's just a stunning visual presentation.
On the audio side of things, we get an English DTS-HD Master Audio 7.1 soundtrack as well as French, Portuguese and Spanish Dolby Digital 5.1 tracks. Subtitles are available in English SDH, French, Spanish, and Portuguese. The soundtrack is immersive, making good use of the surround soundscape to put you in the centre of the action. The low-end could use a little more oomph in some of the action scenes, but then again, "oomph" isn't a scientific term so who's to say? Dialogue is clear and centred and the musical store has very good clarity and tone. A very enjoyable audio presentation.
As far as extras go, there's a few things that come with the disc and a few more that can be downloaded when you redeem the included digital code. There's a director's intro from Peyton Reed, interviews with the cast and crew about the vibe on set, a look at Evangeline Lilly and her Wasp suit, a piece on Michelle Pfeiffer and Michael Douglas, gag reels, some additional featurettes and deleted scenes. Using the download code, you also have access to a look at the Marvel Cinematic Universe's past decade, the Online Close-Up Magic University and director Peyton Reed.
A gorgeous visual presentation, a very good audio mix, laughs and action. You'll want to add Ant-Man and the Wasp to your home library.
Sep 23, 2018
During production, it sometimes seemed that most of the drama with Solo: A Star Wars Story was happening behind the scenes. Directors Phil Lord and Christopher Miller of The Lego Movie had creative differences with Lucasfilm over the standalone's tone and direction and the production was then put in the hands of Ron Howard. Critics and fans had mixed reactions, but with Disney releasing 4K and Blu-ray versions on September 25th, you can take it home and decide for yourself. Father and son screenwriters Lawrence and Jonathan Kasdan have done a good job of balancing new elements with the Han Solo (Alden Ehrenreich) backstory die-hard fans think they know by heart. We're taking a look at the Blu-ray version.
The movie's AVC-encoded transfer is released in the theatrical version's 2.39:1 aspect ratio. Digitally shot, the transfer is full of detail, from the wear and tear on worn fabrics to the scrapes and dings on older vessels and droids. The underworld that Han Solo operates in is a dark place and the resulting colour palette is a bit flat with the occasional pop of colour from Lando Calrissian's more colourful wardrobe. Black levels are a bit off witch means that details are sometimes lost in the darkest of scenes. There is also some occasional noise.
On the audio side of things, the disc offers an English DTS-HD Master Audio 7.1 soundtrack as well as Spanish and French Dolby Digital 5.1 tracks. Subtitles are available for English SDH, French, and Spanish. While the video presentation isn't exactly reference level, the audio side is a blast. Like several recent Disney releases, the audio is a little quieter at usual volume levels but cranking it up a bit (not to 11, Nigel) solves those issues. Ambient sounds make excellent use of your surround speakers, enveloping the listener in laser blasts, reverberations and natural environments. The explosions and other fun moments make good use of your subwoofer. Music is of course an important part of the Star Wars experience and here it is given great clarity. Dialogue is also crisp and clear.
Besides getting a download code for a digital copy, Solo: A Star Wars Story also comes with a second disc full of extras. There's a 21 minute round-table with the cast moderated by Rom Howard. The Kasdan's discuss working together and their love of the franchise. We get to see the build process for the Millennium Falcon, as well as several timeline breakdowns of key scenes. We also get deleted scenes.
Solo: A Star Wars Story to your collection. Fire up the popcorn and have a good time.
Aug 05, 2018
Breaking In is a competent thriller about a mother (Gabrielle Union) who finds herself on the outside of her well-protected home while her children are facing threats from home invaders. In order to protect her children, she must break in to her own home, hence the title. The movie ticks off all the necessary genre boxes without much flair. The title is now available in a Blu-ray, DVD, and digital download combo pack from Universal Home Entertainment. Let's look at this release from a technical perspective.
The disc contains two versions of the film, one 88 minutes and an 89 minute director's cut. The 1080p AVC-encoded transfer is presented in the movie's 2.39:1 aspect ratio. The transfer is quite flawless, with only a very rare amount of aliasing in some scenes. Details are crisp and clear, whether it's natural surfaces, structural textures or facial features. The colours are natural and the black levels are excellent, which is important given the number of nighttime scenes. It's an excellent video presentation.
Moving over to the audio side of things, we get an English DTS-HD Master Audio 5.1 soundtrack as well as French and Spanish DTS 5.1 tracks. Subtitles are available in English SDH, French and Spanish. The 5.1 soundtrack is workmanlike. It gets the job done but you're not going to be knocked off your feet by it. Dialogue is clear and centred, low frequency elements add some "oomph" when needed and the amount of ambient material in the surround tracks does its job.
The disc has a small collection of extras as well as a DVD copy and a digital download code. There are two versions of the film, the theatrical release and one more minute of action that qualifies it as an unrated director's cut. The extras also include an optional opening with commentary from director James McTeigue and writer Ryan Engle, deleted extra scenes (again with commentary), a featurette on Gabrielle Union and female empowerment, a look at McTeigue's take on the story, a piece on the action scenes, another look at Union and finally a full audio commentary track from McTeigue and Engle.
If you like having a very complete library and love Gabrielle Union, then you'll want to add Breaking In to your library. Otherwise, you'll probably want to catch the film on a streaming service.
Jun 05, 2018
Celebrating it's 65th birthday, Peter Pan joins Disney's Signature Collection with an Anniversary Edition Blu-ray combo pack.
Like many releases from the Signature Collection, Peter Pan has the same video and audio presentation of the classic film's initial Blu-ray release (2013) but adds to the legacy extras with a new bunch of extra material.
The AVC-encoded 1080p transfer is presented in a 1.33:1 aspect ratio, just a hair off the film's original ratio of 1.37:1. This was the ratio back then so those expecting a widescreen presentation can stop hitting their TVs. The presentation has been cleaned up, removing the film's original grain, so purists will have something to argue over besides whether or not the M&M's should go in the popcorn or not. Besides that quibble, the colours are rich and deep. There's excellent contrast and the black levels are deep. The detail of the hand-drawn line art is well-preserved and there's nary a moment of artifacts or other digital glitches.
On the audio side we get a Dolby Digital version of the movie's original mono soundtrack as well as an English DTS-HD Master Audio 7.1 soundtrack and French and Spanish Dolby Digital 5.1 tracks. Subtitles are available in English, English SDH, French, and Spanish. The DTS-HD Master Audio 7.1 track does a great job of putting the film into a modern soundscape while remaining true to the original. The surround tracks do a good job of giving a 65-year-old film some ambient effects. The musical numbers sound great while the low-frequency parts give a little oomph when needed. Dialogue is clear and centred.
The Anniversary Edition also comes with a DVD version and a digital download code. As mentioned earlier, the Anniversary Edition includes a handful of new supplements that weren't on the previous 2013 release. "Stories from Walt's Office: Walt & Flight" is a featurette that looks at the filmmaker's fascination with flight and love of airplanes. Then there's "A Darling Conversation with Wendy & John: Kathryn Beaumont and Paul Collins", which reunites two of the voice talent as they talk about their work and the live action scenes that were shot to help the animators. The disc also features sing-along versions of "You Can Fly" and the deleted "Never Smile at a Crocodile." Legacy supplements include a look at deleted scenes, deleted songs, the making of the film, a look at Tinker Bell, audio commentary, sing-alongs and many others.
If you bought the first Blu-ray release in 2013 and the extra supplements don't make you want to fly, then you can give this release a pass. But if this is the first time you're discovering the original Peter Pan on Blu-ray and you want a complete Disney library, you'll want to add this Disney classic to your collection. A warning to parents that I gave in the review of the 2013 release and that still isn't addressed in the new supplementary material: this film is a product of its time and the film's portrayal of Native Americans is stereotypical and viewed by many as racist especially in the "What Makes the Red Man Red?" musical number. Though there's no revisionism in this release and we're seeing the film as it was intended to be seen in the Fifties, I am a little surprised that Disney handled the controversy by ignoring it. Surely there could have been a small bonus feature on the disc that parents and teachers could have used as a discussion point.
A Wrinkle in Time is based on the classic Madeleine L'Engle novel and as an adaptation faced some critics who said it deviated too far from its source material. If you've never read the book, or can look upon it as a distinct piece separate from the book, you'll find a tender story about a girl's self discovery. It's now available as a Blu-ray combo pack from Disney.
The AVC-encoded 1080p transfer is presented in the film's original 2.39:1 aspect ratio. Shot digitally, the transfer is rightfully pretty flawless with nothing of note to report in terms of digital noise. The palette explodes off the screen but still doesn't lose its nuance. The detail on everything from clothing to makeup to environment is crisp and textured. Shadow detail is excellent and black levels are very strong. If we were marking the video presentation, it would be at the top of its class.
On the audio side, Disney gives us an English DTS-HD Master Audio 7.1 soundtrack as well as French and Spanish Dolby Digital 5.1 tracks. Subtitles are available for English SDH, French, and Spanish. Like many of the recent Disney releases this disc is a little on the quiet side, so you'll be turning your system up a bit. Once you've done that, you'll find a soundtrack whose music fills the soundscape. Surround tracks pull you in to the otherworldly destinations and the low frequencies will give your subwoofer an appropriate workout. Dialogue is always clear and centred.
Besides the Blu-ray disc, the combo pack also comes with a DVD version of the film and a digital download code. There's a half-hour featurette on the film's production, deleted scenes, and commentary from director Ava DuVernay, screenwriter Jennifer Lee and other members of the production team. There's also bloopers and music videos from DJ Khaled and Demi Lovato as well as Chloe X Halle.
A Wrinkle in Time has an excellent video presentation, a very good audio presention and a fair amount of extra material. Those willing to look past a less than perfect adaptation from the novel will enjoy adding it to their collection.
May 12, 2018
Black Panther was a huge hit and struck a chord with audiences, bringing to the screen the first superhero of African descent. This epic film is now available to take home an enjoy (and enjoy and enjoy) as Disney releases the Blu-ray on May 15th, 2018.
The 1080p AVC-encoded transfer is presented in the theatrical release's 2.39:1 aspect ratio. Shot digitally, you expect the transfer to be clean and this presentation doesn't disappoint with only the odd bit of macroblocking and digital noise. Details of environment, skin and fabrics, whether natural or computer-generated, are crisp and clear. The colour palette is wide-ranging but never muted or blown-out. Except for a few early issues, black levels are deep and crisp.
On the audio side, we get an English DTS-HD Master Audio 7.1 soundtrack as well as French and Spanish Digital 5.1 tracks. Subtitles are provided in English SDH, French and Spanish. Like a few other recent Disney releases, the disc needs to be played at slightly higher volume in order to fully appreciate its dynamic range. The use of the full surround soundscape drops the listener into the middle of the action. Dialogue is always clear and positioned front-centre.
On the extras side, you not only get a digital download code, but also a good selection of behind-the-scenes featurettes. They include a look at Black Panther's place in the Avengers, an exploration of the fictional kingdom of Wakanda, the prominent role of women in the story and the usual gag reels, commentary and deleted scenes. There's also a look at the Marvel Cinematic Universe and its upcoming films.
All in all, Black Panther is a beautifully presented Blu-ray and a worth addition to your home theatre library.
May 06, 2018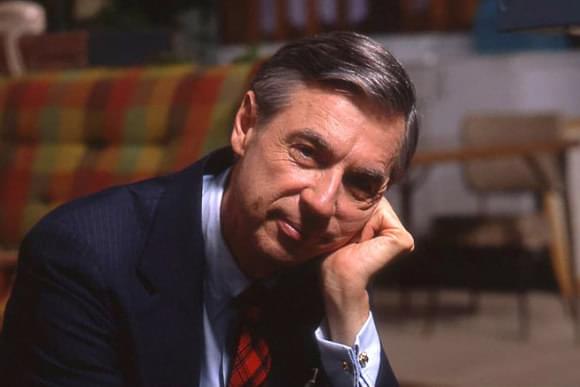 Won't You Be My Neighbor
It's my last day of the 2018 Hot Docs Festival and I'm starting it off with Morgan Neville's Fred Rogers documentary Won't You Be My Neighbor. Fred Rogers was a Presbyterian minister who found his true calling working in children's television. His TV wasn't full of flashy graphics and loud music tied in with commercial merchandise. Instead he quietly spoke to the children, but never spoke down to them. While other shows helped with letters and numbers, Mister Rogers' Neighborhood helped with their emotional intelligence. The Vietnam war was going on, so the puppets in his imaginary kingdom dealt with territorial aggression. The civil rights movement was happening, so he illustrated racial harmony by taking the then bold TV move of sharing a foot bath with the neighborhood's black police officer. When Martin Luther King Jr. and Bobby Kennedy were assassinated, he quietly talked to the children about the news and how it could be affecting their parents. From bullying to disabilities, Mister Rogers never shied away from a topic, yet he never treated them with anything but respect.
We see Fred Rogers warm the heart of a crusty Nixon-era Republican committee chairman who in turn gives public television the funding it needs. We hear how he apologized to a co-worker when he initially reacted badly to the co-worker's homosexuality. Neville lets the stories and the clips play out in the same rhythm of Mister Rogers' show.
Perhaps it was a mix of nostalgia and the stark contrast to today's cynical, vicious, mean-spirited news cycle, but I wasn't the only member of the audience to be wiping away the occasional tear. Definitely worth seeing.
My final film of the festival is Roll Red Roll, from director Nancy Schwartzman. It sheds a disturbing light onto the 2012 rape case that put Steubenville, Ohio in international headlines, when a girl was raped by high school football players. After a football game, "Jane Doe" accompanied friends to several post game parties. Intoxicated, she was later raped and only found out about the incident when she was shown a photo that had been circulated online. Initial investigation into the case was difficult by the toxicity of rape culture and sports worship. Many in the town blamed the girl's intoxication and circled the wagons around the star players. The coach didn't want to make his stars, Ma'lik Richmond and Trent Mays, look guilty and hurt their futures. The disgusting trope of "boys will be boys" was heard.
The film tracks two important figures, detective J.P. Rigaud, who had to form a case with scant physical evidence but many text messages, and crime blogger Alexandria Goddard, who meticulously cataloged the team members and their social media posts to form a timeline of the evening. The texts and tweets are gut-wrenching but one of the most sickening bits of evidence comes in the form of a 12 minute YouTube video which shows Steubenville baseball player Michael Nodianos, discussing the texts and tweets he saw and laughingly describing the events. His complete lack of empathy makes him the perfect representation of how the story was playing out in the town.
Powerful and moving, Roll Red Roll is a gut-wrenching look at our culture and priorities.
That's it for me and Hot Docs 2018. It's an excellent festival and it has activities and screenings throughout the year. Don't forget to visit "hotdocs.ca":https://hotdocs.ca for more details.
May 05, 2018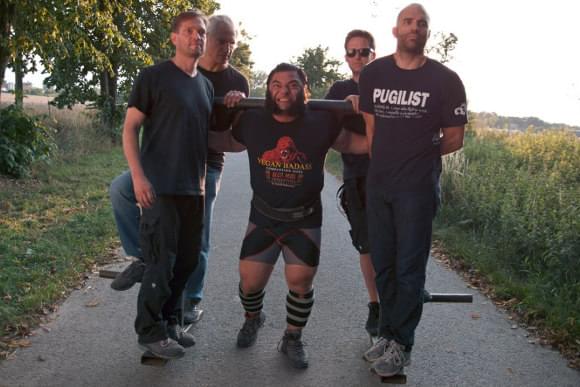 The Game Changers
The Game Changers, from director Louis Psihoyos, examines the benefits of a plant-based diet and uses examples from several elite athletes to turn the notion that a vegan can't be strong on its head.
Our guide through this doc is James Wilks, a UFC fighter and special forces martial arts trainer, who turned to a plant-based diet after an injury. His experience showed a faster recovery time and he sets out to talk with other elite athletes who have made the jump. There's ultra-marathoner Scott Jurek, heavyweight boxer, Bryant Jennings, strongman Patrik Baboumian, cycling champion Dotsie Bausch and weightlifter Kendrick Farris all of whom showed improvements in their strength, endurance and recovery when they switched to a plant-based diet. They tackle the myths and marketing of the meat industry head on. When strongman Baboumian's friends asked how a man could be as strong as an ox without eating animals, Baboumian shot back, "When was the last time you saw an ox eat meat?"
A trio of football players are led through a series of tests by a doctor who shows them evidence that the pre-game ritual of eating platefuls of meat protein may in fact be hurting their game. Meanwhile, body building and entertainment icon Arnold Schwarzenegger suggests that those wary of going vegan try a meatless Monday and points out that the move has environmental impacts too. If you're dead set against being vegan or vegetarian, you might not switch, but those who enter The Game Changers with an open mind will at least leave the cinema planning to give it a try.
We've all heard the odd news report or story passed from friend to friend about beloved actor Bill Murray suddenly joining a touch football game or appearing at someone's house party. Is it true? Is it a myth? In The Bill Murray Stories: Life Lessons Learned from a Mythical Man, director Tommy Avallone sets out to document sightings of this comedic Bigfoot.
Avallone tracks down several people who have been part of these encounters. There's the wedding photographer whose engagement shots were added to by a surprise Murray appearance. The bartender who served Murray only to have him hop behind the bar and serve shots all night. Reporters and colleagues suggest that this is equal parts Murray's improv training – you say yes to every situation presented – and his life philosophy. In an age where everyone walks around glued to their phones, perhaps Murray's gift to us is to remind us to always be present and in the moment.
The doc meanders at times, but it is otherwise a sweet look at Bill Murray's delightful traits.
For more information on the 2018 Hot Docs Canadian International Documentary Festival and for tickets and showtimes visit hotdocs.ca.