American Hustle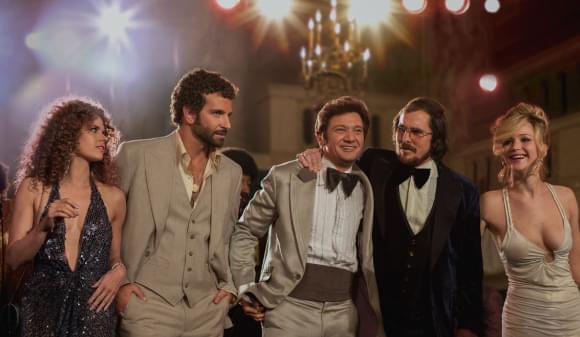 Photo: Courtesy entertainmentone
Director(s): David O. Russell
Writer(s): Eric Warren Singer and David O. Russell
Cast: Christian Bale, Bradley Cooper, Amy Adams, Jeremy Renner, Jennifer Lawrence, Louis C.K., Michael Pena and Alessandro Nivola
Release Date(s)
Dec 20, 2013 - Wide
Read our review.
With events inspired by the ABSCAM sting of the seventies, American Hustle takes us on a journey led by two con artists (Christian Bale and Amy Adams) who must work with an ambitious FBI agent (Bradley Cooper) who finds himself hunting big game.
Reinvention and survival have featured in director David O. Russell's films before, but at the center of this one is the love story between two damaged people, con artists Irving Rosenfeld and Sydney Prosser. Says Russell, "The love affair between these two gives them a special power that anybody who's ever been in love can attest to. When you're in love, you feel that you've become more than the sum of the parts — something divine is happening to you. For me, the first part of the film is communicating how these two fell in love, how special they made each other feel, how much they love their lives — that enchantment was everything. We fall in love with their passion for life. And then trouble comes knocking. They will have to reinvent themselves to survive — and when they do that, what will happen to their love?"
Writer Eric Warren Singer had originally written a straight up screenplay about the ABSCAM scandal that ended in indictments for several U.S. Congressmen. When Russell took a run at the script, he used Singer's script as a lunching pad for a different look at the story. Says producer Charles Roven, "Eric did an amazing job, writing a very thrilling procedural. But David came up with a completely different dynamic. In the end, David was inspired by a real con that was stranger than fiction to create a story that gets at a deeper truth about reinvention and survival."
Bradley Cooper, who worked with Russell on Silver Linings Playbook, was more than willing to take on the role of the FBI agent, tight perm and all. "I love working with David. If you can give him your trust, he will lead you to an emotional place that is truthful. The characters and performances become so much more rich and meaningful. It's intense, because you're so vulnerable as an actor, but it's when you're most vulnerable that the truth comes out. The more you know David's process and are familiar with it, the easier it is to dive right in — and you're diving in to a family."
Christian Bale dove into the role of Irving Rosenfeld, gaining forty pounds and rocking a meticulous comb-over and created a character with heart and vulnerability despite the fact that he's a hustler. Amy Adams, who plays Irving's love interest Sydney said that, "I never met a more charming character than Christian playing Irving. You identify with him — I can see how Sydney gets caught up in it. Sydney thinks she's embarking on the greatest love of her life — she doesn't think she's a con artist. Sydney begins as a person who doesn't like who she is, and she creates a world for herself onto which she can project her fantasies of who she wants to be. She finds a man who values her intelligence. And when that's taken away from her, it creates a conflict — her story is about her hustle but in the end, she wants to find the truth of who she is."
Find the truth in the hustle when American Hustle opens on December 20th, 2013.
Read our review.