Burlesque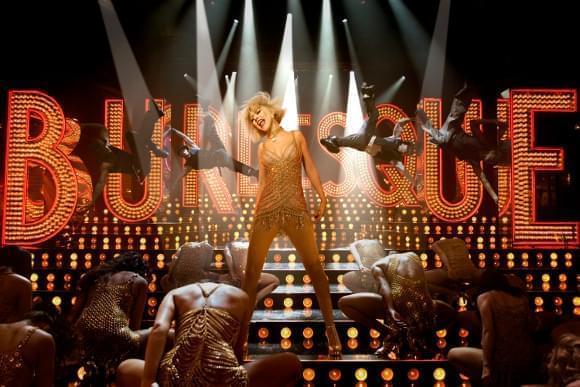 Photo: Stephen Vaughan/Screen Gems
Director(s): Steven Antin
Writer(s): Steven Antin
Cast: Cher, Christina Aguilera, Kristen Bell, Stanley Tucci, Eric Dane, Cam Gigandet, Julianne Hough, Alan Cumming and Peter Gallagher
Release Date(s)
Nov 24, 2010 - Wide
Read our review.
Writer-director Steven Antin views the Burlesque Lounge in Burlesque as Wonderland to Christine Aguilera's Alice. From a small town in Iowa she descends the stairs into a theatre from a bygone era. As Alan Cumming's character says, "We may not have windows, but we do have the best view on the Sunset Strip."
"We wanted to make it feel almost like you're walking a little bit back in time," production designer Jon Gary Steele says. "It's very period looking. When Christina's character first starts looking through all the different glass in the stairwell, you see little pieces and you don't know really what it is until, you see this gilded, aged, beautiful red and gold theatre. We wanted it to be decadent, but beautiful and elegant all at the same time."
The design team pored over photos and drawings of theaters across the world and paid attention to the smallest detail. Actor Eric Dane, who plays the developer trying to buy the building from Cher, saw the set as another character. "It's overwhelmingly beautiful, this set," he says. "It's got all the wrinkles of a great character actor's face. It's this very old great stage and it's got this contemporary feel to it and then it's got this great, sexy burlesque vibe."
With a setting oozing authenticity — a burlesque wonderland — director Antin just had to fill it with a cast of characters willing to descend down the rabbit hole with him to a world of pounding music and sexy dancers.
You can enter the world that Antin created when Burlesque opens on November 24th, 2010.
Read our review.