Catwoman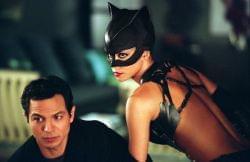 Photo: ©2004 Warner Bros. Entertainment Inc.
Director(s): Pitof
Writer(s): John Brancato, Michael Ferris and John Rogers
Cast: Halle Berry, Benjamin Bratt, Lambert Wilson, Frances Conroy and Sharon Stone
Release Date(s)
Jul 23, 2004 - Wide
Read our review.
Warner Bros. Catwoman follows the transformation of Patience Philips (Halle Berry), a meek woman killed to hide the secrets of a cosmetics firm, into Catwoman, a strong, agile and seductive woman who walks the line between good and bad. Detective Tom Lone who falls for Patience but is fascinated by the Catwoman also explores this duality of character.
"Catwoman epitomizes fantasy," says Berry. "She's who every woman wants to be and every man would like to be with. In many ways cats embody the true psyche of women – cats are very elusive, and you have to work to gain their trust and their respect. It's not something that's given very freely. I've heard it said that dogs have masters, but cats have servants. And it's true!"
Producer Denise Di Novi feels that Halle was the perfect actress to approach for this role. Says Di Novi, "What's so unique about Halle is that not only is she sympathetic and likeable, she's also sexy and strong. She was able to seamlessly and convincingly play what are essentially three roles: Patience before her transformation, who is very vulnerable and timid; Patience in transition, when she is struggling with Catwoman's emergence; and finally after she becomes a full-blown Catwoman."
Berry said that the role came to her at the right time. The actress was undergoing an upheaval in her real life as she was splitting from her unfaithful husband, Eric Benet. "What I've found is that projects always come my way that serve me best in real life," said Berry. "I needed to be Catwoman. I needed to take control of my life, and putting on that suit made it a whole lot easier. I felt empowered and strong and sexy – connected with myself as a woman." She also admits that the film is much lighter than say her Oscar®-winning performance in Monster's Ball. "This is a popcorn-eatin,' ass-whoopin' summer action adventure. There's humor, a sweet love story and a lot of catfights. Did I mention she's a little naughty?"
While Berry's character flips from good to bad and everywhere in-between, the same cannot be said for detective Tom Lone, played by former Law & Order star Benjamin Bratt.
"Lone is a straight shooter," says Bratt. "He's a detective who is good at his job, and who believes in right and wrong, black and white – there's not a lot of gray area in the world for him. So it presents an interesting problem when he develops feelings for someone who may or may not be involved in some shady dealings."
Catwoman's thirst for revenge sees her pitted against the heads of Hedare Beauty, played by Lambert Wilson and Sharon Stone. Besides battling the outside world, the pair battle each other — George Hedare wants his wife to step down as the company's "face" and as his lover.
"I enjoyed playing this part because I get 'the joke' about Laurel," says Stone of vain character. "I will not go around saying I'm 35, because I just don't believe in that. But Laurel does bow to the pressure from society to stay young at all costs, to be perfect – 'to be more' as the Hedare slogan says. I really like what this movie has to say about finding out who you are and then giving yourself the power to just be yourself. No more, no less, just yourself."
To steer this group of actors, the producers turned to French director Pitof. "I wanted Catwoman to have a completely original style, and Pitof is a brilliant visualist," says Di Novi. "He delivered a movie that is incredibly dynamic and entertaining."
"I feel so privileged to have been entrusted with such a compelling project," says Pitof. "When you look at the history of Catwoman and the women who have portrayed her over the years, there is a common spirit between them. It is this spirit of confidence and individuality that made Catwoman so appealing to me and that has captivated audiences for decades."
Catwoman opens in North America on July 23rd, 2004.
Read our review.