Hotel Transylvania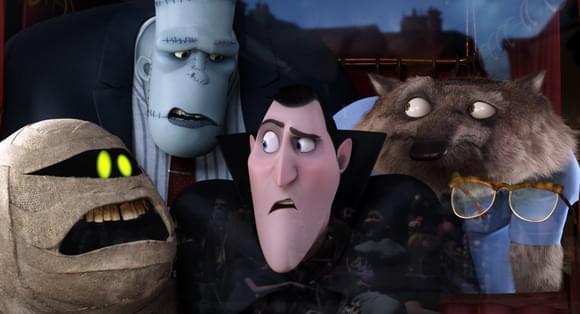 Photo: ©2012 Columbia Pictures
Director(s): Genndy Tartakovsky
Writer(s): Peter Baynham and Robert Smigel
Cast: Adam Sandler, Andy Samberg, Selena Gomez, Kevin James, Fran Drescher, Steve Buscemi, Molly Shannon, David Spade and Cee Lo Green
Release Date(s)
Sep 28, 2012 - Wide
Read our review.
Count Dracula is proprietor of the Hotel Transylvania, a lavish five-stake resort where monsters can holiday without fear of humans. He's invited his closest friends to help celebrate his daughter Mavis' 118th birthday. It's meant to be a great weekend — until a human shows up.
Director Genndy Tartakovsky says that, "Hotel Transylvania is a story about a father and a daughter — it's just that the father happens to be Dracula. Like all fathers, he's an overprotective, psychotic, and endearing guy who'd do anything for his daughter, but unlike other fathers, he's the Prince of Darkness."
Tartakovsky, who had worked on Star Wars: Clone Wars for George Lucas, had a specific style of animation in mind for the project. "In feature films, you're constrained to be real. But I wanted to take this film to the extreme opposite by making the animation cartoony and fun and exaggerated," says the director. "In television, you're allowed to stylize and use caricature to make each project look unique, and I wanted to bring that to the movies so badly. We pushed the animation style to be very broad and very physical. We wanted to make it super expressive. The movement in the movie is all caricature, unrealistic movement. That's what gives this movie its energy, and energy in a film is everything to me."
Producer Michelle Murdocca also like that, unlike many animated features, the cast of Hotel Transylvania got to record together. "It really doesn't happen all that often in animation that you are able to bring your voice actors together," says Murdocca. "It was really fun to see Adam Sandler playing off of Kevin James, and Kevin playing off of David Spade. It was the beginning of them creating these characters and personalities together — it helped make the characters really funny and really emotional."
See if you want to check into Hotel Transylvania when it opens in North America on September 28th, 2012.
Read our review.