Monsters University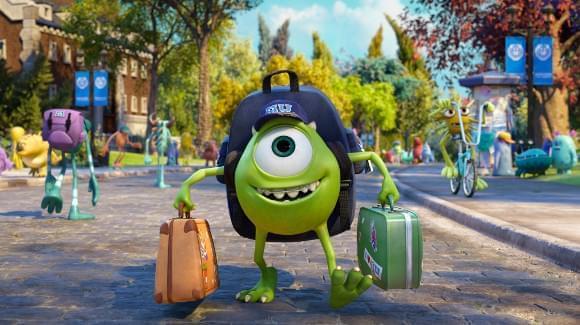 Photo: ©2013 Pixar/Disney
Director(s): Dan Scanlon
Writer(s): Daniel Gerson, Robert L. Baird and Dan Scanlon
Cast: Billy Crystal, John Goodman, Steve Buscemi, Helen Mirren, Peter Sohn, Joel Murray, Sean Hayes, Dave Foley, Charlie Day, Alfred Molina, Tyler Labine, Nathan Fillion, Aubrey Plaza, Bobby Moynihan and Julia Sweeney
Release Date(s)
Jun 21, 2013 - Wide
Read our review.
Twelve years after Monsters Inc., Pixar heads back in time and takes us back to school as Mike and Sulley hit the books in Monsters University. Starring the voice talents of Billy Crystal and John Goodman and a plethora of others, Monsters University heads for another passing grade in the field of computer animation and heartfelt storytelling.
Mike (Billy Crystal) is the cock-eyed…and one-eyed…optimist who has always wanted to be a Scarer. Director Dan Scanlon thought university was the perfect setting. "Setting the story at the time when Mike is first venturing into the world by himself allowed us to delve into his journey of self-awareness, experiencing with him the fun, the ups and downs, the friendships and the revelations that come with growing up. It's during these years, whether in college or not, that we tend to learn who we are. And it's not necessarily who we thought we were." College can be a time when reality sets in about our dreams and goals and having the right support at this time is important. Adds Scanlon, "No matter how hard we try, we can't do it alone. Nobody can. So we turn to others — and they turn to us — and we really start working on what we're going to be. It really does take a village, I think. The tricky part is putting together the right team."
Speaking of the right team, that's something that Pixar seems to have in abundance. They always bring laser-focused attention onto the details. The filmmakers had to re-imagine the characters younger and studied different actors and animals to see how they changed over the years. Subtle changes like horn length and colour saturation allowed them to present younger versions of the characters we fell in love with over a decade ago.
Advancements in that time in the filed of computer animation gave the filmmakers more leeway to create characters. Production designer Ricky Nierva said limitations in the past only allowed them one furry character per shot. That limitation was gone and besides furry monsters, the MU team created over 500 monsters to populate the campus.
Enroll in Monsters University when classes commence on June 21st, 2013.
Read our review.