Star Wars: Episode II - Attack of the Clones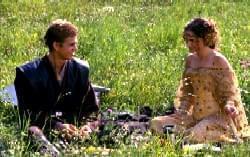 Photo: ©2002 Lucasfilm Ltd.
Director(s): George Lucas
Writer(s): George Lucas and Jonathan Hales
Cast: Ewan McGregor, Kenny Baker, Anthony Daniels, Jimmy Smits, Temuera Morrison, Pernilla August, Ian McDiarmid, Frank Oz, Samuel L. Jackson, Christopher Lee, Hayden Christensen, Natalie Portman and Ahmed Best
Release Date(s)
May 16, 2002 - Wide
Read our review.
Star Wars – Episode II: Attack of the Clones takes place ten years after Episode I. The Republic is still facing a myriad of political problems, including a separatist movement that has the Jedi Knights stretched to the limits trying to keep the peace. Anakin Skywalker continues to study under his Jedi mentor, Obi-Wan Kenobi, but already he's starting to show the anger and impatience that will one day turn him to the dark side and his new life as Darth Vader. Love, hate, duty and destiny all continue to unfold in George Lucas' galactic saga.
Lucas' love for epic storylines can be traced right back to his youth. "Attack of the Clones is a big, wide-eyed adventure film in the tradition and celebration of the Saturday morning serials of Hollywood's golden age. They were unpretentious and designed to thrill with lots of energy, suspense and excitement. You went to those movies to escape and enjoy yourself, and that's what I wanted to capture with Attack of the Clones."
It's also the first major motion picture to be shot using a new high-definition, 24 frames per second, digital video camera from Sony. According to producer Rick McCallum, "We received the final version of the camera one week before our first day of principal photography. We started shooting without any film backup whatsoever. We just went for it." They shot in deserts, torrential rain, and in five different countries. "All without a single problem," McCallum adds.
Reviews for Episode II have been mixed (see ours in the Reviews section) but there's no doubt that legions of loyal Star Wars fans will help make this one of the biggest-grossing films of the year.
Read our review.