Natalie Portman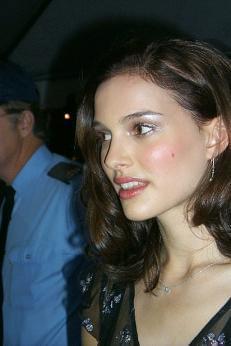 Check out our Natalie Portman photo gallery.
Born: June 9, 1981 Jerusalem, Israel
[Please note that we are recovering from a bad database backup and some of our bio entries might be a bit stale. We are baking up a fresh batch as soon as possible.]
Actress Natalie Portman is still quite a young actress. However, in less than ten films she has managed to be tagged by critics as a performer to watch.
Born in Jerusalem on June 9, 1981, Natalie first came to the critics' attention in 1994 when she appeared in her first film, Luc Besson's The Professional, where she played an orphan trained to be a hitman. While the movie took some flak for its subject matter, Portman's performance was considered a highlight.
She followed that role by playing Al Pacino's stepdaughter in Michael Mann's Heat and Timothy Hutton's adoring neighbor in Ted Demme's Beautiful Girls (1996). She has also appeared in Woody Allen's musical Everyone Says I Love You and Tim Burton's Mars Attacks!.
Portman also received critical raves for her portrayal of the title character in the Broadway revival of The Diary of Anne Frank.
Despite a very public movie life, Portman has manged to keep her private life to herself. Portman is not her real name, her place of residence is kept quiet, and even her choice of university was a highly-guarded secret.
In 1999, Natalie appeared opposite Susan Sarandon in Anywhere But Here. She received a Golden Globe nomination for that performance.
In 2000, she worked opposite Ashley Judd in Where the Heart Is. In 2002, she was in the second Star Wars prequel, Episode II – Attack of the Clones.
In 2003, Natalie appeared in Cold Mountain with Jude Law, Nicole Kidman and Renée Zellweger. She had a busy 2004, appearing in Zach Braff's Graden State, the European film True, and Mike Nichol's Closer. The film, which starred Jude Law, Julia Roberts and Clive Owen, earned her a Supporting Actress Golden Globe for her performance as a stripper.
In 2005, Natalie helped wrap up the Star Wars legacy, playing Padmé Amidala again in the final film Star Wars: Episode III – Revenge of the Sith. She also appeared in Free Zone and V for Vendetta with Hugo Weaving. The next year saw her in Paris, je t'aime and Goya's Ghosts. A busy 2007 saw her in Blueberry Nights with Jude Law, The Darjeeling Limited with Owen Wilson, Adrien Brody, and Jason Schwartzman, and Mr. Magorium's Wonder Emporium with Dustin Hoffman.
2008 saw Natalie in The Other Boleyn Girl with Scarlett Johansson and Eric Bana. A busy 2009 saw her in New York, I love You, Love and Other Impossible Pursuits and Brothers with Jake Gyllenhaal and Tobey Maguire.
As time progresses, we'll have more info about Natalie Portman here. If you have any comments or suggestions about our coverage, please email us.