The Lone Ranger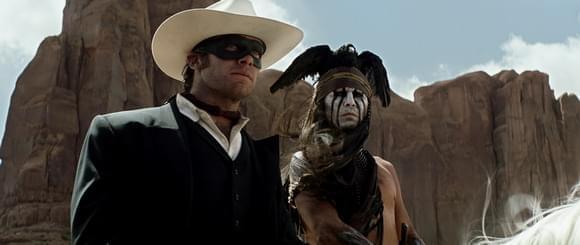 Photo: ©2013 Disney Pictures
Director(s): Gore Verbinksi
Writer(s): Justin Haythe, Ted Elliott and Terry Rossio
Cast: Johnny Depp, Armie Hammer, Tom Wilkinson, William Fichtner, Barry Pepper, James Badge Dale, Ruth Wilson and Helena Bonham Carter
Jerry Bruckheimer and Gore Verbinski, the team that brought us Pirates of the Caribbean, have teamed up to bring Tonto and the masked lawman to life in The Lone Ranger.
Bruckheimer was sure the story had legs. Debuting on the radio in 1933, "There's something about these characters that have appealed to every generation since they were invented," says the producer. "I grew up in Detroit, and 'The Lone Ranger' radio and TV shows were part of my youth, and millions of others as well."
The series ran over 21 years and Verbinski wanted to take the story and do something different with it. "I think if you're a fan of the original TV series," Verbinski says, "you're going to be surprised by the movie, because everybody knows that story, and that's not the story we're telling. We're telling the story from Tonto's perspective, kind of like 'Don Quixote,' told from Sancho Panza's point of view. I would say that at its core, our version is a buddy story and an action-adventure film with a lot of irony and humour and enough odd singularity to make it distinct."
Verbinski and Bruckheimer knew their frequent collaborator Johnny Depp had the right chops for their vision of Tonto, so casting the Lone Ranger was next. They chose Armie Hammer. "When you meet Armie, you soon realize that he doesn't have a cynical or jaded bone in his body. Armie has a kind of great, blind optimism in the way he looks at the world. We really needed someone you could believe could have old-fashioned ideas," says Verbinski.
Are they the perfect pairing for this Western reboot? Find out when The Lone Ranger opens on July 3rd, 2013.
Read our review.