Trance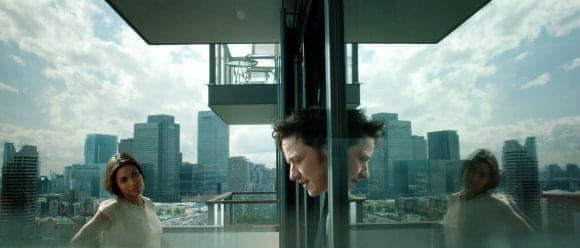 Photo: ©2013 Fox Searchlight
Director(s): Danny Boyle
Writer(s): Joe Ahearne and John Hodge
Cast: James McAvoy, Vincent Cassel, Rosario Dawson, Danny Sapani, Matt Cross and Wahab Sheikh
Release Date(s)
Apr 12, 2013 - Wide
Read our review.
Goya and gangsters, amnesia and art auctions all meld together in Danny Boyle's psychological thriller about an art heist gone bad, Trance.
"I wanted to try and update the whole noir idea. I wanted to occupy that world but in a modern context," says Boyle. "At the same time, because the mind is such an interesting thing for film to explore, we wanted to do a little walk-about around all these big questions about consciousness and unconsciousness and which is in control. You might think you're in control of everything, but there are areas where you're not. Some part of you knows, but your conscious mind doesn't know what you're even going to say next! That fascinates me."
Screenwriter John Hodge was on-board with Boyle's fascination. "It was clear that Danny's ambition for the film was to take the story into the extremes of human behavior through these three characters — characters who demonstrate the very limits of desire, violent behavior, desperate self-preservation and greed. All of us who work with Danny know that he wants to push ideas as far as they will go, and that's exciting."
James McAvoy, Vincent Cassel and Rosario Dawson all have strong roles in the film. "The story's got three excellent parts in it and they battle for who's at the center of the film," says Boyle. "That triangle is a lovely dynamic to have in place as you can play with the question of which character the story belongs to. The film certainly starts as Simon's story but by the end it has become more Franck's — and Elizabeth exerts a strong gravitational pull of her own."
McAvoy was eager to get the part. "I was completely blown away by this mind bending, genre bending, psychological heist movie," says the actor. "When I auditioned for Danny, he was incredible. I've rarely been directed in an audition so interestingly. That made me desperate to get the part. Luckily for me he phoned up and said, 'Would you like to do it?' Every day on set has been like that – just discovering this script, which is brave, bold and challenging for a performer."
Vincent Cassel loved the screenplay's twists. "What I liked about the film is that it starts as something normal but by the 25th page it becomes something else entirely. It's a genre bender. It really messes with you," he says Cassel. "It's not quite clear who's good or who's bad. At first, you might think one thing and then it becomes something else and then, by the end, it's something else entirely. Characters evolve. You get caught when you judge somebody. Suddenly you realize that it's not exactly what you thought it was."
Rosario Dawson was intrigued by her character, the hypnotherapist, Elizabeth "I've never played anyone even remotely like her. Elizabeth is totally different because she's hiding everything. You only get hints of her emotion through her doing things with her hair to show her restraint but when she lets her hair down, she really lets her hair down. Then, you get to see a different side of her. It's subtle; it's completely unspoken. And she's a wonderful presence to have between these two guys."
Is Boyle's Trance successful at stealing your attention? Find out when it open in North America on April 12th, 2013.
Read our review.