American Hustle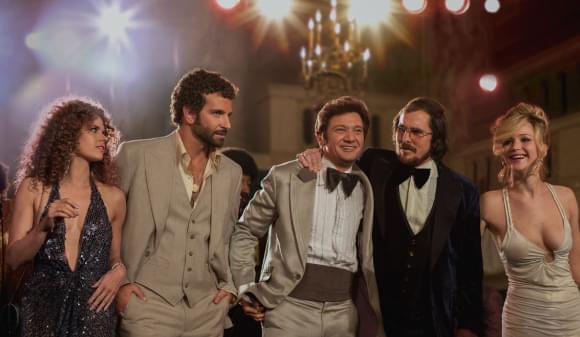 Photo: Courtesy entertainmentone
Director(s): David O. Russell
Writer(s): Eric Warren Singer and David O. Russell
Cast: Christian Bale, Bradley Cooper, Amy Adams, Jeremy Renner, Jennifer Lawrence, Louis C.K., Michael Pena and Alessandro Nivola
Reviewed by: Ian Evans on
Release Date(s)
Dec 20, 2013 - Wide


American Hustle teams director David O. Russell (The Fighter, Silver Linings Playbook) with a group of actors willing to give their all and the result is a heady concoction as energetic as a night on the dance floor at Studio 54.

Mobsters, feds, con artists, croaked politicians and ditzes are cooked together in a tasty dish that uses the ABSCAM sting of the late 1970s (which convicted one senator and six members of the House of Representatives) as its inspiration. Christian Bale, with 40 extra pounds and a bad comb-over, plays Irving Rosenfeld, an owner of a chain of dry cleaners is a successful con artist on the side. Irving falls for, and teams up with, Sydney Prosser (Amy Adams) and the pair launch bigger and bigger financial scams until they're caught in the net of Richie DiMaso (Bradley Cooper), a ladder-climbing FBI agent who's wound tighter than his perm. Richie offers the pair a deal to avoid prosecution, using their powers of the con to ensnare a New Jersey politician, Carmine Polito (Jeremy Renner), in a corruption sting that leads down roads they never expected. Toss in a love triangle and a self-help quoting wife (Jennifer Lawrence) and you have one seventies hair and clothing-fuelled story of redemption, reinvention and retribution.

Bale is stellar as Irving. Despite being a con artist with a bad comb-over and a loveless marriage, he creates a character so real, so in search of true love, that we can't help but root for him. Adams' character, who hides behind identities to mask her past, is also a soul wandering around looking for love and redemption, and her need for something better leaps off the screen. Cooper's character, an FBI agent who goes to great lengths to score a higher profile at the agency, provides much of the comic relief, especially in the scenes with his more conservative superior, played with straight-faced earnestness by comedian Louis CK. Renner, plays a real man of the people, a populist politician looking to provide jobs in a revitalized Atlantic City. He's shown as a real family man, who cares for his constituents but realizes that corners may be cut and deals may need to be made. The scenes with Bale and Renner are fantastic as they try to negotiate a close friendship despite all their flaws. Lawrence goes all out as Irving's ditzy, fire-prone wife, who keeps using emotional blackmail to get him to stay out of fear of seeing what's outside their loveless marriage. Just like Atlantic City, the characters in American Hustle are trying to reinvent themselves.

David O. Russell and co-writer Eric Warren Singer have penned a script that gives the corruption-fuelled story a fast-talking comedic energy, like Scorsese crossed with Hepburn and Tracy. The costume, hair and makeup personnel are part of the supporting cast as the hair is as crazy as the women's necklines are plunging.

American Hustle is an energy-filled trip though a slice of American history.