Ant-Man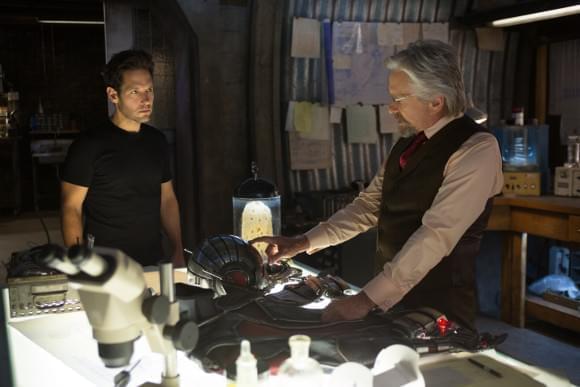 Photo: Zade Rosenthal..© Marvel 2015
Director(s): Peyton Reed
Writer(s): Edgar Wright, Joe Cornish, Adam McKay and Paul Rudd
Cast: Paul Rudd, Evangeline Lilly, Corey Stoll, Bobby Cannavale, Michael Pena, Tip "T.I." Harris, Wood Harris, Judy Greer, David Dastmalchian and Michael Douglas
Reviewed by: Ian Evans on
Release Date(s)
Jul 17, 2015 - Wide


When it seems like some superhero franchises are heading for double digit sequel territory, it wouldn't be surprising if there was a little audience fatigue. We've seen all the origin stories. We know about experiments gone awry, home planets that have exploded, high school accidents, and murderous thieves making our heroes orphans. So it was refreshing that Marvel's latest, Ant-Man, made me care for yet another superhero. That result rests squarely on the shoulders of Paul Rudd.

Rudd plays Scott Lang, who has just been released from San Quentin for a three-year burglary sentence. Lang is met by his old pal, Luis (Michael Peña), who introduces him to some of his current associates. Scott, who always insists that he was a burglar and not a robber (the latter uses threat of violence), wants nothing to do with their plans. His ex-wife (Judy Greer) is engaged to a cop (Bobby Cannavale) and Scott wants to keep his nose clean so that he can get visitation with his daughter (Abby Ryder Fortson). When he can't keep a steady job, the lure of one more heist is there.

Turns out the heist is at the home of Dr. Hank Pym, rumored to have discovered the Pym particle, which would allow a man to be shrunk to the size of an ant. This technology is desperately wanted by Pym's former protégé (Corey Stoll) who, along with Pym's estranged daughter Hope (Evangeline Lilly), have kicked the genius out of his own company and are working on a soldier of the future dubbed Yellowjacket.

Pym wants their technology stopped. Scott wants to be with his daughter. Evil forces want to control the world. And we all know where this is heading.

Besides the comedic relief brought by Rudd and a terrific Michael Peña (who should be charged with scene-stealing) what makes Ant-Man work is that it brings the superhero down to, ahem, size. This isn't an alien technology battle overflowing with Avengers and a levitating city. This is a heist film with heart overflowing with ants.

Paul Rudd has both the comedic and dramatic chops to portray Scott Lang. He's grounded enough in the role to be believable but also detached enough that he's in on the audience thinking "Rudd? A superhero?" We root for Rudd's character whether he's training to be Ant-Man or just wanting to spend time with his daughter. As I wrote earlier, Michael Peña steals the scenes he's in and his Luis is overjoyed to be involved in this caper. Here's hoping that Lang's crew appears with him in future Ant-Man adventures. Corey Stoll, who's just an interesting actor to watch working, adds some psychological baggage to the adversary role. Evangeline Lilly's Hope isn't just playing the attractive female role for the fanboys and a larger role in future ant expeditions is hinted at. If Ant-Man was made back in the days of Romancing the Stone, maybe the role could have been Michael Douglas' to have fun with. As Dr. Hank Pym, he's stick with a lot of the origin story exposition tasks, but with that out of the way, if he's to appear in future Ant-Man outings, I hope they give him more room to have fun. Greer, Cannavale and the rest of the supporting cast all lend their talents to this fun summer ride.

The last Avengers film moved so fast that it was sometimes hard to follow — or care for — the action. Despite its hero's half-inch size, Ant-Man offers full-size enjoyment.