Avengers: Endgame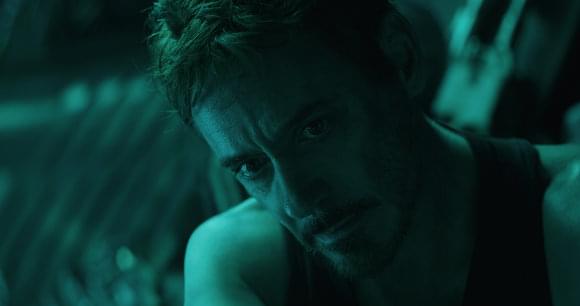 Photo: ©2019 Marvel Studios
Director(s): Anthony Russo and Joe Russo
Writer(s): Christopher Markus and Stephen McFeely
Cast: Robert Downey Jr., Chris Evans, Mark Ruffalo, Chris Hemsworth, Scarlett Johansson, Jeremy Renner, Don Cheadle, Paul Rudd, Brie Larson, Karen Gillan, Danai Gurira, Bradley Cooper and Josh Brolin
Reviewed by: Ian Evans on
Release Date(s)
Apr 26, 2019 - Wide


In last year's Avengers: Infinity War, the tyrannical Thanos (Josh Brolin) had finished collecting the Infinity Stones he had been seeking for several movies. Placing them in his aptly-named Infinity Gauntlet, he snapped his fingers and carried out his massive population control plan, wiping out half of all living things in the universe. Off on another planet, Iron Man (Robert Downey Jr.) watched Dr. Strange (Bendict Cumberbatch) and young Spider-Man (Tom Holland) crumble to dust alongside most of the Guardians of the Galaxy crew.

On Earth, cities crumbled and governments teetered as the devastation occurred. Captain America (Chris Evans), Black Widow (Scarlett Johansson) , Hulk (Mark Ruffalo) , Thor (Chris Hemsworth) and War Machine (Don Cheadle) were still around, along with Rocket (voiced by Bradley Cooper).

The 22nd film in the Infinity Wars saga, Avengers: Endgame starts where Infinity War left off and deals with a lot of themes over its three hour and one minute running time. Loyalty, love and loss. Trust and friendship. Sacrifice. The common good. Writers Christopher Markus and Stephen McFeely pack a lot in, but despite a butt-numbing length, the movie moves along at a steady clip. There are emotional wallops that pack a Hulk-like punch – did I mention there's a lot of talk about loss? – but they still manage to break the emotional tension with the one-liners, quips and moments of levity that we've grown to expect from Marvel films.

Disney/Marvel really don't want us saying much about the film but here's what I can say. Directors Joe and Anthony Russo present a film of epic proportions that still manages to have a human scale. You'd think the best moments would be the action scenes, where things go so fast you often can't comprehend what happened and to whom. Instead the best moments exist when a handful of cast are talking together. It's the small things. Like a smile or kind gesture.

On the acting front, kudos to Hemsworth and Downey Jr., who lay bare their souls whether it's grieving over that which is lost or celebrating what they still have.

Epic in scale, awash with emotion and sprinkled with a liberal dose of laughs, Avengers: Endgame is a fitting conclusion to this section of the Marvel Cinematic Universe. Now stop reading and go see it!