Black Widow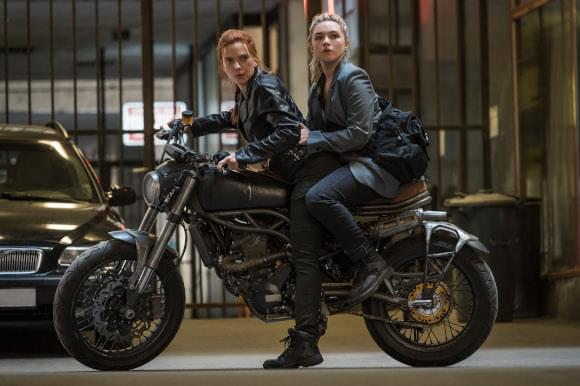 Photo: ©2021 Marvel Studios
Director(s): Cate Shortland
Writer(s): Eric Pearson
Cast: Scarlett Johansson, Florence Pugh, Rachel Weisz, David Harbour, O-T Fagbenle, Ray Winstone and William Hurt
Reviewed by: Ian Evans on
Release Date(s)
Jul 9, 2021 - Wide and Disney+ PVOD


Natasha Romanoff, aka Black Widow, is like the person in the doctor's office who sees all the other people being called in before her even though she was in the waiting room before them. Despite debuting in Iron Man 2 and being an original Avenger, she's had to watch Doctor Strange, Black Panther, Captain Marvel, Wanda and Vision, Falcon and the Winter Soldier, and even that pesky Loki all get standalone movies or Disney+ series before her. With Black Widow being released on July 9th, Natasha is finally getting her chance to shine. Given the events of Avengers: Endgame, this story takes place between the events of Captain America: Civil War and Avengers: Infinity War. Part origin story, part standalone adventure, Black Widow answers some of the questions we've always had about the character.

Natasha Romanoff (Scarlett Johansson) has always presented us with more questions than answers; an Avenger who works without the help of intelligent armour, super-soldier serums, or radiation-induced metamorphosis but divulges little about her past. The opening of the film is a little darker than other Marvel films. We flashback to her childhood, where she and her younger sister have a relatively blissful Ohio home life with Melina (Rachel Weisz) and Alexei (David Harbour). That life of swings and games of tag is soon shattered when Alexei and Melina take the family on the run under cover of darkness. They reunite with Dreykov (Ray Winstone), and the young girls are sent into the Black Widow program that will soon erase their youth and innocence.

Natasha was torn from one family in the past and her present day isn't much better, with her on the run from multinational forces after the Sokovia Accords tore her adopted Avengers family apart. It's during this time that she comes across the shadowy assassin known as the Taskmaster and gets a message from her now grown-up sister, Yelena (Florence Pugh), to meet her in Budapest. After being on her own for some time, Natasha is now facing a family reunion that can only mean trouble.

Disney and Marvel are notoriously protective of their MCU story lines, with constant reminders to critics not to give away spoilers. Even now, I feel like the character in a spy film that says, "I've said too much", so I'm going to stop here and say that from the last paragraph on, you're in for a lot of action and exposition.

Black Widow follows the tried-and-true Marvel formula of explosive action and fast quips, with Pugh getting the lion's share of the wry one-liners. In fact, for a long-anticipated solo project for Johansson, it often feels like she's more of an observer to the interactions of Pugh, Weisz, and Harbour than the true driver of the action. Harbour's Alexei also gets his share of laughs, while Weisz's arc is a bit more layered. Winstone plays a particularly ominous, almost Bond-like, villain.

While most Marvel films are heavy with superhuman strength and action, Natasha (like Hawkeye) is dependent on her human-level physicality, skills, guile, and gadgets. Director Cate Shortland has laced the film with choreographed fights and lengthy car chases reminiscent of a 1970s spy flick as her production takes us across the map from Eastern Europe, Siberia, Norway, and Morocco.

The film does seem to serve an additional purpose of introducing us to Pugh's Yelena who we'll surely see in more adventures. While Thor, Iron Man, and Captain America all had multiple films alone, it's been a long time coming for Natasha Romanoff to get her own chance in the spotlight. While Black Widow may or may not be Johansson's final MCU appearance — never say never — at least she kicked butt on the way out.