Captain America: The Winter Soldier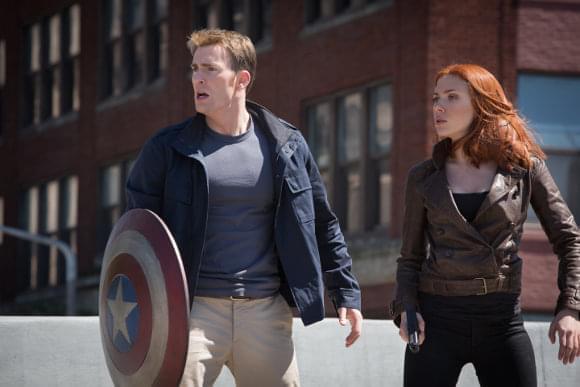 Photo: © 2014 Marvel
Director(s): Anthony Russo and Joe Russo
Writer(s): Christopher Markus and Stephen McFeely
Cast: Chris Evans, Scarlett Johansson, Sebastian Stan, Anthony Mackie, Cobie Smulders, Frank Grillo, Emily VanCamp, Hayley Atwell, Toby Jones, Georges St-Pierre, Robert Redford and Samuel L. Jackson
Reviewed by: Ian Evans on
Captain America: The Winter Soldier is an interesting cocktail: two parts Seventies espionage thriller and one part superhero flick. We start off with Captain America, Steve Rogers (Chris Evans), still trying to come to terms with life in the modern world after being in suspended animation for 70 years, befriending Sam Wilson (Anthony Mackie), a vet who works in a VA hospital. No sooner have they met when Rogers is whisked off by Natasha Romanoff (Scarlett Johansson) on a S.H.I.E.L.D. mission to rescue hostages on a pirated ship. When the Captain discovers there was a mission within the mission, he confronts S.H.I.E.L.D.'s commander Nick Fury (Samuel L. Jackson) about soldiers and trust. He learns that S.H.I.E.L.D. is getting to ready to launch a trio of helicarriers that will preemptively kill potential terrorists. For Captain America, this means people will live a life of fear and not freedom. After Fury talks with Security Council Secretary Alexander Pierce (Robert Redford) in an effort to delay the launch, Fury finds himself targeted for assassination. Suddenly, Captain America's world is upside down: who are his enemies and whom can he trust? And who is the mysterious Winter Soldier (Sebastian Stan)?
The timing couldn't be more perfect for the issues raised in Captain America: The Winter Soldier. If you mixed drone strikes with NSA surveillance and the predictive recommendations of search engines you'd have an idea of the socio-political implications of S.H.I.E.L.D.'s fleet of preemptive helicarriers, where a computer algorithm becomes judge, jury and executioner.
Of course, if you're going to make a superhero film that pulls on themes from the dark corners of political thrillers from the 1970s, then casting Robert Redford, who starred in two of the genre's top films — Three Days of the Condor and All the President's Men — is a no-brainer. Though the 77-year-old isn't smashing through glass in the action scenes, he is smashing our expectations for his character.
Chris Evans does a great job as Steve Rogers/Captain America. At times whimsical, he gives us a superhero who at his heart is a man trying to come to terms with a seventy year gap in his life that took him from the rather black and white moral decisions of WWII to the vast areas of grey found in the current world of the war on terrorism and mass computer surveillance of a mostly unaware populace.
He's joined again by his Avengers teammate Natasha, played by Scarlett Johansson, who convincingly mixes the right amount of kicking butt and showing curves that fans expect in this genre. Still, while she has a wardrobe for drooling fan-boys, she has the smarts to navigate the ever-shifting loyalty landscape and the playfulness to tease Captain America about his need to get back in the dating scene.
Anthony Mackie gives humanity to the VA counsellor/veteran who befriends Steve Rogers and joins Captain America as the high-flying Falcon. And Samuel L. Jackson has the mettle to show us why he's the leader of S.H.I.E.L.D.
The sibling directing duo of Anthony and Joe Russo have worked on shows like Arrested Development and Community and shine in the character-driven scenes. Though sometimes the parkour-filled fight scenes are too fast to focus, the Russo's keep the audience on the edge of their seats throughout the film's battles.
Captain America: The Winter Soldier is a perfect mix of hot action and Cold War style.
Read our profile.