Catwoman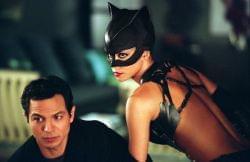 Photo: ©2004 Warner Bros. Entertainment Inc.
Director(s): Pitof
Writer(s): John Brancato, Michael Ferris and John Rogers
Cast: Halle Berry, Benjamin Bratt, Lambert Wilson, Frances Conroy and Sharon Stone
Reviewed by: Ian Evans on
Release Date(s)
Jul 23, 2004 - Wide


Change the litter, because this kitty stinks.

Catwoman stinks in the way that a house does when police enter a home and discover an old woman's body surrounded by 20 cats. Cinemas will have to keep the doors open and use air fresheners after this one.

Catwoman is Halle Berry's Showgirls, her Gigli, and her Glitter. Right now, she's lucky that the Academy can't vote to recall an Oscar®.

In the film, Halle plays Patience Phillips a mousy graphics designer working for the Hedare cosmetics firm. The company's CEO, George Hedare (Lambert Wilson) is about to introduce a new beauty cream and a new face for the company, replacing the company's former top model, his wife Laurel (Sharon Stone). When Patience stumbles across information proving how dangerous the cream is, Laurel has her henchman kill her.

A computer-generated cat resurrects Patience, a moment that brought the first of many misplaced guffaws from the audience. When Berry's newly renewed character starts coughing and gasping, I was amazed that not one of us at the screening yelled "Hairball!"

A spooky woman with cats (Frances Conroy) informs Patience that she is now a catwoman. She's still human, but her senses, agility, strength, and love for tuna have all increased. Formerly a frumpy dresser who was less sexy than her motor-mouthed co-worker (Alex Borstein), Patience prowls the streets at night in a skintight ripped-leather S&M outfit, exacting revenge on her killers and walking the fine line between good and bad.

She also has time to strike up a relationship with a cop named Tom Lone (Benjamin Bratt), who works without a partner. Wow, you think they would have named him A. Lone and driven the point home. There's no gray in Tom's world. There's good and bad. His new girlfriend is good. This nightcrawler named Catwoman is bad. Lone has the same vision issues as Lois Lane. He can't tell that they're the same person. It must be that darn eye mask.

It's surprising that French director Pitof has a character named Patience in this film. His quick-cutting scenes make an MTV video look like a still photo. It's very easy to tell when Berry's been replaced by a CG character, but the quick cuts and dark lighting help to hide the fact that one of Halle's stunt doubles was a guy.

I know we're told that Berry is one of the world's sexiest women every time a late night talk show host introduces her, but even in a body-baring outfit, she throws off very little heat in this film. She must have spent hours working on her cat mannerisms. She meows, she purrs, she goes crazy for catnip and hisses at dogs. She might have earned herself a second Oscar® if only she had the courage to toss her leg behind her head and clean herself.

Benjamin Bratt gets the sexy tag all the time too, but he really needs more Piñero's and less The Next Best Thing's in his filmography if he doesn't want to go ask Dick Wolf for his old Law & Order job back. Alex Borstein's comic relief role isn't even worthy of her comedic talents, Lambert Wilson is dull as George Hedare and Sharon Stone chews up so much scenery that the crew had hardly anything to knock down when the film wrapped.

The film is a mess. The writing is pedestrian, the fights boring and the characters dull. Berry better be choosing some meaty roles in some tough indies if she wants to erase the memory of this one.

If you really need to see this film, look for tickets that have fallen on the floor. If you have some patience, wait a few weeks and I'm sure you'll find a friend using the DVD as a coaster.