Goosebumps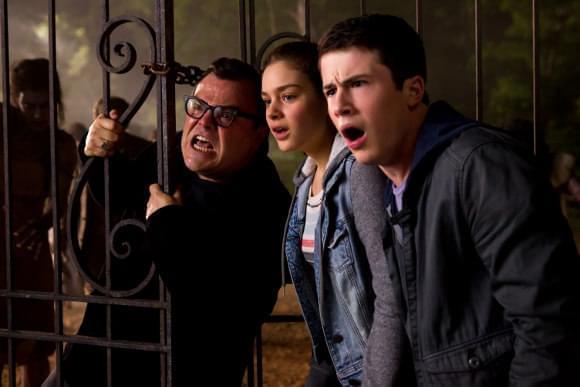 Photo: Columbia Picures
Director(s): Rob Letterman
Writer(s): Darren Lemke
Cast: Jack Black, Dylan Minnette, Odeya Rush, Amy Ryan, Ryan Lee, Jillian Bell, Halston Sage, Timothy Simons, Ken Marino and Amanda Lund
Reviewed by: on
Release Date(s)
Oct 16, 2015 - Wide


Earlier this year, Sony released Pixels, a film that took a bunch of characters from video games and brought them to life. Now, Sony is releasing Goosebumps, which brings to life characters from R.L. Stine's school-aged horror novellas. The difference is that Pixels was a dreary, mirthless exercise directed by Chris Columbus that made you forget his earlier films, whereas Goosebumps is an amusement park funhouse directed by Rob Letterman that reminds viewers of Columbus' well-loved teen films like Gremlins.

Dylan Minnette plays Zach, a high school student with a vice principal for a mother (Amy Ryan) who is trying to start over at a new school after the death of his father. He makes one instant friend, the wonderfully awkward Champ (Ryan Lee) and has an instant crush on the girl next door, Hannah (Odeya Rush). The only problem is that Hannah's dad (Jack Black) seems awfully over-protective and repeatedly warns Zach to stay away.

He doesn't and soon discovers that home-schooled Hannah is the daughter of none other than R. L. Stine, writer of teen-themed horror books. When Champ and Zach open up one of Stine's locked original manuscripts, they unleash one of its monstrous characters and set off a chain of events that threatens the whole town with abominable snowmen, werewolves and vicious poodles.

Black is perfectly cast for the role. His physicality makes it easy for him to go from a simmer to a boil and he still easily makes the transitions from PG-rated frights to comedy shtick. He's also able to show us the human side of a man who says he wrote the characters to make up for the friends he didn't have in school. Minnette is the everyman in high school. Not cool enough to be the quarterback, but not nerdy enough to be spend his school days shoved into his locker. Rush's Hannah is the girl next door, but carries it off with an easy charm as opposed to high school heat. She's the girl our hero will take to ball games as well as the movies. Amy Ryan is solid as always, but for an actress of her talents to have so little screen time is a Hollywood crime, like having a Triple Crown thoroughbred giving toddlers rides at a petting zoo. Hats have to go off to the film's one-two punch of unbridled goofiness, Ryan Lee's Champ and Jillian Bell's Aunt Lorraine. In a world where monsters are running around, these two are fully prepared to keep the laughs coming.

Like the movies that Goosebumps is reminiscent of, it takes an unlikely team – the quiet newcomer, the isolated girl, the awkward nerd and the reclusive writer – to save the day. A sequel is sort of hinted at towards the end. I for one wouldn't mind the team getting together for another battle.