Hotel Transylvania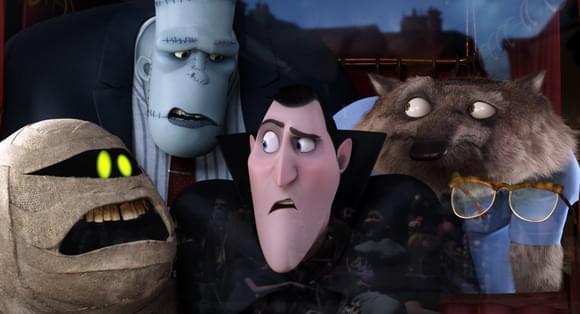 Photo: ©2012 Columbia Pictures
Director(s): Genndy Tartakovsky
Writer(s): Peter Baynham and Robert Smigel
Cast: Adam Sandler, Andy Samberg, Selena Gomez, Kevin James, Fran Drescher, Steve Buscemi, Molly Shannon, David Spade and Cee Lo Green
Reviewed by: Ian Evans on
The new animated comedy Hotel Transylvania is like a bowl of Count Chocula cereal. It may seem fun at first glance but after it's finished you're going to want something more substantial. Adults taking young children should refrain from doing their laundry as they'll want something to think about during the film's 91 minutes.
Adam Sandler voices Count Dracula who, after the death of his wife at the hands of humans, must raise their daughter Mavis (Selena Gomez) as a single parent. In this film, it's the humans who are seen as the villains and Dracula has spent his time building the massive Hotel Transylvania, where ghouls and goblins, monsters and zombies can spend a relaxing holiday without worrying about being attacked. Mavis is turning 118 and her dad has invited a slew of family friends to celebrate include Frankenstein's Monster and his Bride (Kevin James and Fran Drescher), the Invisible Man (David Spade), the Mummy (Cee Lo Green) and the Werewolf (Steve Buscemi). When a young human (Andy Samberg) stumbles into the sanctuary, the Count must pass him off as a monster while trying to get rid of him, a task made difficult by the fact that Mavis is smitten with him.
The idea that monsters and humans have misunderstood each other and battled for no reason is an interesting one but Hotel Transylvania has no interest in going down that road any further than mentioning that Dracula actually eats blood substitutes. A brief mention of the pain behind his wife's death is quickly lost with a whiff of fart jokes and the over-protective parent angle is so thin it could produce paper cuts. I'm not expecting the film to be Citizen Kane, but it's lack of real heart is symptomatic of Sony Animation films and keeps them from being the wear-out-the-DVD classics that Pixar produces.
Considering his background, Adam Sandler voices the least funny character in the film, which depending on your view of his filmography is either a shock or a reinforcement. As for the other voice actors, only Fran Drescher and Steve Buscemi really stand out. Andy Samberg does a generic young dude voice that I didn't realize was him…and I attended the Toronto premiere at TIFF. The script, by Sacha Baron Cohen collaborator Peter Baynham and SNL vet Robert Smigel, is a collection of small moments that don't amount to much and the jokes are collections of smiles and smirks that produced only one real guffaw.
Hotel Transylvania is a light confection that will keep children briefly occupied but then flits away like a bat.
Read our profile.