Inferno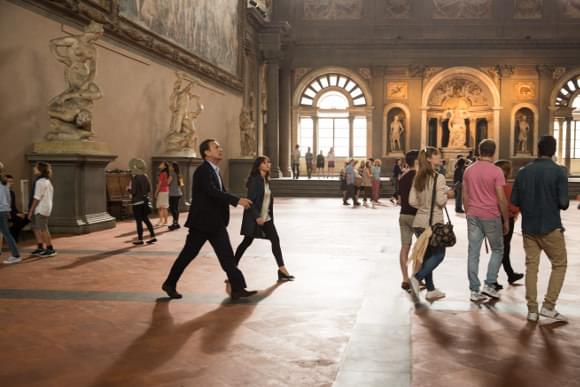 Photo: ©2016 Columbia Pictures
Director(s): Ron Howard
Writer(s): David Koepp
Cast: Tom Hanks, Felicity Jones, Irrfan Khan, Omar Sy, Ben Foster, Sidse Babett Knudsen, Ana Ularu, Ida Darvish and Paul Ritter
Reviewed by: Ian Evans on
Release Date(s)
Oct 28, 2016 - Wide


Dan Brown's fictional character, Professor Robert Langdon, is an international expert in symbols. Perhaps he could explain the poster for director Ron Howard's Inferno, which shows Tom Hanks and Felicity Jones in mid-run. Are they running towards this film or away from it? The answer isn't so easy to decipher.

Professor Langdon (Hanks) wakes up in a hospital in Florence, the apparent victim of a bullet wound to the head. The attending doctor, Sienna Brooks (Jones) explains that he is suffering retrograde amnesia but before they can discuss more of his condition, they're almost taken out by an assassin (Ana Ularu) who's posing as an Italian cop. Escaping through a side door they ultimately discover that Langdon has a small projector that displays Botticelli's Chart of Hell with various clues scribbled on the image inspired by Dante's Inferno. These clues lead them to a plot to unleash a virus created by Bertrand Zobrist (Ben Foster), a billionaire with radical ideas about culling the Earth's human population. The resulting hunt for clues and answers leads them through Florence, Venice and Istanbul, all while being chased by the World Health Organization and some shadowy private security firm.

For a movie that goes from beautiful location to beautiful location like some sort of Jason Bourne/Rick Steves hybrid, there's not a lot of there there. Langdon and Brooks are chased, they pause in a gallery, church or museum to lay on some exposition and then they start running again. The viewer watches the story unfold but it's hard to get invested in it.

While the story itself is wafer thin, with some quick literary and art lessons stapled on to it, the actors make it an enjoyable escape. I'm an unabashed Tom Hanks fan. Whether he's tugging at the heart strings, bringing a historical moment to life or performing some silly slapstick comedy, the guy commits. His job is to make us follow his characters through their stories and he makes it easy to come along for the ride. Jones' Brooks is a worthy companion to Langdon's quest and having studied Langdon as much as she studied medicine, she's able to help shoulder some of the exposition and prevent the film from becoming a Hanks monologue. Sidse Babett Knudsen and Omar Sy give us the feeling that the World Health Organization has more intrigue than most medical bureaucracies, while the most fun and second-guessing comes in the form of Indian actor Irrfan Khan, whose intentions at a private security/investigations firm are murky at best. His dry delivery adds an element of fun to the proceedings.

If you're looking for a detailed plot with real twists and turns and edge-of-your seat thrills, then __Inferno__isn't your cinematic ride. If your looking for a light diversion with stunning locations, then this is the tour bus for you.