Inside Llewyn Davis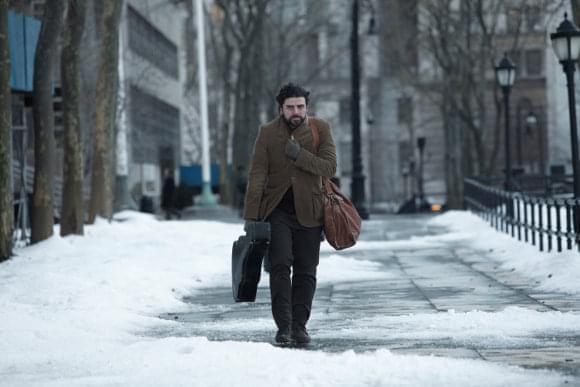 Photo: Courtesy Mongrel Media
Director(s): Joel Coen and Ethan Coen
Writer(s): Joel Coen and Ethan Coen
Cast: Oscar Isaac, Carey Mulligan, John Goodman, Garrett Hedlund, F. Murray Abraham, Justin Timberlake, Stark Sands, Adam Driver, Jeanine Serralles, Max Casella, Ethan Phillips and Robin Bartlett
Reviewed by: Ian Evans on
Set in 1961, just before folk became mainstream and Dylan became a legend, Joel and Ethan Coen's Inside Llewyn Davis follows a week in the life of its titular hero, a folk-singer who is as true to folk's roots as he is untrue to his friends and family.
Davis (Oscar Isaac) sings of hangings and coal mines and hard life in the purest form of folk, artists passing along songs of trials and tribulations that had been sung for decades by the down-trodden. This was the folk of small coffeehouses, before trios and foursomes with crew cuts sang cleaned-up folk to the masses the way Frankie Avalon and others pasteurized the rock and roll of Chuck Berry and Little Richard. This is the folk that didn't pay beyond tips from a passed hat and Davis depends on others as he crashes from couch to couch. Even though he lives a life dependent on others, he can't change his abrasive ways, whether he is causing friction in the Village with Jean (Carey Mulligan), who is partnered with the clean-cut folk-singer Jim (Justin Timberlake), or losing the cat of the academic Gorfein's (Ethan Phillips and Robin Bartlett). In fact, that cat may be the one moment in Davis' life that he tries to take some responsibility, but he fails even at that.
In a cartoon, Davis would have his own personal rain cloud. His only small success came with a partner who later committed suicide. His next album has sold even less. Jean has reasons for hating him and his lack of focus on the future. He opts for a small fee for a novelty recording with Jim about JFK instead of the royalties on what's sure to be a hit. He goes on a road trip with a disdainful jazz musician (John Goodman) and an almost silent beat poet (Garret Hedlund) that ends with an audition in front of a club owner (F. Murray Abraham) who dismisses Davis' mournful folk with a simple "I don't see a lot of money here." He finds and loses a cat like others lose socks. All of this happens to him and we realize that this is just a week — a week — in his sorry life.
In any other person, Davis' integrity to his craft might result in success, but Isaac, who did his own performances, captures a man whose one true success is self-sabotage. Mulligan has an energy fuelled by the type of contempt that can only come from the anger of caring, while Timberlake dials down his natural charisma to provide a small, subtle supporting role. Goodman's jazz man is as contemptuous as he is complicated while Hedlund is the silent cipher who cleans up after Goodman, giving us more questions about their back story than the Coen Brothers give us answers.
The Coens give us a wintery New York that is as grey and dreary as the songs that Davis sings. Their attention to detail never wavers and their dry sense of humour cuts through the bone-chilling situations that the unprepared Davis encounters.
This is not an A to Z story with clear-cut plot points like signs on the highway. This is a character study, pure and simple, and while we may not end up liking Llewyn Davis, we can't take our eyes off him.
Read our profile.