Carey Mulligan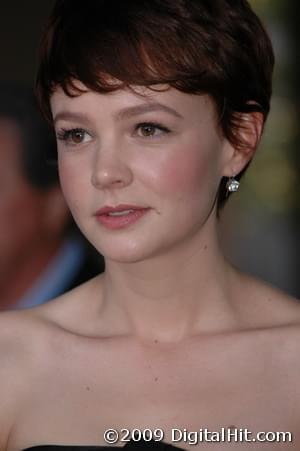 Check out our Carey Mulligan photo gallery.
Born: May 28, 1985 London, England, UK
[Please note that we are recovering from a bad database backup and some of our bio entries might be a bit stale. We are baking up a fresh batch as soon as possible.]
Carey Hannah Mulligan was born on May 28th, 1985 in London, England. After developing a passion for acting while in school, Carey made her feature film debut in Pride & Prejudice with Keira Knightley and Rosamund Pike. That same year, she also appeared in the British series Bleak House with Gillian Anderson.
In 2006, she was seen in the TV movies Agatha Christie – Marple: The Sittaford Mystery and Trial & Retribution: Sins of the Father as well as the series The Amazing Mrs. Pritchard starring Jane Horrocks. The following year, she was seen in the TV movies Northanger Abbey and My Boy Jack as well as the film And When Did You Last See Your Father? with Jim Broadbent and Colin Firth.
In 2009, she was seen in the films The Greatest starring Pierce Brosnan and Susan Sarandon, An Education with Peter Sarsgaard and Alfred Molina and Public Enemies starring Johnny Depp and Christian Bale.
As time progresses, we'll have more info about Carey Mulligan here. If you have any comments or suggestions about our coverage, please email us.