Maleficent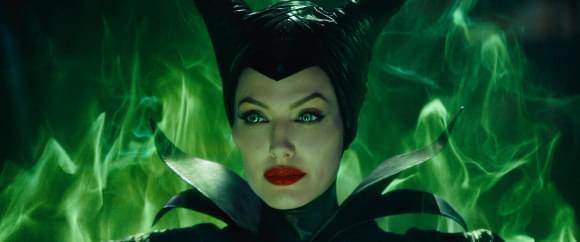 Photo: © 2014 Disney Studios
Director(s): Robert Stromberg
Writer(s): Linda Woolverton
Cast: Angelina Jolie, Elle Fanning, Sharlto Copley, Lesley Manville, Imelda Staunton, Juno Temple, Sam Riley, Brenton Thwaites and Kenneth Cranham
Reviewed by: Ian Evans on
Release Date(s)
May 30, 2014 - Wide


Disney's Maleficent, which looks at the backstory of the villain from Sleeping Beauty, may as well be a one-woman show. You'll spend so much time engrossed in the tour de force performance of Angelina Jolie that you might ignore any faults that the film has.

There are two worlds in this film, one a kingdom run by an ambitious king and the other a lush, mystical place of fairies and other magnificent creatures. A young boy befriends one of the fairies, Maleficent, and on her sixteenth birthday gives her "love's true kiss." Years later, his ambition and violent betrayal of a now adult Maleficent (Jolie) sends him to the throne as King Stefan (Sharlto Copley) and her on a path into darkness and revenge. She curses his daughter to a death-like sleep on her sixteenth birthday, a curse that can only be broken by "love's true kiss."

Now a film about a backstory may as a well have a backstory itself. Written by Linda Woolverton (Beauty and the Beast, The Lion King, Alice in Wonderland) and and helmed by first-time director Robert Stromberg (the Oscar-winning production designer for Alice in Wonderland and Avatar), Maleficent caused a bit of a stir in the trades last year when it was discovered that director John Lee Hancock (Saving Mr. Banks, The Blind Side) was called in to rewrite some opening scenes and "sit in" on their filming. Was this a sign of a film in trouble?

In screenwriting, the writer is always told to "show us, don't tell us" and reviewers often see a lot of narration as a sign that holes in the story needed to be bridged over with exposition, in this case handled by actress Janet McTeer.

A film directed by a production designer is bound to look good and Stromberg gives a rich world of threatening castles and enchanted woodlands with creatures and wardrobes to match. The script by Woolverton, however, is a patchwork quilt of scenes, jokes, short moments and decade-long jumps that result in us not getting to know many of the characters except for Maleficent. Even Sleeping Beauty herself, Princess Aurora (Elle Fanning), could probably fit her dialogue in a few short pages. For a film that has a spinning wheel as a central icon, this yarn isn't stretched very far and clocks in at just over 90 minutes.

Without a doubt, this is Angelina Jolie's film and besides Aurora, she also casts a spell on us. A lot of her scenes feature close-ups of her horn-topped head and so we spend a lot of time in close contact with her as her face leads us through the emotional journey of a once-trusting fairy whose heart is darkened by violent betrayal and then rekindled by affection. When Jolie is on screen, and that's most of the time, the other characters could probably do chores or text their friends and we wouldn't notice. Particularly gripping is the scene where Maleficent wakes up after being drugged, mutilated and emotionally betrayed. The yells of pain and anguish from Jolie are very powerful and I had to check that the film was just a PG-13 rating. Parents taking their kids expecting a spinning teacups Disney ride are going to have some explaining to do, but let's face it, the fairy tales from the Brothers Grimm weren't exactly sugar and light in their earliest versions.

Besides Jolie, Sam Riley's Dioval is able to strongly portray loyalty and conscience in the moments where he hasn't been shape-shifted into one creature or another. Imelda Staunton, Lesley Manville and Juno Temple provide slapstick comic relief as the fairies in charge of raising Aurora. Sharlto Copley goes easily from ambition to madness and Elle Fanning effortlessly portrays the true-hearted and trusting Princess Aurora. I'd say the script doesn't give many of the characters a chance to spread their wings, especially in a story where multiple characters actually do have wings. But as I said this is Jolie's film and everyone and everything else is along for the ride.

So while there may be some holes here and there and while I'd like to see more character and story development, I'm recommending Maleficent just to see Angelina Jolie explore the backstory of on of Disney's most famous villains.